The coffee loving me, used to love a popular chain and that was an ultimate treat for a long while until I realised the whopping amount of additives in them. As I started cutting down on the preprocessed mess, I started to wean out of these too.
But coffee, that is a different story. I love coffee. The best form I love is the south Indian filter coffee or once I am out of India I like to have a latte. The one that fancied me for a long while was the pumpkin spice latte. Come Halloween season this is the one that rules my mind.
When Saswathi (of Delish potpourri)  picked #pumpkintreats as the theme for #163 FoodieMondayy blog hop, the Latte is the first one that came up to my head. A creamy smooth pumpkin latte spiced with cinnamon cloves and allspice and with a hint awesome Aussie expresso coffee.
Pumpkin
From Cinderella's carriage to carved out ones on Halloween, these gentle giants seem to follow where mankind moves. To me, this mammoth fruit is the one which used to run along our backyard fence with bright yellow flowers, spongelike leaves and grows a fruit which grows and grows literally till I feel it will pop. If you take most of the popular cuisines, pumpkin features in the traditional recipes in multiple ways. It finds its place in stews, puddings, pies, curries, muffins etc. Here are a few points which may have popularised this large fruit.
The reddish-orange hue of the pumpkin shows it must obviously be rich in carotenoids. Research shows that about half a serving provides a full recommended allowance of beta-carotene and double the amount of alpha-carotene.

Pumpkins though often listed on the sweet side, are low in calories.

Potassium is one of the minerals widely studied in pumpkins. the fruit also contains a moderate amount of iron, zinc, phosphorous and magnesium.

As a gourd pumpkin is a valuable one for the type 2 diabetics as it has the combination of good carbohydrates with a large amount of fibre. It is shown to have hypoglycemic nature. All said, have in moderation as it has a high glycemic index.

the L tryptophan in the pumpkin aids in a sense of being happy ( no wonder we love these pies and stews)

Slowing down the triglyceride accumulation is another effect studied in pumpkins and one we all will love with our busy lifestyles.
Behind the scene fun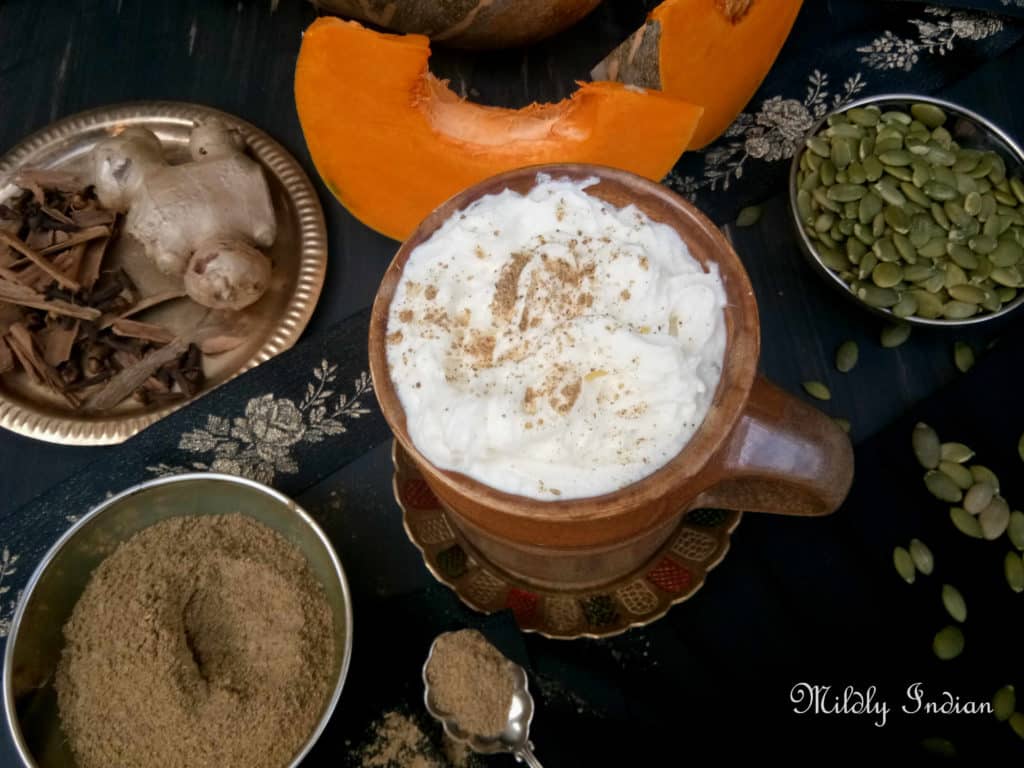 The coffee is my morning ritual, a bit like a time is spend with myself thinking and planning the day in my head. Now, once I had my mind riding over the pumpkin latte, I knew I didn't want any element to come off the cans except the milk and cream. So my usual go-to coffee making was made a bit more elaborate. The spring morning wakeup, to put the pumpkin for roasting gave me an unusually "spoilt" time for an extra bit of yoga and talking to myself. The pic shows that the light is just coming in and I loved the magic that the morning light plays. What do you do to be with yourself for a few minutes before you take on your millions of roles as mom, boss,  wife, coach, daughter, neighbour, organiser, girlfriend, planner and much more each day?
Hope you like this latte treat and do write in your review with pics if you can.
or connect up on Instagram either way, enjoy your latte.
Here are a few leads to the currently trending posts for you to check
See you again later this week.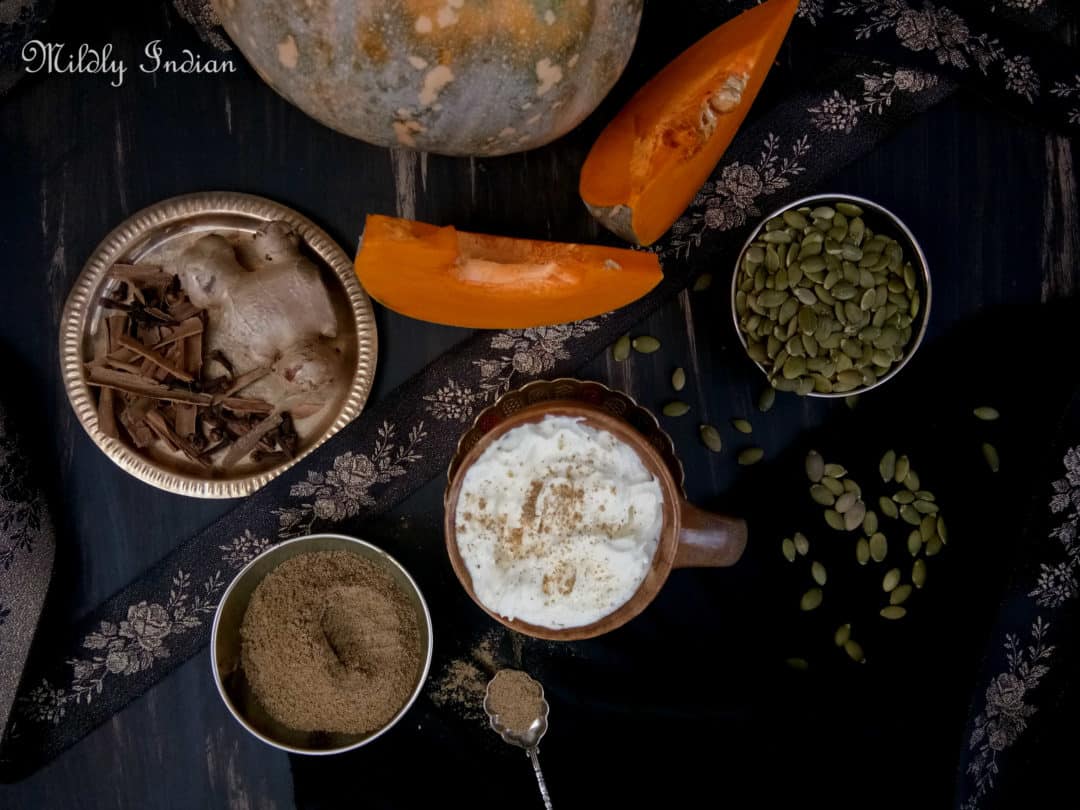 Spiced  Pumpkin latte
Cafe style
Ingredients
For the latte
1

cup

low fat milk

2

tbsp

pumpkin

roasted and pureed

2

shots

expresso coffee
For the pumpkin spice mix
1/4

tsp

cinnamon powder

1

pinch

all spice

1

pinch

nutmeg

(I didn't have any so didn't add)

1/4

tsp

dry ginger powder
Add ons
whipped cream

sweetener

(check foot notes)
Instructions
Preheat the oven to 180

Slice the pumpkin into wedges and sprinkle a touch of salt.

Place the wedges on a baking tray and roast for about 20 minutes.

Scoop the pulp and mash its weel to form a quick puree.

Prepare the fresh expresso

Blend the spice mix well and set ready

Bring the milk to warmth and and add 2 tbsp of pumpkin puree and a bout 1/2 tsp of the pumpkin spice mix to it.

Blend this well and froth the milk

Into the cup, pour in the expresso followed by the frothed milk mix.

Top this with a dollop of cream and spirnkle a bit more pumkin spice on top.

Enjoy sipping this beautiful warmth.
Notes
The pumpkin spice mix can be multiplied and stored in air-tight containers.
Prepare the pumpkin puree ahead or swap to a can if you need a really fast fix.
Zapp the milk in the microwave for a quick one.
If adding sweetener add it to the milk when adding the pumpkin puree.
Nutrition
Serving:
240
g
Calories:
118
kcal
Carbohydrates:
15
g
Protein:
9
g
Fat:
3
g
Saturated Fat:
2
g
Polyunsaturated Fat:
0.2
g
Monounsaturated Fat:
1
g
Cholesterol:
12
mg
Sodium:
157
mg
Potassium:
472
mg
Fiber:
1
g
Sugar:
13
g