It was the school holidays and still is blazing hot summer. Nothing can describe this situation better than milkshakes, ice creams and sorbets, Books to read lazing around and a cat to curl up at your feet and that's it. Perfect summer holiday!!
Once the classic milkshake rounds are done and gotten pretty boring, reach out for some silly strange one.  We are nearly through our Classic collection-chocolate, vanilla, berries and rose Milkshake series to beat the heat. If you have not made them yet, start right now
We have done them all. Now it is time to step up, so we sneaked in a cool new idea,
Chickpea milkshakes
Wondered why we had added those in. First, there is a box of it cooked ready to go.  Second there is always room for a bit more protein and third, it was a challenge to see what I could sneak in that the kids cannot guess. Yes, right now I have that absolute grin – I got it in the bag… You would never guess the chickpea in it unless you are the one who is making it.
Over and above the caramel was just the perfect match.  The sweetness and a touch of the salt to add to the sweetness make it heavenly. Guess what we topped it off with…
Popping candy..
. Now that was holiday well-taken care and we are still continuing our love for these milkshakes as summer is still on.
Oh, wait!! we made this version with almond milk for all that extra nuttiness so you go with your choice, milk or nut milk.
Meanwhile 
It is still Summer, so don't miss to turn your watermelon to a sorbet or have a pitcher filled mango lassi
Clean up and set up this milkshake as ice lollies too and gather up those books and get to some summer action at school. Here is a giant big request, please don't buy those single-use plastic straws to have your milkshakes, swap over for some reusable ones.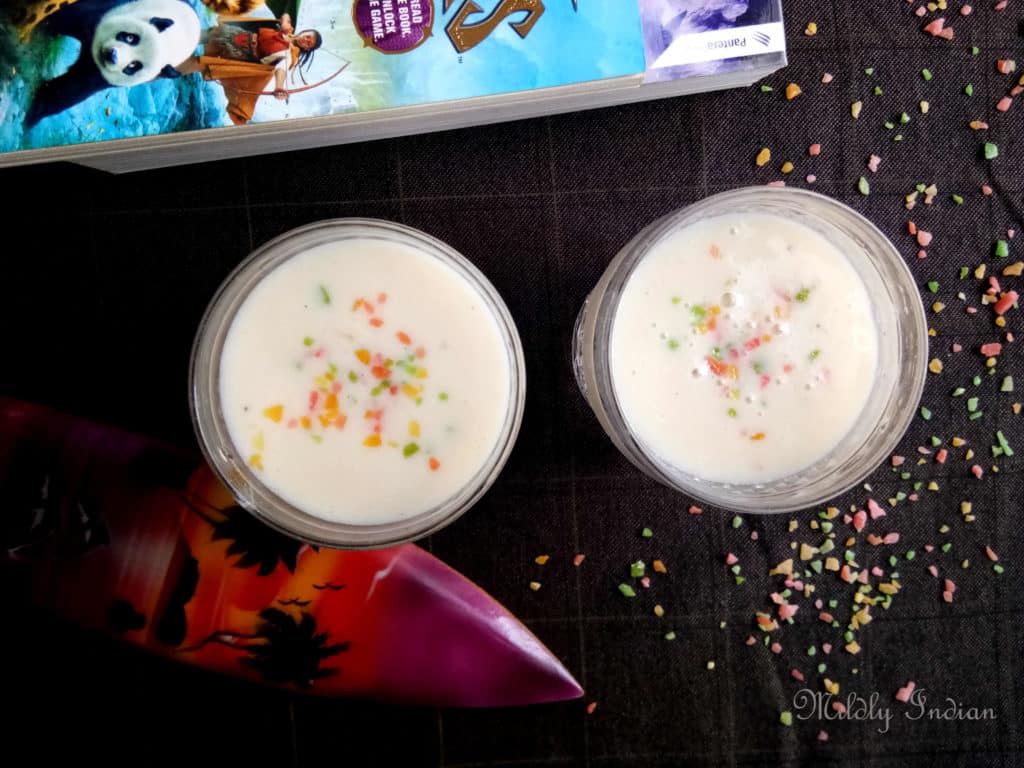 Try this one and let me know how your kids take to the chickpea addition.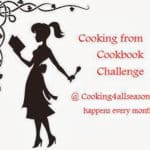 This post is added to Cooking from a cookbook Challenge initiated by Srivalli. This surely qualifies the guidelines as there were no online resources for this recipe, just holiday laziness.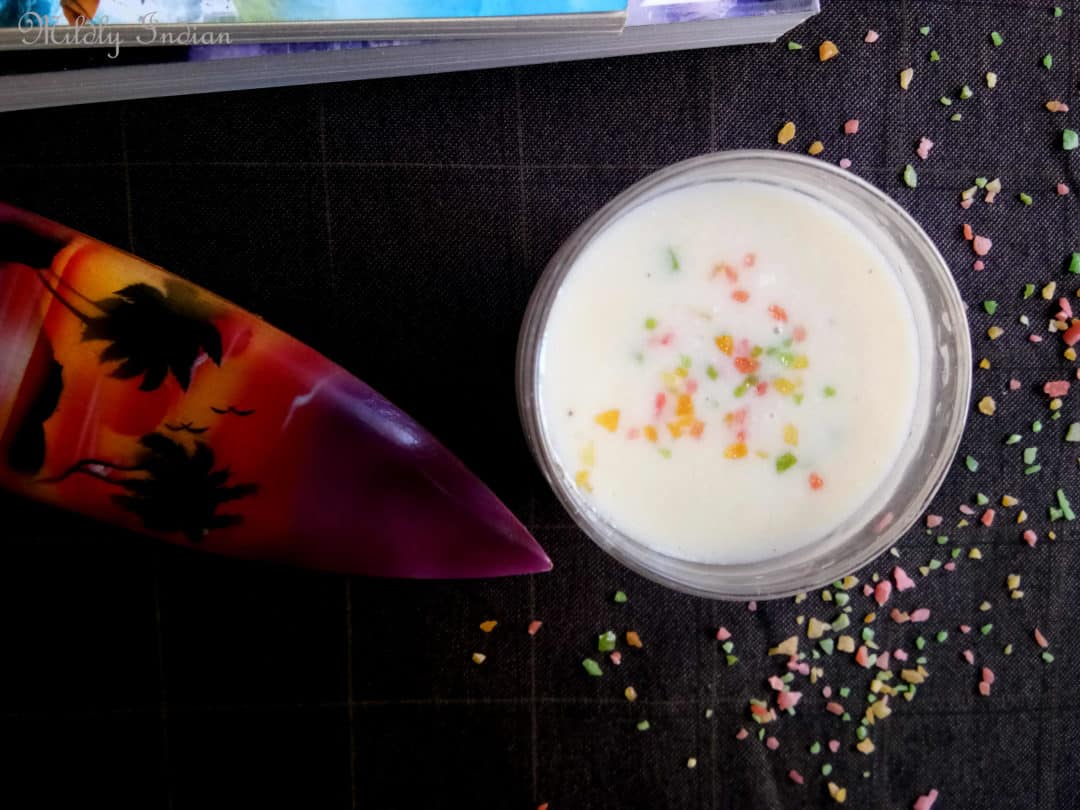 Salted caramel chickpea blizzard milkshake
protein adventure
Ingredients
to blend
1

cup

full cream milk / plant based milks

unsweetened

1/4

cup

chickpea

cooked and drained, unsalted

2

tbsp

salted caramel

syrup

2-3

Dates

mejool, pitted (optional for added sweetness)

crushed ice
to top
popping candy

as you prefer
Instructions
Into the blender add the drained chickpeas, milk of choice, salted caramel flavour and crushed ice.

Blend till smooth and creamy

Pour into tall glasses and top with popping candy.

Serve immediately
Notes
Adding a sweetener is optional. I tend to keep it low as the salted caramel compensates for it all, but if you prefer to add in a bit of the sweet tooth or a couple of dates.
Nutrition
Serving:
150
g
Sodium:
256
mg
Sugar:
17
g
Fiber:
2
g
Potassium:
207
mg
Cholesterol:
15
mg
Calories:
180
kcal
Monounsaturated Fat:
1
g
Polyunsaturated Fat:
0.2
g
Saturated Fat:
4
g
Fat:
7
g
Protein:
6
g
Carbohydrates:
24
g