Hug that bowl of pumpkin halwa for the winter dessert dreams to come true. This Indian-style fusion dessert brings a different facet of ever popular pumpkin to life. Make some, share some and enjoy good company.
Some vegetables are such that they are perfect in desserts as well as roasts, salad or curries. Pumpkin is my favourite when it comes to this.  It is also a soothing vegetable from toddlers to old age It is very easy to procure in most seasons and the whole pumpkin has a long shelf life. So, we always have a couple of them in our basement stock. Here are some recipes that we have blogged about so far using pumpkins, yet there is so much more to go for.
Katta meeta kaddu
Pumpkin latte
Savoury pumpkin bread
Coconut curry with pumpkin and okra
Pumpkin quesadilla
Roasted pumpkin soup
This pumpkin halwa caught on to our house's list of easy desserts and has been so all through this winter season. I really loved it when I made it and now I am looking forward to the festival days that are upcoming to make this again and again.
Ingredients and substitutions for pumpkin halwa
Pumpkin- the soft cooked pumpkins have that undeniable ability to make you comfortable. The same works here. Once you have chosen the pumpkin, peel and grate the flesh to use here. A finer grate gives a smooth halwa. Remember that the quantity reduces as you roast and cook the pumpkins.
Ghee- the preferred medium to roast and cook down the pumpkins is ghee. To reduce the quantity you can use a non-stick pan so it doesn't stick easily. If you are not using ghee use vegan butter instead.
Sugar- for that perfect golden colour sugar is the sweetener for this halwa. We make the halwa with jaggery (unrefined cane sugar). To make a sugar-free version, use half the quantity of powdered stevia.
Flavours- the halwa is typically flavoured with cardamom which gives the classic Indian dessert flavour. However, nutmeg pairs with pumpkins really well. So use a pinch of nutmeg and more cardamom in this halwa. Check the variations below for a couple more suggestions.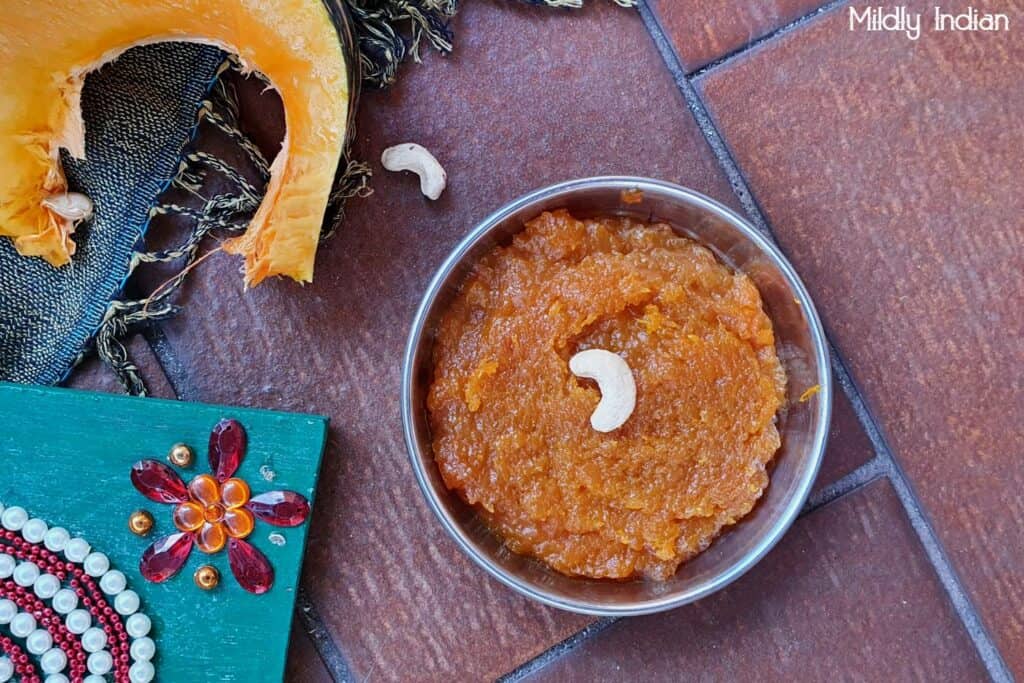 Kaddu ka halwa
Ingredients
1/2

kg

pumpkin

I have used yellow fleshed pumpkin.

2

tbsp

ghee / clarified butter

1/2

cup

jaggery

light brown sugar if you don't have jaggery

1/2

tsp

green cardamom powder

1

pinch

nutmeg

grated
Instructions
Wash and peel and core the pumpkin.

Grate the pumpkin and set aside till you are ready.

Set a pan and add a tbsp of ghee to the pan and add the grated pumpkin.

Saute this on a medium heat till the pumpkin takes a deeper colour.

Sprinkle the jaggery powder and saute it further to cook the pumpkin.

The pumpkin releases water and cooks and reduces.

As the pumpkin cooks and breaks down keep mixing.

Sprinkle the cardamom powder and the second tablespoon of ghee and further reduce the halwa till it becomes glossy.

The halwa is now ready to serve.
Which pumpkin do I choose for pumpkin halwa?
For this recipe, I love to use Kent pumpkins. You could use kabocha too as it flavours the halwa really well. The Queensland blue pumpkin tastes good too. I don't prefer using butternut squash for this recipe as the softness of pumpkin is more desirable here.
Can I use the puree to make this recipe?
The texture I love to go for is grated, it still breaks down upon slow cooking with sugar and reduces. However, if you want to use puree that's alright, cook it down before you add sugar so the water content is reduced and it doesn't splatter everywhere. The roasted pumpkin puree cuts down the time to cook the pumpkins though and tastes better than the boiled puree.
Variations to try with this recipe as a base
Other vegetables on my top list to substitute in this base recipe will be carrots and beets. Half a portion of beets or carrots with half of the pumpkin tastes wonderful. One of our readers suggested using roasted semolina as we cook the pumpkin. The semolina absorbs the pumpkin juice and the halwa has a thicker texture, more like a Kesari.
For the flavorants, if you are not a fan of nutmeg or cardamom, try vanilla or pumpkin spice. It surely gives a huggable dessert flavour.
Recipes with vegetables and beans that taste great in desserts
Some vegetables taste phenomenal in desserts and savoury items. Here are a few that we have tried successfully so far.
Shakarkand kheer- Sweet potato kheer 
Gajar ka halwa tarts-carrot halwa tarts
Red bean pudding- Vellam payarchundal
Candied raw papaya – Plastic chutney
Stay connected
Leave us some of your likes and dislikes about the post in the comments so we can improve this page.  If you have any that I should try out as experiments, let me know. I am very excited to hear from you! Follow us on Instagram and please keep commenting.