Consider a hot day… Overlooking the sea.  Well, reality will be it's not a great cool breeze it's just got humid and hotter. It's on those days I love to have an icy cold tall milkshake.  Double milkshake today.
I still love the old style yummy milkshakes.
Off late, I observe my kids to are going for the traditional milkshakes than the jumble mumble I create at times.
So here are the two absolute house favourites..banana milkshake with whole blueberries and chocolate milkshake with additional choco chips to indulge.
We no longer make this with loads of sugar,  not is there a craving.  It's straight-up fruit and frozen milk. It's yummy.
Here is a realisation. It's almost a year we weaned ourselves of pure white sugar and cut down our sugar intake to a conscious count.  This actually made many things I never imagined sweeter.  Now the bananas are extremely sweet and between 70 per cent chocolate seems sweet too.
So here we are too ready ourselves to the tropical heat( Malaysian) coming up soon.
Idle talk
"Mom. I guess we should have a milkshake stand for our next community service project.  People really would need one. "
"OK dear.. Let's work on that. "
Now that should be proof that this was good…
Don't forget to make your one,  unless you want to come and help us out with our next project…
Meanwhile, do check out our raw juicing recipes so far
Save this pin for a later date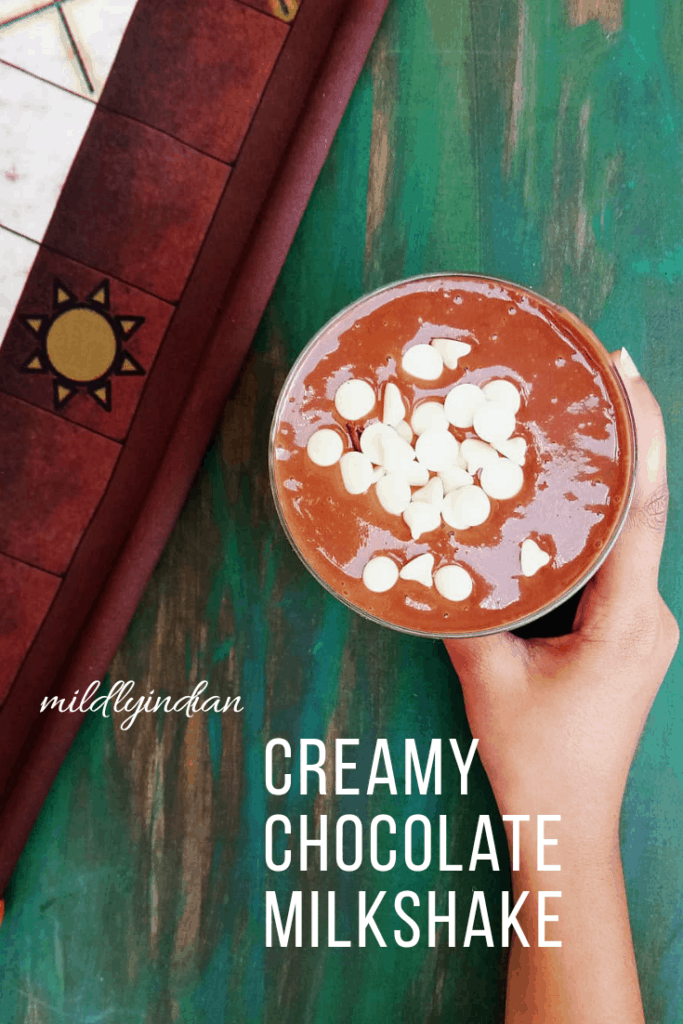 See you soon…
Print Recipe
Milkshake - Banana or chocolate
Yum
Place the milk in the freezer in a freezer safe bowl for a few hours.
Slice the banana and add into the blender

Crush the frozen milk a bit and add into the blender with a pinch of cinnamon powder

Blend all till it is smooth and creamy

Pour into glasses and drop in the clean blueberries. Enjoy...
Into the blender add the cocoa powder, frozen milk and vanilla extract and blend till smooth.
I prefer to use frozen milk directly as it reduces the amount of watering down after blending.