Every childhood memory has that tall milkshake etched permanently. This timeless classic never fails to impress. However decadent you make it the tall multiple candy and chocolate filled mason jar versions of the modern milkshake still have that old school baserecipe. Here we are dicussing that base recipe you can upgrade based on your preferences.
Dig a bit deeper
It is a bit interesting to note that most burger places have the best milkshakes. What makes it click?
It is nothing but the sugar factor in the shakes. 
Since the tastebuds perceive salt  in the burgers as the satisfaction to it, identity is  far more enhanced when there is a presence of smooth sweetness from the shakes. This is why the burger, fries and shakes works together. Interesting  fact isn't it!
Here is another school of thought.  The smooth cold milkshake washes down texturally contrasting burger. What do you think is the better reason? Dont miss to share your thoughts in the comments. 
Do you really need a blender to make the milkshake?
A good old whisk was the first trick to whip up this timeless treat. A good old mixing bowl, a whisk, ice and the fresh ingredients do the trick. So, put those biceps to good use and whip up this classic. If you have a blender or an immersion blender go for it. Essentially, you dot need any fancy equipment to get that tall frothy cup going. It is totally your choice. 
Endless possibilities
We began to have more milkshakes while in Malaysia, to beat the scorching tropical heat. Since,  the flavour possibilities are endless for creating these it was easy to try a new one each time.
Starting with the Vanilla,it was easy to move on to chocolate, banana, oreo, berry and mint. Create combinations among them, say, choco-mint. The flavours of salted caramel and canulope – muskmelon lingered on much longer than the others. 
Once we moved to Australia our milkshake horizon has widened even more. We seem to find peaches, saffron, apple, cherry all exciting. But our base recipe is always the classic to build on. 
We found the key to making a creamy milkshake with no cream addition is frozen milk. The thick slurpy smoothness that the frozen milk provides is amazing.
If you are in a hurry, premake the milkshake and freeze them. They thaw beautifully as you make theough the daily mundane chores and your treat is ready. At present we are also building on some unusual flavours, Try these listed below :
Enjoy these recipes, tag us @mildlyindian when this base recipe works for you and keep in touch.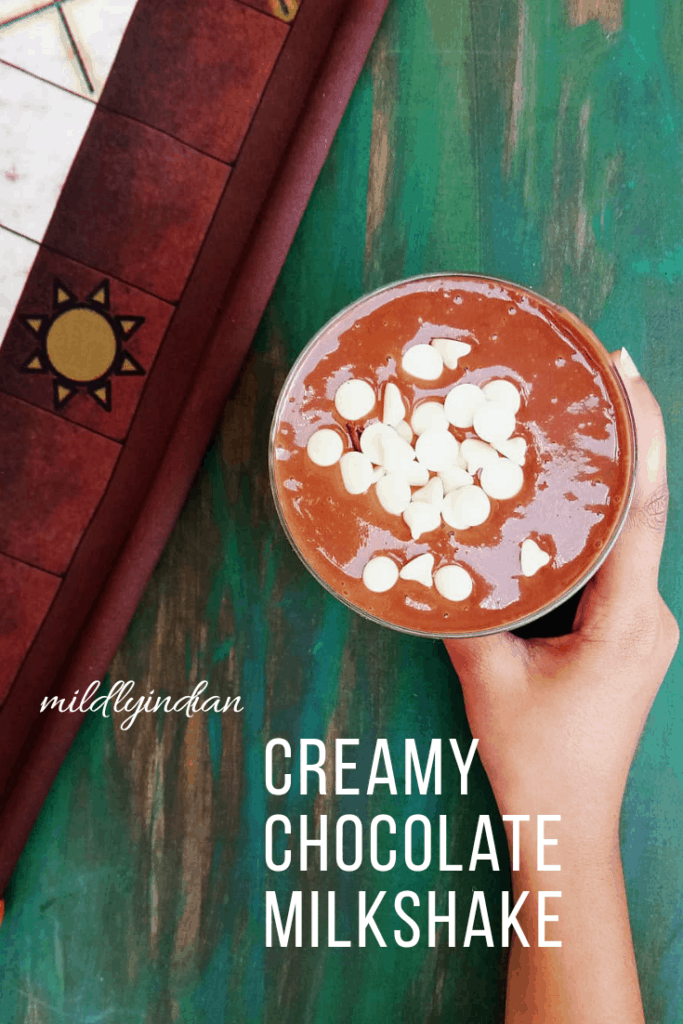 This content has been updated to suit the current reader profile. Hope you will continue to like the changes as we work with Foodies redoing old post to keep us on track.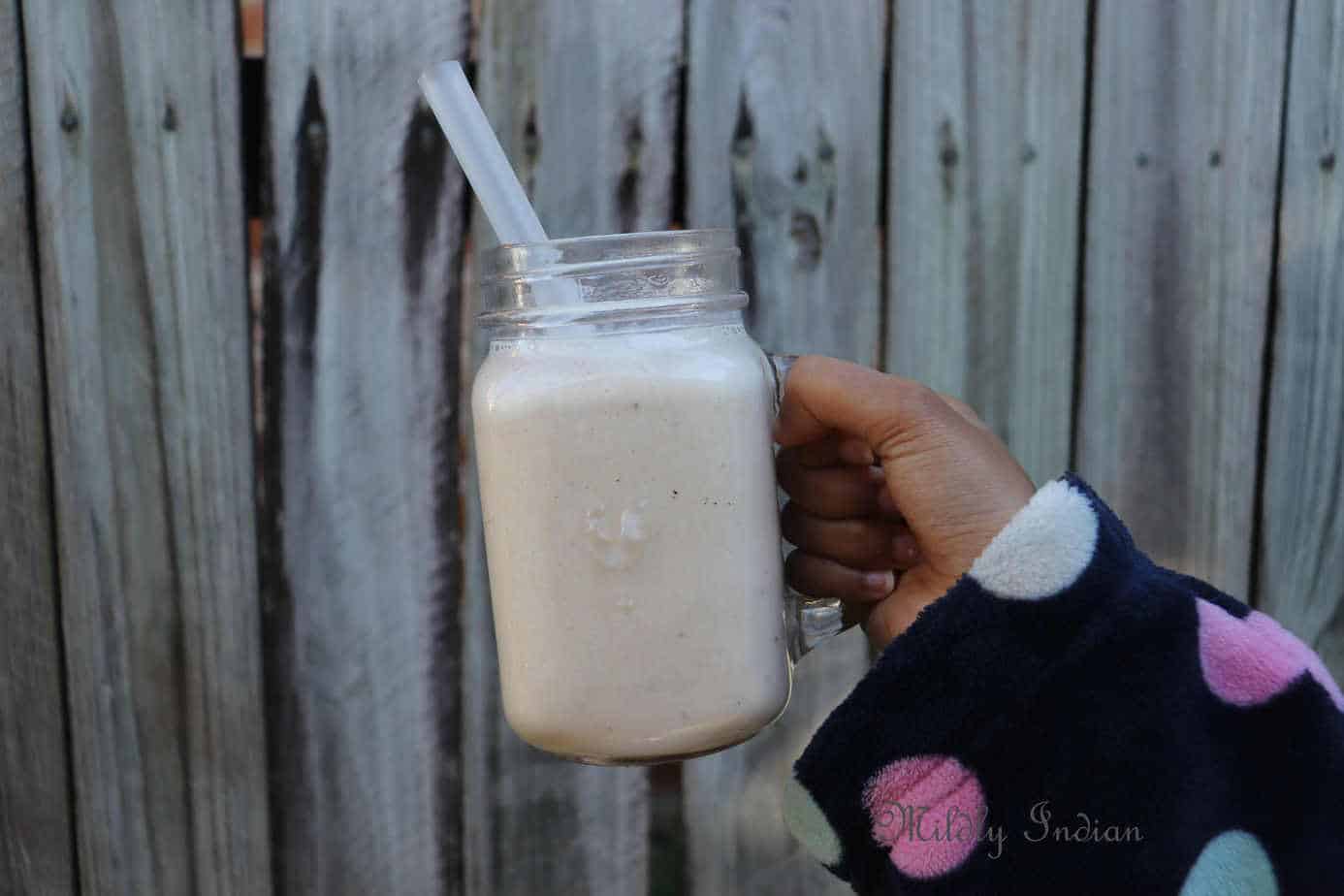 Milkshake - Banana or chocolate
simple old style
Ingredients
for Banana milkshake
2

cups

low fat/ full cream milk

frozen

1

medium

Banana

a

pinch

cinnamon powder

a

few

blueberries
for Chocolate milkshake
2

cups

low fat/ full cream milk

frozen

3

tbsp

cocoa powder

unsweetened

vanilla extract

a few drops
Instructions
Place the milk in the freezer in a freezer safe bowl for a few hours.
Banana milkshake
Slice the banana and add into the blender

Crush the frozen milk a bit and add into the blender with a pinch of cinnamon powder

Blend all till it is smooth and creamy

Pour into glasses and drop in the clean blueberries. Enjoy...
For chocolate milkshake
Into the blender add the cocoa powder, frozen milk and vanilla extract and blend till smooth.

Enjoy on a hot day..
Notes
I prefer to use frozen milk directly as it reduces the amount of watering down after blending.
Nutrition
Serving:
244
g
Calories:
277
kcal
Carbohydrates:
43
g
Protein:
19
g
Fat:
6
g
Saturated Fat:
4
g
Polyunsaturated Fat:
0.2
g
Monounsaturated Fat:
2
g
Cholesterol:
24
mg
Sodium:
216
mg
Potassium:
1045
mg
Fiber:
5
g
Sugar:
36
g