Migrating to various countries certainly is an adventure. Very often we are required to experiment with our taste buds as well with the culinary favourites. Yes, hence we adapt to various tastes and flavours. Most of the time it also makes us think out of the box. Here is lettuce vepudu that is the result of this divergent thought process.
What does lettuce taste like?
One of the most common cabbage-like salad vegetables you will come across throughout most countries you travel, to is the lettuce. belonging to the daisy family the lettuce varieties occupy a whole section of the fresh produce in most supermarkets. Predominantly used in salads, lettuce is very useful to add to the green content of your diet. There are a few different varieties of lettuce that you will commonly come across in the supermarkets. 
The iceberg lettuce ( or called crisp head lettuce) -the most common lettuce variety that is kept in the salad section is the iceberg lettuce. Though crisp the leaves of the iceberg lettuce are very gentle in flavour. To me, they just taste like water with a slightly sweet touch. With about 96 per cent water in it, you really can't expect anything different!! Being the bland profile actually allows it to take up flavours based on how you add to it. It is a perfect volume for most salads.  The iceberg lettuce is suitable to use in this vepudu recipe. 
The cos lettuce ( or romaine)- with firm long leaves and a slight bitterness to it cos lettuce is perfect in salads. The cos heads are stronger to withstand heat and are suitable for grilling or this recipe.  
The butter lettuce – the softest melt-in-the-mouth kind of lettuce is the butter lettuce. This is one that I love in my burgers and lentil salads, not in the lettuce vepudu and it can't stand the heat well and becomes mushy.
The radicchio- the burgundy-coloured leaves of radicchio are a stronger flavour and a distinct bitterness. Radicchio is one that I like grilled and it is able to withstand the grilling. 
The best part is the low-calorie and quick-cooking properties of this versatile green.
Turning lettuce into a vepudu
The lettuce vepudu or poriyal is one that we adapted to through our migratory journey. Unlike in India, the cruciferous veggies are the ones that take over the market in the winter months. Certainly meant to be for salads, we do find lettuce through all months of the year. As it gets cooler, no one in my house prefers cold salads. They all long for the warm and fuzzy cosy feeling. So the salad basic crisp head of iceberg lettuce gets left in the veggie compartment.
After a couple of times of throwing it out is when I learnt the stirfry version from a Malaysian hawker. A bowl of that gets easily cleaned up. So I started experimenting further. If they make great stirfry, they should be perfect to make an Indian curry stirfry aka palliya or poriyal. The slight heat in this recipe actually helps to give flavour to the lettuce.
With no further wait,  please scroll down for the recipe. Be mindful that you will need a huge quantity of the lettuce to make up the volume as it shrinks quite a bit.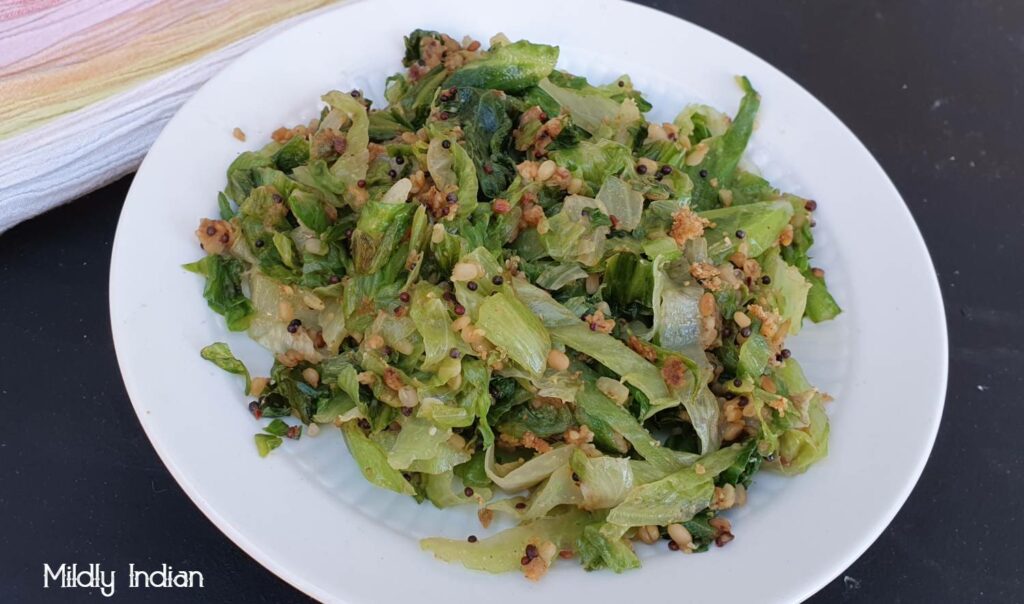 Lettuce vepudu
Equipment
1 Cutting board

1 Knife

1 frying pan

1 ladle
Ingredients
1

large

lettuce

I have used iceberg lettuce here.
For tempering
1

tbsp

cooking oil

1/2

tsp

mustard seeds

1/2

tsp

Urad Dal

1/2

tsp

Channa Dal

4-6

curry leaves

1

dry red chillies

broken into bits

1

clove

garlic

smashed
For vepudu karam ( makes a 4-5 serves)
1

tbsp

urad dal

1

tbsp

Channa Dal

1

tbsp

sesame seeds

1

tsp

cumin

1

tbsp

dessicated coconut

4-6

dry red chillies

10 -12

curry leaves

dried
Instructions
To make vepudu karam
First prepare the vepudu karam

Set the frying pan on medium heat and dry roast teh urad and channa dal

As they get golden and roasted, add the cumin, red chilli and sesame seed.

Once the sesame seeds start popping add the dessicated coconut and roast a bit further.

Remove this mix from heat and set aside to cool.

Once cooled grin the spice mix into a smooth powder.

Store this in airtight jar till use.
To make lettuce vepudu
Wash and pat dry the lettuce. Then chop it roughly and set it aside

Into the frying pan add oil and set on medium heat.

As the oil heats up add mustard seeds, urad dal and channa dal.

Once the mustard splutters, add the red chilli, garlic and curry leaves and mix well.

When the garlic turns golden add the chopped lettuce and stirfry for a couple of minutes.

As the lettuce starts reducing in volume, sprinkle the vepudu karam and stir fry for another 3-4 minutes.

Remove from heat and serve the vepudu warm.
No lettuce? Try these
If you are out of lettuce, the recipe can be adapted for cabbages or spinach. Of course, the volume of fresh cabbage compared to the lettuce can be halved. Spinach reduces the same amount so keep the same volumes to use.
Vepudu Karam
irrespective of the type of vegetable the vepudu karam is an aromatic spice mix. The mix is made with split urad dal, split chickpea ( channa dal), sesame seeds, dried coconut ( kopra), cumin and red chillies. To the mix, I add dried curry leaves as it is hard to source them here and when I do get them, I dry them to add to such spice mixes. With a good shelf life the vepudu karam, is a keeper in the pantry, making all the stir-fries so much better. 
The recipe card above carried the details of how to get this lettuce vepudu done with precise measurements. Share the idea with your friends and family who are looking for new ways to incorporate lettuce into their foods. Pin the recipe onto your board for future use. 
Serving the spicy lettuce vepudu
Steamed rice wins this deal! Add a small bit of ghee to the steamed rice and have a generous helping of the stirfry. If you are looking for a filling meal, serve with a bowl of dal, yogurt or rasam. Add a papadam or some pickle to make the meal complete. 
Storing the lettuce vepudu
Lettuce vepudu is not a make-ahead recipe as the lettuce just tends to go limp further spoiling the taste. however, you can chop the lettuce ahead and keep it in an airtight box with a kitchen towel at the base to absorb any liquid,
More lettuce?
Stuck with more lettuce, here is another idea that you can use to use up iceberg lettuce- Asian-style lettuce stirfry.  In fact, pair it with noodles and or steamed jasmine rice for the Asian food experience. Otherwise, check out this shredded lettuce salad with yogurt dressing.
Stay connected
I hope you have subscribed to our blog to receive regular updates. We thank you for staying with us and encouraging us at every step. We would love to have you visit the Youtube channel that we recently updated. Please subscribe, like and share these videos and recipes and let us know what you like and dislike about them. See you at the next post.