Lemon tea is relaxing dairy-free beverage that comes in handy between meals. Enjoy this easy to prepare, dairy free tea warm on a winter day or cold to adapt to the summers.
Any India trip is loads of yummy food and treats. When you are not able to go your family sends in these packages that say a lot about their care. On the last trip that my husband went on alone, treats came for us! It was in the form of chips, vattals, vadam, mixture, filter coffee powder etc. Among these packages was tea, Connor tea from my brother-in-law! With the close proximity of Kerala to the western ghats, this package was ver special to me. The fragrance of the tea leaves is best explored as nimbu chai so we wasted no time in trying some as this classic nimbu chai.
Exploring lemon tea
The choice of type of tea varies for each one of us, but as a chai lover, atleast once you have to give the nimbu chai a chance to prove itself. A simple brew with a generous squeeze of lemon for clarity and faint lingering sweetness, the tea is a comforting sip any time of the day.
What tea is used for nimbu chai?
Black tea- the fermented and dried tea leaves bring that characteristic deep orange coloured lemon tea. This is what we have used today. This is slightly on the stronger side of the tea, but the aroma and colour are lovely in it.
Green tea– this is a lighter tea with all the well-sung benefits of green tea. It is refreshing without the strength of the tannins. Lighter yellow in colour when brewed the tea stays well and aromatic even when served chilled.
Matcha–  this is my go-to on a summer day for the chilled version. With the slight bitterness, the light matcha takes up the lemon juice well. Usually, I don't add any sweetener to this lemon matcha tea as I love it as such!
Hibiscus -if you have access to the flowers check out our post to brew the brilliant red tea you can use to make lemon tea.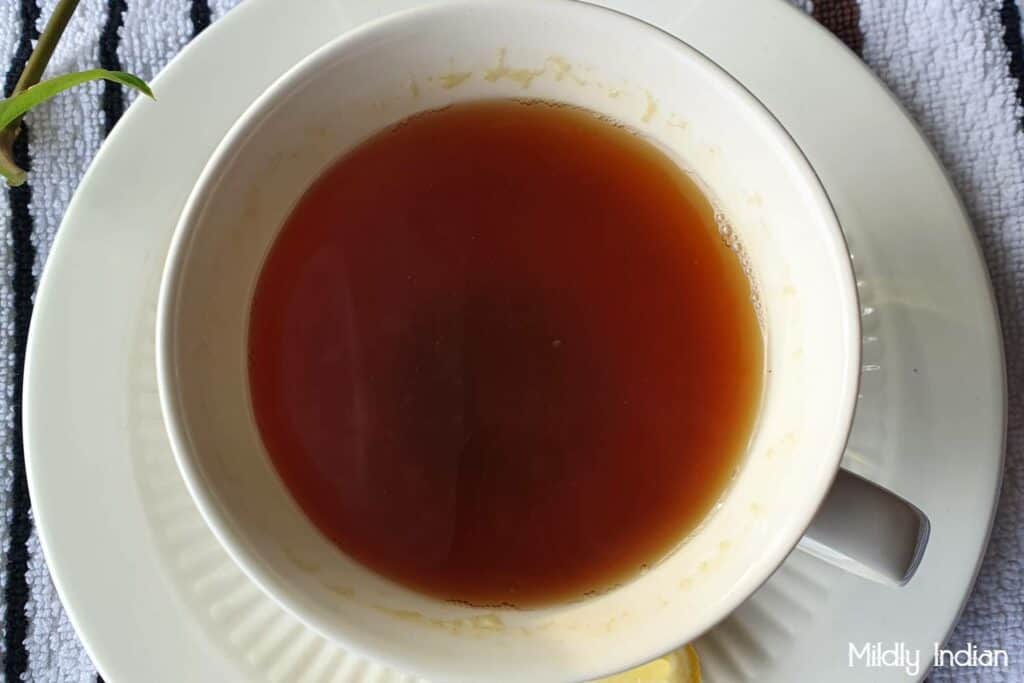 Let's make some nimbu chai.
Lemon tea one of the easiest hot beverages you will make. As long as you can boil water and squeeze a lemon, this is easy to master.In the recipe card below is the detailed recipe for making the nimbu chai with black tea leaves. Share your experience of making it with us and rate the recipe in the discussion below.
Nimbu chai
Ingredients
2

cups

drinking water

1

tablespoon

black tea leaves

1

tablespoon

Lemon juice
to sweeten
1

teaspoon

sugar

or half teaspoon stevia
Instructions
Set the water to boil in a saucepan.

Measure a tablespoon of black tea leaves.

When the water starts a bubbling boil add the tea leaves.

Let this simmer for 2 to 3 minutes.

Strain the tea, stir in the sweetener and lemon juice.

Pour into cups and serve immediately.
Variations to the lemon tea
Middle eastern lemon tea- Usually I squeeze the lemon juice and add it to the tea once it has been steeped and sieved. You can otherwise boil the water with the lemon rind or slices of lemon and then steep the tea. This is called Middle eastern lemon tea.
Iced lemon tea- in summer prepares a double strength of this lemon tea. Sweeten and Chill the tea. To serve add ice cubes, lemon slices and a bit of mint leaves to a tall glass. Pour halfway the prepared tea and top it off with sparkling water. Enjoy your soothing drink.
Lemon tea vs sulaimani
Sulaimani is often confused with nimbu chai. In fact, they both use black tea leaves, specifically the Nilgiri chai varieties. The difference comes from the fact that the sulaimani is aromatic from the multiple whole spices that are steeped and are a bit on the dessert style of tea. Also, the sulaimani is served with dates on the side as a sweetener, whereas in lemon tea you can use honey to stir in.
Other chai recipes you have to try.
Of course, by now you are intrigued by sulaimani too! But there are some other milky teas that you absolutely must try.
Masala chai
Tulsi chai
Black pepper chai
Collaboration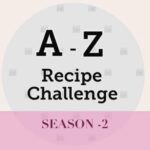 The nimbu chai is the one for the alphabet N in the Hindi series of A to Z recipe challenges. Lemon or nimbu is an unavoidable ingredient in Indian cooking and is relied on the most for beverages.
Stay connected
Nimbu chai is a tea experience. If you are a chai lover, you have to try it to feel the difference. there are a lot of discussions on the health benefits of this chai but I am not an expert on it. For me, it is more of a relaxation idea. Enjoy the tea, and let us know how you go about it. Subscribe to our blog to receive our updates as we post new ideas. Sip some tea and feel free to browse more posts.  Catch up with us on Facebook and Instagram.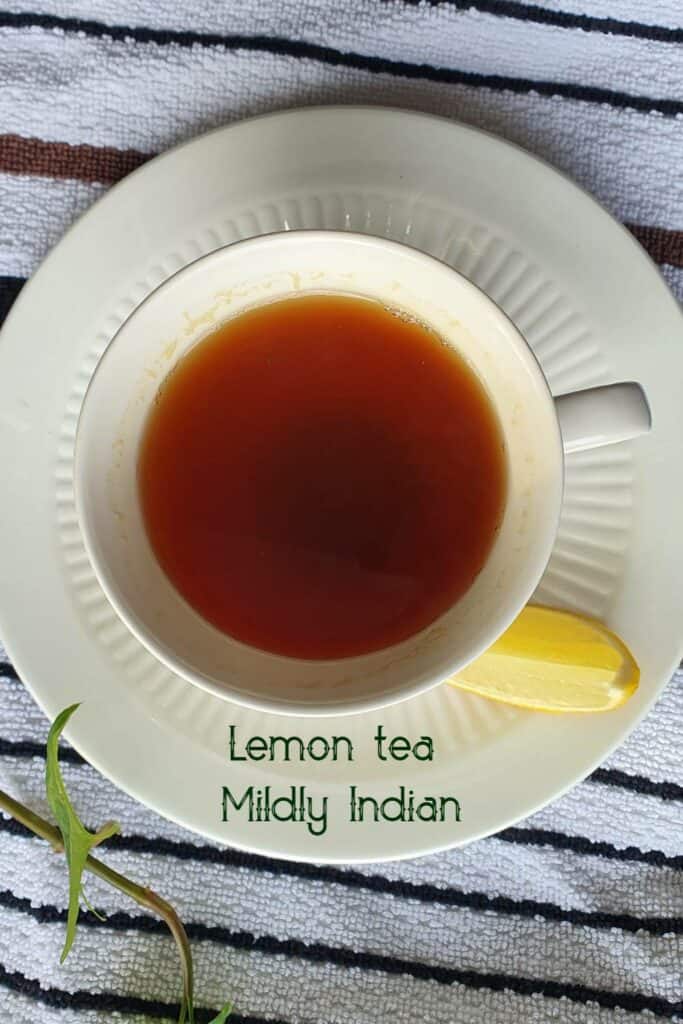 Stay safe and see you in the next post.