I haven't met anyone who doesn't like chocolate chip cookie!! In fact, I don't want to. The basic chocolate chip cookie is one of the obsess-worthy recipes here for sure. The best one to share.
To reach here with a failproof recipe I have certainly made most varieties from absolutely undercooked to hard as a rock one. Over a period of time gathered a lot of little notes around my dough covered book which made the cookie just perfect. Let's share some of my notes.
Though these chocolate chip cookies are crazy simple, there are little tips and tricks that make them the best.
Soften the butter:
Making these cookies needs a bit of planning. Keep the butter out till it softens. Working with soft butter is far easier, for a cookie. You certainly don't want clumps of cold butter while you bake these babies.
The chocolate chip :
Use dark, milk or white chocolate chips, it doesn't matter. What matters is you need a lot, after all, it is a chocolate chip cookie!! You can use chopped baking chocolate as well.
Measurements:
baking is an exact science. While making classic recipes, pay attention to how you measure. For the dry ingredients, I prefer measuring cups, not the measuring jar that is for liquids. Scoop the flour in and level of with a knife,  this works best for me each time. Don't tap or pack it in unless the recipe calls for it.
Don't overmix:
The dough just has to come together to hold shape. Overmixing the dough makes cookies that literally run and flatten when baked. Save that elbow grease and just gentle mixing would work here.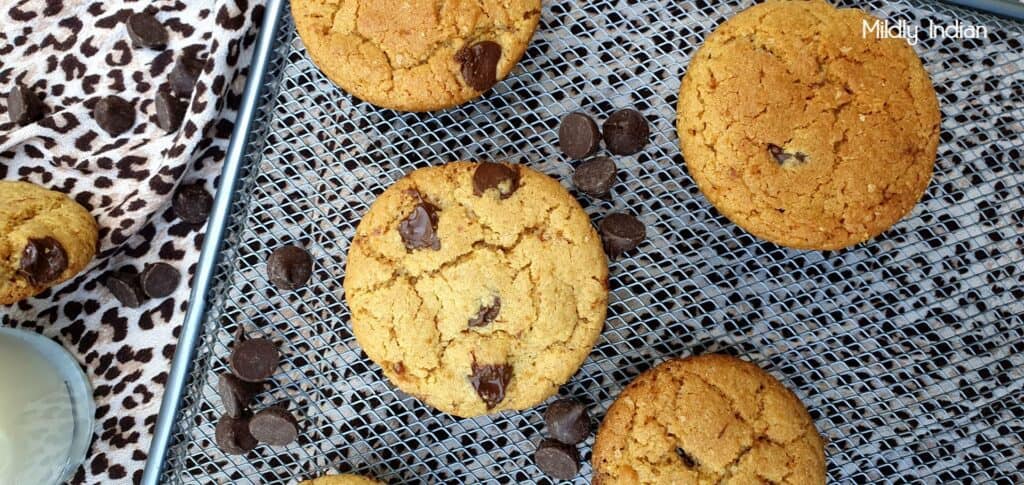 Oven temperature:
To get the perfect cookie you should know your oven well. This holds good for all types of baking. If you are serious about baking an oven thermometer is absolutely worth investing in(I don't have any affiliated brands). This saves a lot of cakes and cookie failures.
Ingredients getting warm:
While mixing the cookie dough,  if you happen to notice they are extremely sticky, the dough is getting a bit too warm. This could be because of the room temp or the speed of mixing. Place the dough in the refrigerator for 10 minutes and continue.
Bake them under:
Pull out the cookies even they look under. Don't worry, they continue baking on the sheet for a while till they finish cooking. This will give you the perfect chewiness. When you bake them till done and cool them, they turn out to be rock hard.
Now, these tips should get you to the best failproof cookies. The basic dough works even if you change up to m &m's, sprinkles or peanut butter buttons so make the most,  make them all for a big batch. If you are looking for one more try the Almond cookies we baked earlier.  Keeping this as a jar snack when your kids get home? I would pair it with some washed grapes and totally wash it down with some classic milkshakes. Hope you like the recipe and will love and share some cookies.
Stay safe. 
Chocolate chip cookie
basic melt in the mouth chocolate chip cookie recipe
Equipment
mixing bowl.

measuring cups and spoons

baking trays
Ingredients
To cream together
125

gram

butter

( this is half cup butter)

1

egg

(room temperature)

1/2

cup

unrefined sugar

1/4

cup

brown sugar

1/2

tsp

vanilla extract
dry mix
1 and 3/4

cup

whole wheat flour

(self raising)

1/4

tsp

salt

1/4

cup

chocolate chips
Instructions
Preheat the oven to 180 degrees.

Prep the baking sheet with baking paper

Into a mixing bowl add teh ingredints, and mix throughly

Using a wire whisk or a fork combine and cream the ingredients till they are combined well.

Sift in the dry ingredients and mix gently.

Roll in the chocolate chip.

Bring the dough together, make it into a ball or a roll in parchment paper.

Place it in the refrigerator if your room temp is generally warm for 10 minutes

Roll small balls of the dough and place apart on the baking sheet.

press each ball gently to slightly flatten it.

Cookie takes approximately 12 minutes in my oven.

Remove the cookie from the oven and cool on a wire rack.

Store the cookies in an airtight container.
Notes
These cookies stay well for about a month, Well if you don't have cookie monsters in the house!!