Think of any creamy Indian gravy and for sure that picture carries flatbreads on the side. That flatbread to scoop up the luscious gravy or mop up the gravy on the plate, mmmm. I am sure this has left you salivating. Here is to flatbreads that do the trick even without us thinking about them.
Given that we have a variety of gravies we have breads to match them up with as well. This is why your breadbasket looks like a huge variety at the Indian 'restaurant. Picking and choosing from the endless list is often tough, even at the restaurant. Making them all happen at home is even tougher. here is the best hack, Know a few of them well that you can roll them out perfectly each time and your Indian dinner will be a hit. Making these rotis, parathas and naans is a regular affair for many of us. It is not rocket science, though it looks complexly engineered and perfectly shaped, so if you are a newbie stay on. Soon you will ditch the store-bought ones and make your own with the ease of a ninja.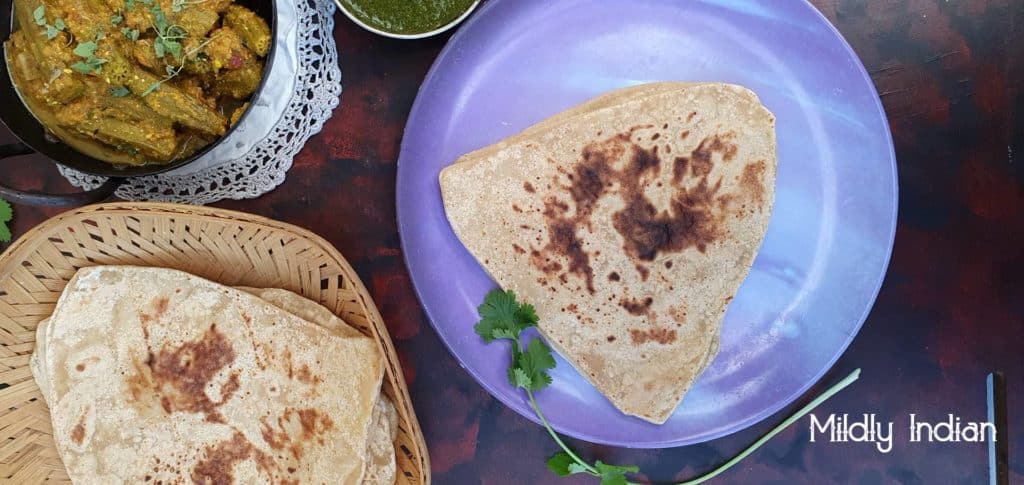 Layered triangle parathas or kastha paratha
Let me start by saying, these are by far the softest and thinnest of the parathas. In addition, you have it in layers by just a thin smear of ghee or oil on them. here is the best part if you are new to this flatbread. They need not be incredibly circular and accurate. Phew! that makes triangle paratha so much easier.
Options and more options!!
Yes, your kids will love the fact that they can play with the little pockets in the triangle paratha. We used to pretend that we were monsters, stuff in a whole forest and gobbled it all. We had our cheese slices in it too. These, triangle paratha, were the best in the lunchbox as they never go dry or hard in any season. The ultimate ones were the jam roll-ups, with some berries or a banana, that made primary school lunch so much adorable. The leftovers that amma gave us along with a coffee in the morning made- catch that bus sprint in the mornings workable all through the young adult days. Now it is that pure nostalgic comfort with the ease of making these that makes it a happy dinner.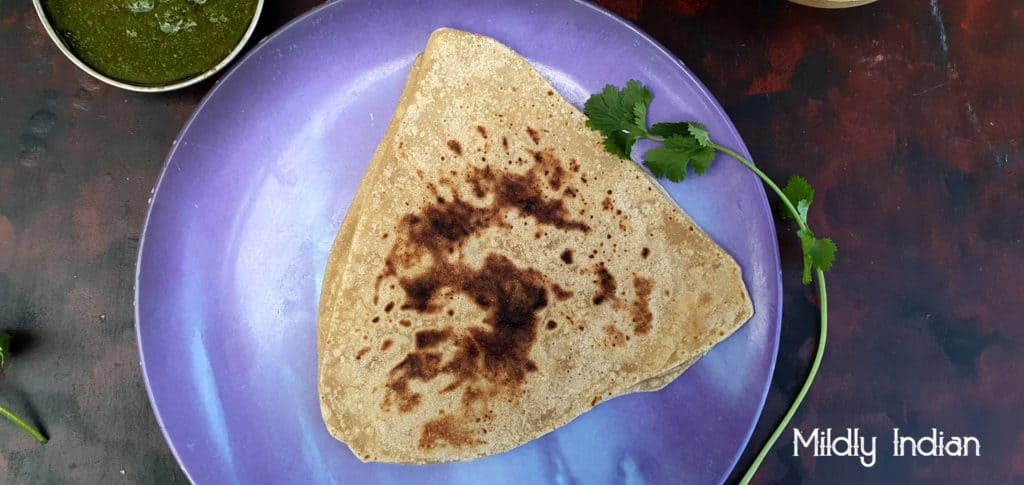 That leaves us to just get on with making these. Check out the recipe below with step by step instructions. Once you have mastered this, here is an easy treat with the same dough.
Coconut chocolate paratha.
Stay safe and see you next week.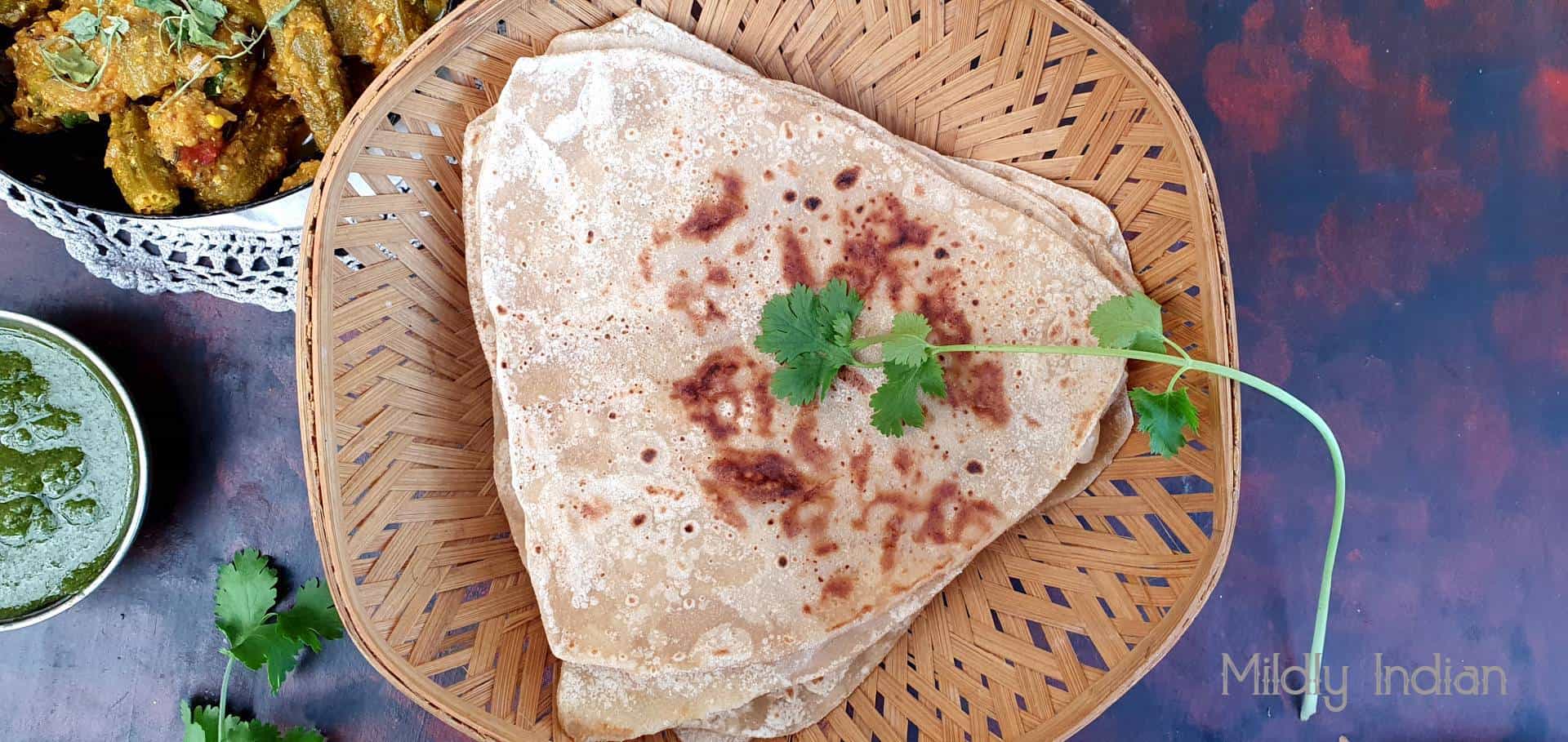 Soft triangle paratha
layered flat breads to mop up the creamy gravies.
Ingredients
for the dough
2

cups

whole wheat flour

1/4

tsp

salt

1.5

cups

drinking water
for layering
2-3

tbsp

whole wheat flour

2-3

tbsp

ghee / clarified butter

( use coconut oil if vegan)
Instructions
Into a large mixing bowl sift in the wholewheat flour and the salt.

Add half a cup of water and mix it well.

Add a few tbsp of water at a time and keep kneading the dough till it becomes soft and pliable.

Cover with a moist kitchen towel and leave the dough for 7 to 10 minutes.

Make lime sized balls of the dough. Based on your hand size you will get about 20 balls out of this dough.

Dust a board and rolling pin with flour and place a ball of dough and roll it out into a small circle. Use a bit of dusting of flour to prevent sticking each time.

Smear a thin layer of ghee on this circle and sprinkle a bit of whole wheat flour on it.

Now fold in the edges to make a small triangle.

Roll out this triangle into a thinner one, about 2mm thick.

Save the rolled out ones with parchment paper layers between them.

Heat a flat griddle ( pan) on medium heat and place a rolled out paratha on it.

When the heated side becomes a bit blistered flip it over and gently press the edges with a flat turner.

Once the paratha puffs up and had slight brown blisters on it, it is cooked.

Remove from heat and place on a serving plate lined with a clean dry kitchen towel. This helps to remove the steam that makes the parathas soggy.

Serve the parathas hot with gravies of your choice.
Notes
Tips to test if the dough is right. 
Initially, the dough will be sticky and as you knead it, the gluten will add to the stretchability and thereby become less sticky. If the dough remains highly sticky, you may have added a bit of excess water. Adjust it by using a tbsp or two of the whole wheat flour. once you roll the dough into a ball and punch a small hole with your knuckles, it will spring back, this is the best test to see if your dough is ready.