Having a  saffron summer drink to entertain with is certainly lovely. As we open up to more freedom, inching cautiously through the long-drawn pandemic experience, it is certainly nice to have something to sip on while having a much-needed friend chat.
Last weekend, I finally got down to making a batch of kesar elaichi sherbat syrup. This is perfect as the weather is getting warmer here and we will be having a few friends over at our place soon.
Understanding Sherbat
Sherbat is a popular drink that entered indian cuisine via the Persian influence. Popular in middle eastern regions, the sharbat or sherbat is a light and refreshing drink with has fruity or flowery flavours. It was also one of the easiest ways to preserve the fruit or serve a cold beverage along the hot humid days. The beverage is popular during the Ramazan months to break the fast. Earlier we had made a fresh watermelon sherbat  on this blog during one of the Ramazan months. This elaichi sherbat is easier to store for a longer time and can be used in a few different ways (check serving suggestions below)
The green cardamom or elaichi
Elaichi or chotti elaichi is green cardamom pods.  It is a fragrant spice used both in sweet and savoury combinations in Indian cuisine. Commonly grown in hilly regions of India, especially the western ghats, this is a cash crop that trades well around the world. The flavour of cardamom is complex. It has a sweet aroma, with a fruity, menthol-like flavour yet distinctly different. We have used green cardamom in biryanis, pulao, curries, ladoos and payasams. Today we highlight this ingredient in this kesar elaichi sherbat, summer drink. 
Finding the best saffron
We had discussed saffron while we were making kesar doodh (saffron milk). The difficulty with buying saffron is the adulteration. If it is a new brand always try small quantities before you buy a lot. In fact, I will never recommend buying bigger quantities as it loses fragrance.
The Gold leaf.
The golden spangles experiment is one of the best experiences of chemistry during college. Forever, I wanted to recreate this feeling in a drink. When I saw the gold leaf at the baking aisle I couldn't help but try it out with this golden coloured kesar elaichi sherbat. The gold leaf certainly adds a sparkle to the drink but doesn't submerge to create the spangle effect. Nevertheless adds a great visual quality to the drink.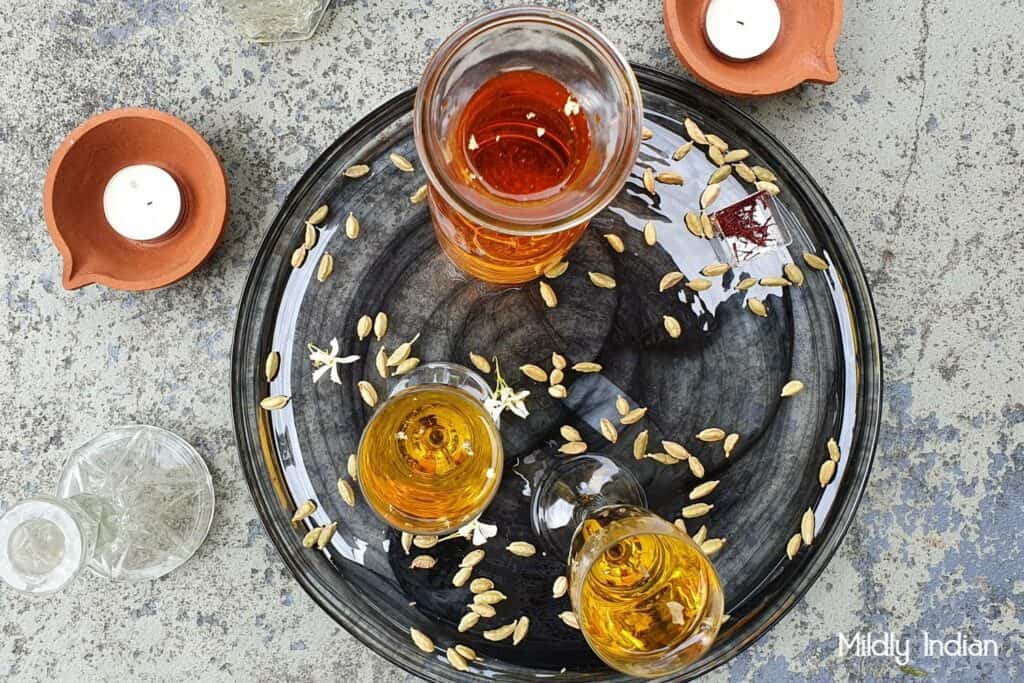 This recipe card below has the details of the recipe and ingredient list. If you happen to make this syrup, rate us with the stars in the comments.
Kesar Elaichi Sherbat
A popular non-alcoholic, summer drink with flavours of cardamom and saffron.
Ingredients
For the syrup
50

pods

green cardamom

1/2

tsp

saffron

1/8

tsp

citric acid

850

grams

unrefined sugar

500

ml

drinking water

1

gold leaf

1/4

cup

rosewater

( edible grade, not beauty grade)
Instructions
To make the syrup
Soak the saffron in warm water and set it aside till use.

Into the saucepan add the sugar and water and mix well, set it to dissolve.

Add two tbsp of sugar to the cardamom pods and finely powder them in a spice mill ( or coffee grinder)

Once the sugar looks dissolved, bring it to a slow boil on medium heat.

Add the elaichi ( cardamom) powder and bring to a boil.

Add the citric acid and collect the scum that forms on top.

Stir constantly till the sugar syrup comes to a sticky 1 string consistency.

Add the soaked saffron and remove it from heat.

Stir well and let it sit till it comes to a lukewarm temperature.

Strain and store in a glass bottle.
To make the drink
Add about 1/3 of the syrup to a glass and add 2/3 cup chilled water or sparkling water.

Stir in a tsp of lemon juice and serve.
Using this syrup
There are a few good ways you can put this syrup to use.
In these images, we have used syrup with water and lemon juice to create a simple summer drink. If you prefer,  you can use sparkling to create a bit of fun.
Add the syrup to a glass of chilled milk or plant-based milk to make a delicious summer sherbet. Milk-based sherbet is best not made and stored. Rather stirred and had immediately.
Drizzle the syrup over ice cream and fruits to make a sundae.
Make a simple cheesecake and top it with the syrup to serve…yumm!
Stay connected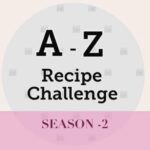 The Elaichi is the star ingredient here and perfectly suitable to add to the A_Z recipe challenge for this month. Since we are working on ingredients with Hindi as our language, we are adding E for elaichi, thereby this elaichi shebert to this group.
We hope you will love to share with us your thoughts about or recipes and post. Take a moment to visit our youtube channel. Leaving you with our Facebook page  (click here) and Instagram (click here ) so you can take a peek. Don't forget to follow us as we update these to the best of our efforts. Subscribe, share, like and evermore come back
Stay safe and see you at the next post.