In the list of eating well breakfasts, savoury ones are my favourite. If it is the one with beans and lentils even better. Over the period of running to work, I have succumbed to that poor quality one of coffee and toast. This couple of days helped me place the perspectives right.  I was missing that protein needed to make the mornings. Just by chance was refreshing my kitchen lists and realised I have missed so many that I can easily do.   This list I make is for that quick glance of caN dos before I stick my head in the fridge to see what I can grab to achieve it. Guess what I so completely forgot about? White bean scrambles, I used to love this to bits. A toast topped with the scramble pretty much kept me full for a much longer while. Though I did continue with the 5-minute tofu scramble throughout the school times, I clearly missed the easy bean scramble…
Prepping the white beans.
Though the white bean scramble is a 5 minute on the stove kind of recipe, it needs a bit of forethought. The white beans need to be soaked for 3 to 4 hours prior. Essentially I do 4to 5 varieties of beans,  on the weekend along so I have enough to carry through my week. Soak them individually, each bean takes a different time usually around 3 to 6 hours.
One the soaking is done, wash the beans thoroughly as it reduces the gas issues commonly associated with beans. Use the soaking liquid to water your garden.
Then you can use an instant pot or a pressure cooker to get them cooked easier. I like to segregate my beans based in the texture they form for the cooking process as some need a longer time up to be cooked well. Natural pressure realise and let the beans cool. Scoop them with the liquid individually and save them in the fridge. If not use a drained can of beans.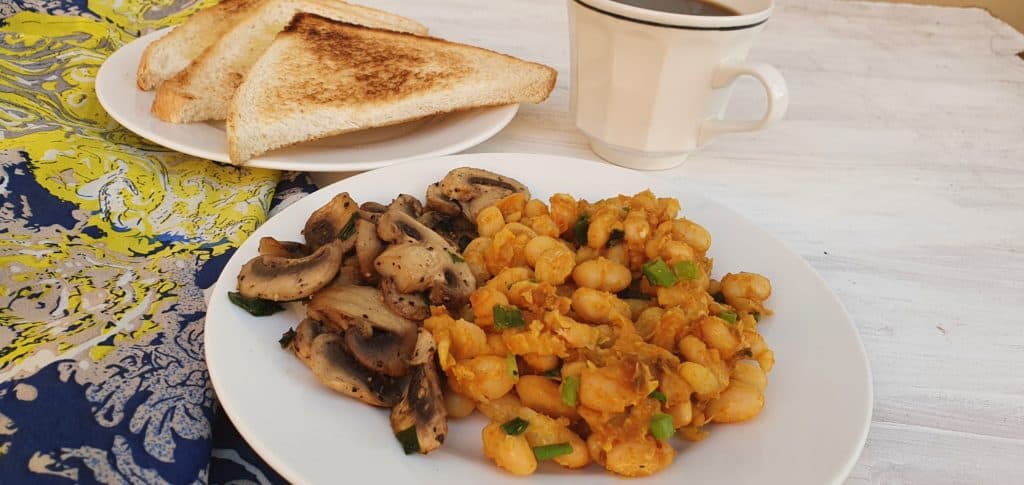 Ready for the five-minute wonder?
The cooked white beans are pretty much like a blank canvas when it comes to flavour. Pretty much any spice you add to it from the savoury range snd mix in herbs works well with this scramble. Don't forget to reserve the slightly mashed beans and a bit of the cooking liquid as you can use it in making the sriracha hummus (click here for the link)
The spices I like on a hungry morning stomach is chipotle with a squeeze of lime.
Now you can pretty much do any of the combinations below.
Turmeric and mint

Garam masala and coriander

Cayenne, lemon and chives

Coconut, lime and curry leaves.
Actually, the possibility is pretty much what you spice tack calls out to you. Try it out.
To serve, you can do a side of mushroom pepper salad and toast. You can even load up mini toasts with these toppings as an appetiser plate. Whatever your best combination, do let us know in the comments below as we are always looking for more combinations. Tag us when you click a pretty image of this recipe.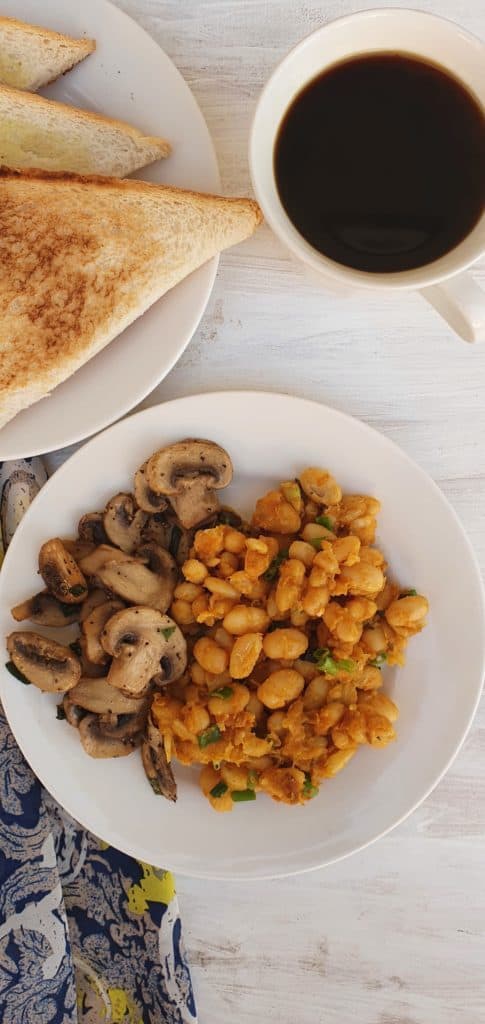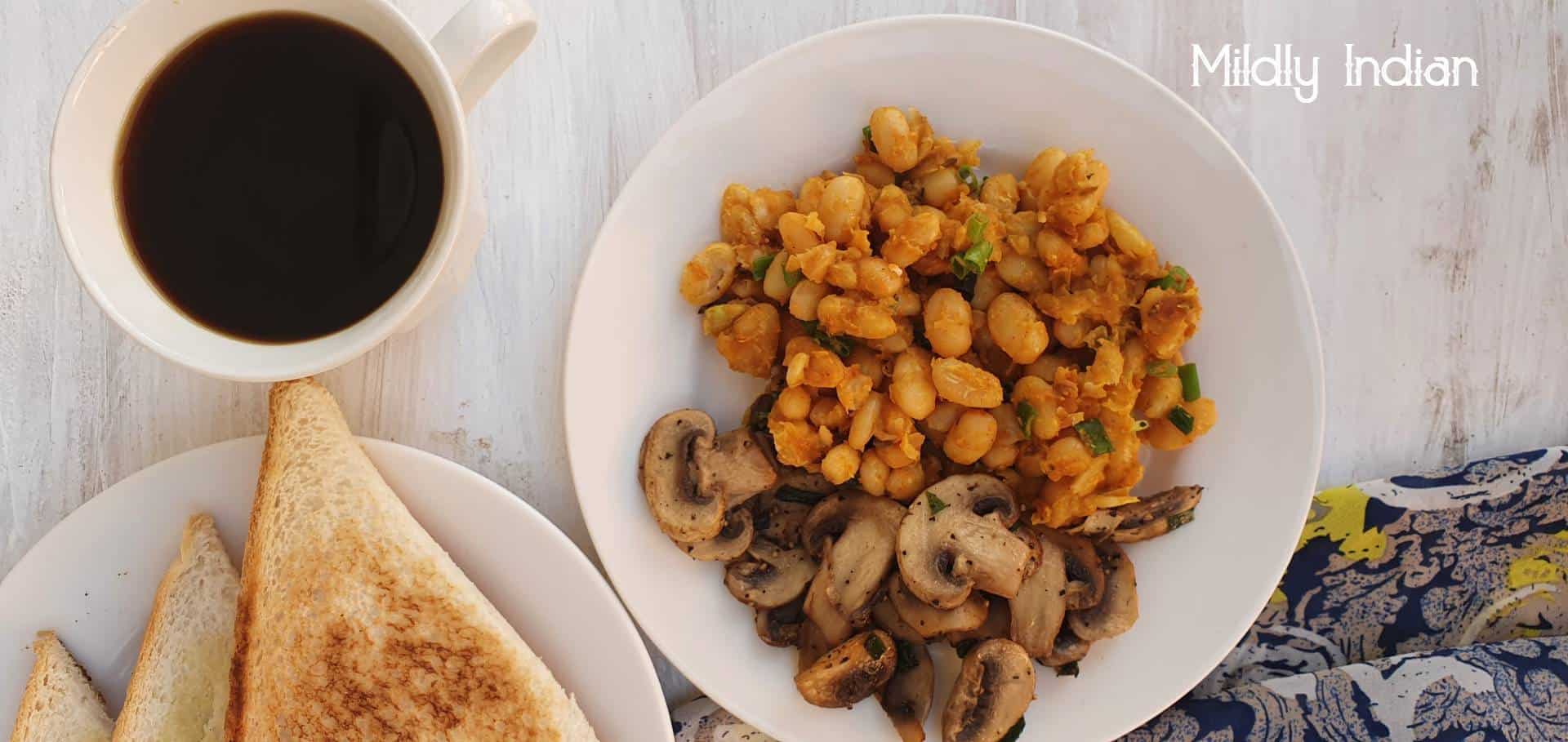 Spicy scrambled white beans.
Gluten-free, protein-rich breakfast
Ingredients
1

tbsp

cooking oil

( use butter or ghee if you prefer)

1

cup

white bean

( cooked and drained)

1/8

tsp

chipotle paste

1/8

tsp

roasted cumin powder

salt to taste

2-8

stalks

green onion

( chopped)
Instructions
Drain the cooked white beans and set aside.

Heat the tsp of oil in a pan and add the beans to it.

Add the salt, chipotle paste, and roasted cumin powder.

Saute well till the spices get evenly mixed. and simmer till all the liquids are dried up.

Try not to stir a lot so it doesn't turn mushy.

Add the green onions and stir and mix well.

Serve warm with toast.