A preserve is a jam made with chunks if fruit or fruit as a whole. When we buy ,we often overlook few of the ingredients which have nothing to do with a preserve. Well, on a commercial scale they are required to improve the appearance and shelf life of the preserve. There are plenty of articles which talk about- why they are used or what is the effect on health etc
Let's focus on something simple … kids are the highest consumers of this sweet treat, so why not skip all the unnecessary additives and come up with something they love in 10 minutes. A time even shorter than running to the nearest supermarket to pick up a jar of unwanted chemicals.
Here is perhaps the easiest way you can save the strawberries for an easy morning parfait or for your bakes. This  Sweet Strawberry preserve recipe is done in the microwave, yet the same can be used for a stove top preparation also. I use the microwave to prepare this as it is the quickest and slog free method. Do try and forget about the not so great store ones.
try out another one
Do not miss to subscribe for healthy updates or follow us on twitter, Instagram or tumble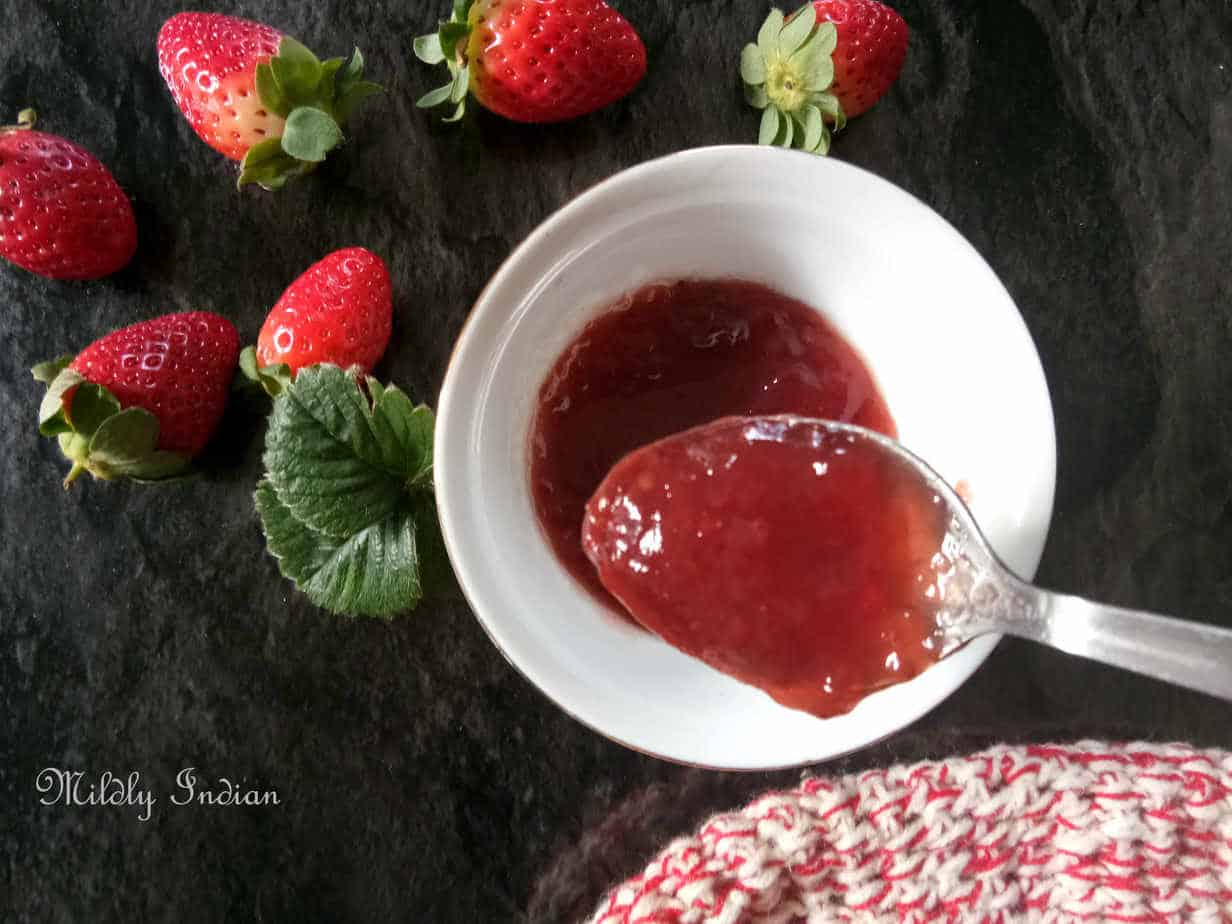 Sweet Strawberry Preserve
A slog free recipe
Ingredients
3

cups

strawberry

1/2

cup

unrefined sugar
Instructions
Wash pat dry and remove the strawberry stalks. Chop them roughly.

Take a large microwave bowl.

Add in the chopped strawberries first and microwave on high for 2minutes

Now the strawberry releases the liquid and appears pale. l. When cool you will find that the consistency is perfect for spreading.

Add the sugar and stir well. Microwave again for 3minutes.

Allow it  to rest for one minute. Stir. Microwave for 3 minutes more.

Repeat this process till the juices attain a honey like consistency

Allow it to stay in the microwave itself for a few minutes. When you take it out it will appear more liquid.

Place a clean, sundried or oven dried glass bottle on a dry chopping board and tranfer the preserve.

Take care to remove air pockets if any in the bottle. do not put the lid yet.

Cool completely and then put the lid on
Notes
The recipe stays well for a week outside in moderate temperature and for a month in the refrigerator as the sugar content is not quite high and has no additives to increase shelf life.