Indulge in a spicy side of mushroom pepper fry with some fried rice or toast that takes hardly 15 minutes to make. Have this gluten-free, vegan, keto-friendly recipe to add flavour to your meals.
Pepper is a flavour I really love. Having grown up with some pepper vines in our garden we had good quality spicy black pepper all year round. During the cooler months, amma used black pepper a lot more than chillies and this was something I followed naturally when I started cooking. When mushrooms were added to our favourite mushroom pepper fry was the first of the recipes we tried.
Why will you like this mushroom recipe?
Under 15minutes

Low carb recipe

Just a handful of flavours

Perfect crowd pleaser

Versatile
Which mushrooms are best for mushroom pepper fry?
I love using generic white mushrooms to make this recipe. Hey ate so easy to procure and easily absorb the pepper flavour as they provide a black canvas. My second choice would be cremini mushrooms as they do hold up pretty well too. I find shitake a bit chewy for this recipe and Enoki literally melts. The other choice would be oyster mushrooms as the gills can hold the pepper flakes.
Ingredients for mushroom pepper fry
Mushrooms: Choose fresh mushrooms which are firm to the touch. My favourite way to clean them is to rub on a clean moist cloth. In this way, they don't turn slimy. Then slice them and set them aside.
Bell pepper: I like the aroma that capsicum provides without standing the heat of chillies. You can add or avoid this ingredient. You can choose any colour and slice it into thin strips. The banana peppers (bajji molagai) are also suitable for this recipe.
Onions: mushrooms and onions are a thing. So sautee the onions to flavour the oil and then add the mushrooms. I have used white onions here as they have a stronger flavour to impart.
Black Pepper: The heat and flavour of this dish come from freshly crushed black pepper. Now you can add a bit more or s bit less depending on your taste buds. I am always a bit heavy-handed with this ingredient, so adjust based on our tastebuds.
Other seasonings:  apart from the above ingredients you need salt. That's pretty much it. At times, I add thyme or rosemary to the mix if I have some fresh ones.
Let us make mushroom pepper fry
The recipe card below carries the detailed step-by-step recipe is below this image. Hope you enjoy making some.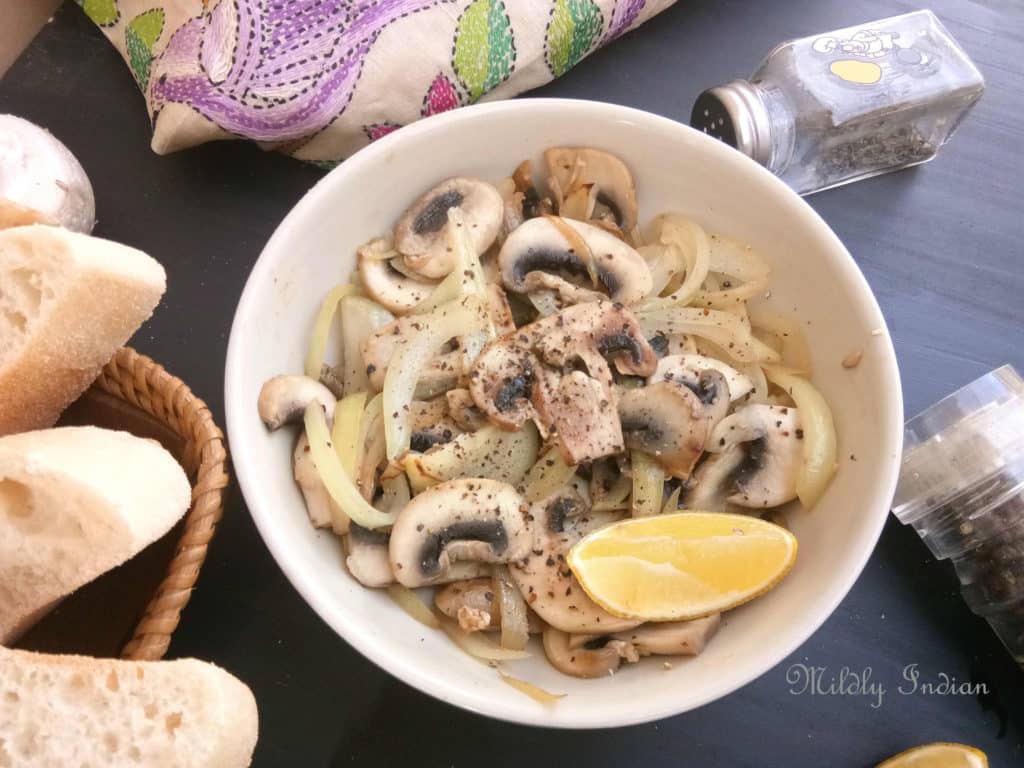 Mushroom Pepper Fry
Equipment
Cutting board

Knife

frying pan
Ingredients
2

cups

Mushroom

white, sliced

1/4

cup

Onion

1

small

capsicum 

green bell pepper.

1

tsp

olive oil

salt to taste

1

tsp

crushed black pepper

1/2

tsp

curry leaves

powdered.
Instructions
Wipe down the mushrooms with a wet kitchen towel.

Slice them thin and set it aside.

Slice the onions and chop the bell peppers.

Heat the frying pan to medium heat and add the sliced onions to caramelize.

Add the bell pepper ( capsicum) and let them saute.

Add the sliced mushrooms a little at a time so they have time to fry off.

Once all the mushrooms are added, sprinkle the salt and give a gentle mix.

As the mushrooms are sauteed, sprinkle the black pepper and powdered curry leaves.

Mix well and let the mushroom sweat off.

Once the mushrooms are sauteed the recipe is ready to be served.
Serving ideas for mushroom pepper fry
If you are planning a brunch I love to place some scrambled tofu, vatana nuggets and this pepper fry side by side along with some Indian cappucino.  My family loves to have mushroom pepper fry with scrambled beans for breakfast.
Mushroom recipes on this blog
We love shrooms so we have it on our menu at least once a week. If you are like us here are a few recipes you will like where you can use white mushrooms. Sorry the list is a bit long
Stay connected
The mushroom pepper fry recipe takes less than 15 minutes to put together. I hope you enjoy making this recipe as much as we love sharing this recipe with you. As we are updating this recipe, I can just remember how many vegan groups have loved this recipe. Hope you will share your thoughts about this recipe in the comments below. Share and tag us when you make this recipe on Instagram or Facebook.
Pin this recipe for later.
Stay in touch.