The moment the weather turns gloomy or you have a bunch of teens at home, fix up this crispy rice and moringa leaf pakoras and have them forget any unhealthy takeaways.
The kids caught me out this week!!
It has been pouring through the school holidays and in spite of it being summer, we are stuck at home ( well just them, I get to go to work!). Out of the blue today, my daughter asked what I used to do for the holidays and when it rains crazy. So, I opened my big mouth and blurted, have rice pakoda and Masala chai with a book. She was quick on this one – I literally said her three favourite things too. Instantly comes the reply, can we have that too and that pretty puppy face that comes with it. It is real hard to resist that snippets of innocence showing up. So I give in!!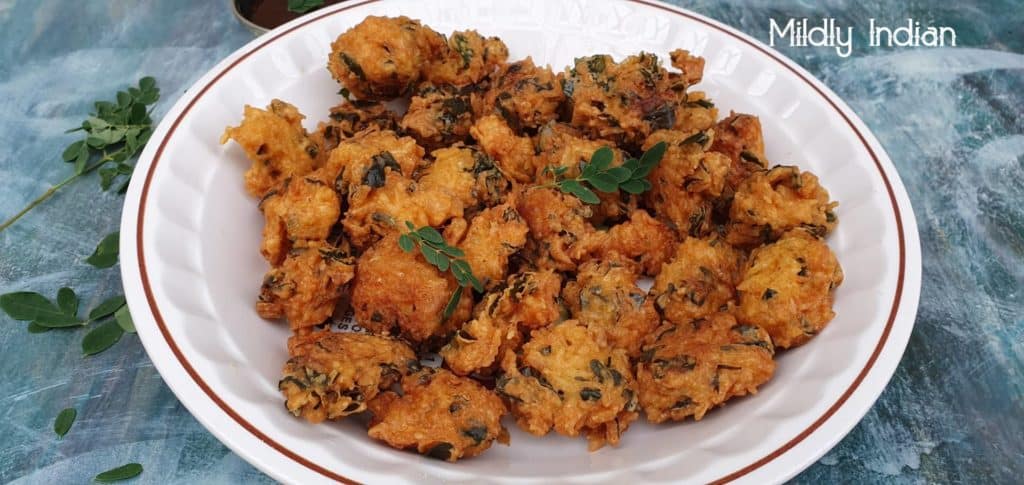 Killu Pokodam
My mother used to make onion and rice pakoras often and I love the way she used to call them "killu pokodam." " Killu" translating to "pinch" and "pokodam aka pakoras. These were easy to get done as they did not need any particular shape to drop them in oil, rather just pinch them out as you got into the hot oil or drop spoonfuls and not bother how it shapes. This process actually leaves crunchy bits of the exterior and a soft centre.  Moreover, the ease of not having to shape them makes this the killu pokodam choicest method I follow. You can see that I have used the same when we make Leeks pakoda and Malabar spinach leaves bajji. 
Make it easy
Amusingly, in India we a least say it is the duty of the veggies to coat themselves in batter and jump into the hot oil as soon as it starts raining as there is nothing better than chai and pakora. So gather up your ingredients and let us get to some making.
Leftover rice – any regular rice that you have cooked and is leftover is perfect for this recipe. We tend to use leftover rice primarily to use up the leftovers. Secondly, the leftover rice is less sticky than the freshly cooked ones. I have used cooked Sona Masoori rice in this recipe. You can use Basmathi, Ponni or long grain regular white to make this recipe. However, glutinous rice is not suited for this. 
Moringa leaf – The super food moringa leaves are the crunchy greens in this recipe. I tend to clean them over my weekend break and store them in refrigerator friendly pouches for a quick and easy addition to my recipes. If you don't get fresh Moringa, tried ones will work well too. Alternatively, you can add chopped spinach, choi sum, kale or radish greens to this rice pakoda recipe.
Pakoda mix – A quick mix of spices with a base of fine ground chickpea flour forms my Instant pakora/ bajji mix. I have added the link to making this recipe at the end of this post.  This comes in so handy to put a quick snack together or to make cheelas.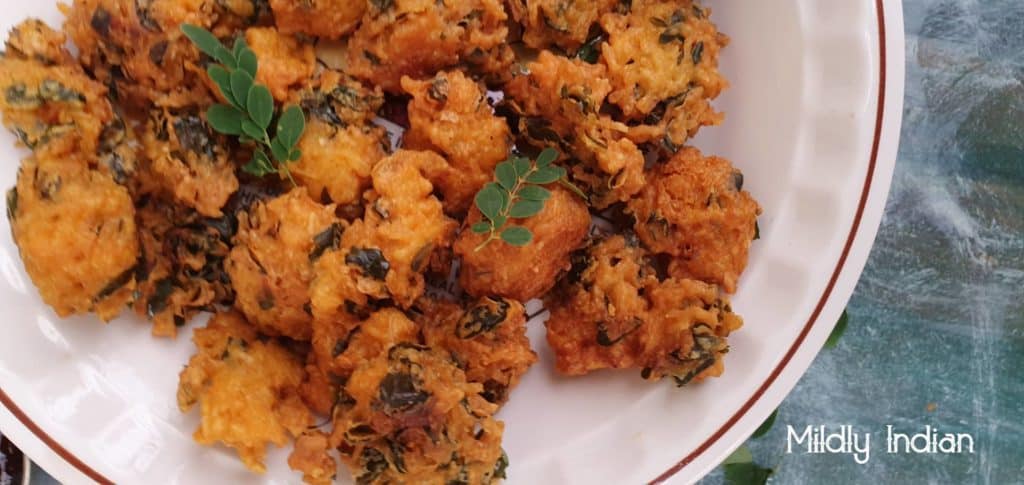 Crispy rice and moringa leaf pakoras
Gluten free, Vegan, nut free, nightshade free recipe with superfood Moringa, left over rice and pakora mix.
Equipment
1 deep fryer

1 mixing bowl.

1 measuring cups and spoons
Ingredients
for the batter
1

cup

instant bajji mix

pakora mix

1/2

cup

drinking water

( use as required)
For the mix
1

cup

moringa leaves

( fresh, cleaned and washed)

1

cup

rice

Left over cooked rice
Instructions
Wash and set the cleaned moringa leaves to drain.

Into a mixing bowl add pakora ( bajji mix) and spinkle water.

To this add the moringa leaves and cooked rice and mix well.

Add a few tbsp spoons of water each time till you can mix a lump free batter thicker than honey.

Heat the oil to medium heat. To test the oil when you drop a bit of the batter it should sizzle up and not sink to the bottom.

Take a small portion of the batter in your hand and pinch bits of it into the hot oil. Alternately, you can drop a spoonful of it into the oil too.

Once the batter looks cooked on one side, flip over and cook till golden brown on the other side. The bubbles that appear around the batter bit will also reduce. This means the pakora is ready

Drain the pakoras out of the oil.

Serve hot with chai and chutney of your liking.
Notes
Any wok or deep pot that you usually do the frying is good to get this batch of moringa leaf pakoras ready
Nutrition
Serving:
4
g
Calories:
339
kcal
Carbohydrates:
62
g
Protein:
14
g
Fat:
3
g
Saturated Fat:
1
g
Polyunsaturated Fat:
1
g
Monounsaturated Fat:
1
g
Sodium:
22
mg
Potassium:
460
mg
Fiber:
4
g
Sugar:
3
g
Vitamin A:
12
IU
Vitamin C:
130
mg
Calcium:
287
mg
Iron:
2
mg
Other rainy day essentials with teens at home
Just two-ingredient blueberry sorbet.
Stay connected
Accompanied by the chai, these rice pakoras were crispy and perfect. I loved the way the rice provides the crunch to the bite. When you make this rice and moringa leaf pakoras, let us know what you like about them in the comments. We are always all ears to hear your reviews, twists and turns. While you are here, do subscribe to get updates as regular as we can post them for you. Tag us @mildlyindian or #mildlyindian with your version of these recipes on all your social media accounts.
We have made a quick video making the Pakora mix that comes in very handy. Here is the video link :
Here is to rainy days, cosying up with books and chai!!
Stay safe and enjoy these little pleasures of life.