Melons have always been the summer favourite. We have not really experienced the heatwave this year thanks to all the summer rains. Yet, melons rule the fruit department in the house.
Way back, at the start of this blog, the very first recipe was the musk melon milkshake with unimaginably pathetic images. This I have recently updated. While doing the updated content, I was wondering how many melon based easy recipes did I record. Actually, just two.
The musk melon (cantaloupe) milkshake
And the champagne honeydew melon cold soup.
This means there is so much more to go. So here is the next dairy-free, banana free, easy to whip up, zero added sugar, kid-friendly honeydew melon smoothie.
Another one with the same profile on this blog is the pear orange smoothie.
Choosing the honeydew melon.
The melons that are completely white or yellow are ready to eat. The green colouration gets totally replaced by the colour while ripening. Next is the strong fragrance as you smell the stalk area of the melon. Also, look for the melon to be firm, not squishy (squishy ones are old).
Cleaning and cutting the melon.
Wash and wipe the honeydew melon.
Place a kitchen towel under the cutting board for two reasons. One, the cutting board won't slip and two, the juices that runaway can be easily cleaned.
Place the melon and cut it into two semi-circles.
Using a spoon scoop out the seeds from the centre.
Place the flat side down and cut into wedges.
Using a fruit knife peel away the thick skin from the wedges.
Slice or dice as per your need. In this case, dice to add to the blender.
Once this is ready the honeydew melon smoothie is halfway there.
What to do with the excess smoothie.
Honeydew smoothies freeze perfectly. So, without any hesitation pour into ice pop moulds and freeze away for another sunny day.
Hope you are liking the new back to back posts. If you have noticed changes, yes we made plenty in the backend. The recipe card styling has changed and now you can pin your favourite recipes directly. Try the new format and send me your feedback. It is always exciting to hear from you. Stay safe.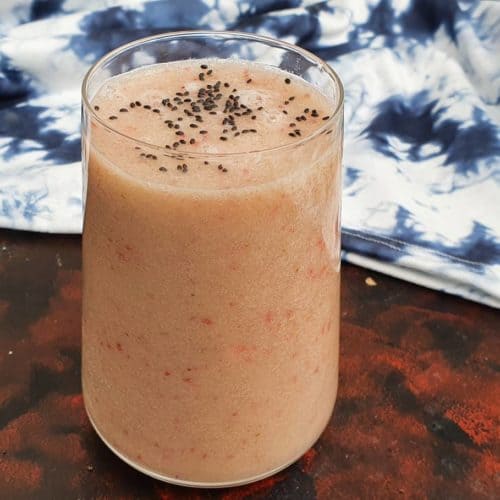 Strawberry and honeydew melon smoothie
On the go breakfast , grain free, fresh and banana free.
Ingredients
1/2

large

honeydew melon

diced

15

large

strawberries

1

cup

water
Instructions
Cut the honey melon as decribed in the post and then cut flesh into dices.

Clean the strawberries and add them in as well.

Add them all to the blender, add the water ( or choose ice) and blend them smooth.

Serve in tall glasses topped with basil seeds or some chia and sunflower seeds.