It is no doubt a tough time. We are all learning and adapting to new ways of life. Hygiene to food habits is all relying on the markets now. But, that is no way a reason to stop a birthday celebration.
Birthday month
March is a lot of birthdays in our household. One where we really have one per week. We love them all, but all that cake is not going perfect year after year. So we slowly plan a variety
For the grandmums, we have a traditional payasam like
Aval Payasam – Rice flakes in coconut milk dessert
or
For the kids, of course, we have cake
Here is one we baked earlier
Confetti bakery-style cake
Rustic apple cake
Or
Gluten-free chocolate cake
Pancakes and pyjamas
Then we have the parent, so now we get creative. This year we decided it is time to try a slightly different approach.
We moved to make a morning together with a reason for us to celebrate. Specifically, around this time of the year, it is a pancake and pyjamas celebration. That means we had to make the best of the pancake work. Nothing can scream more birthday than confetti (funfetti). So we have the perfect stack, confetti pancake stacks with the most decadent Ice cream glaze.
Ooo now guess it is time to celebrate!!! Guess you have those pyjamas on and ready to dig in.
HAPPY  BIRTHDAY to all the march horns. Catch us on our social media accounts using the following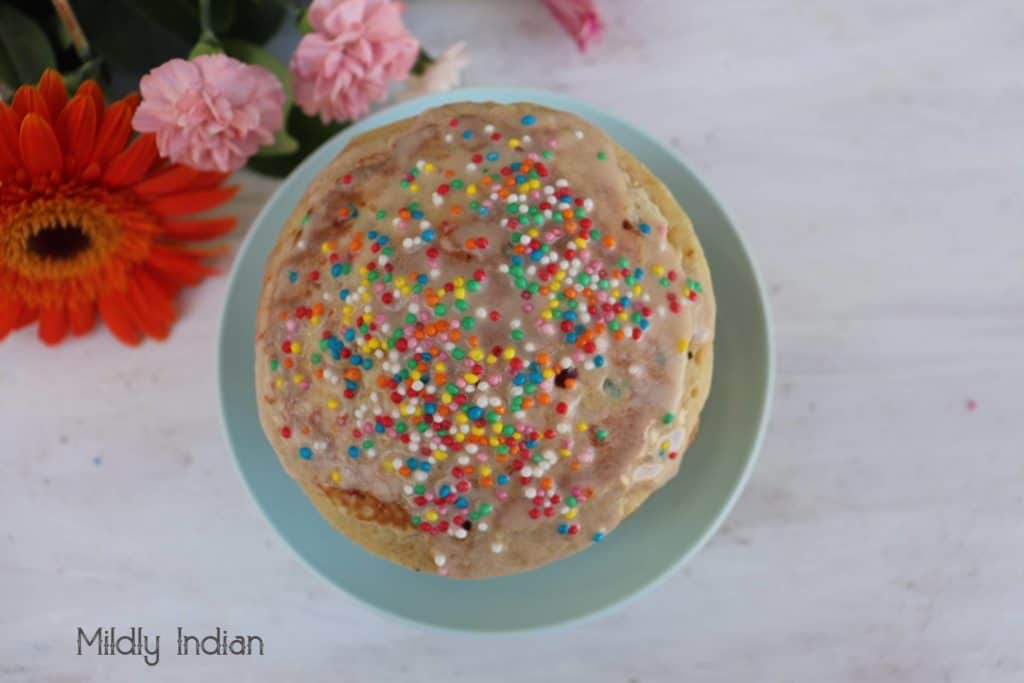 To add to the celebration

I share this happy recipe with Archana towards the Shh cooking challenge this month as she suggested a collection of recipes from the pancake gallery. Sasmita, my partner for this challenge and an absolute sport who gave me simple ingredients like milk and salt just to tide over the grocery situation. She has made an amazing authentic pancake on her collection – here is her blog
Isn't that wonderful, I still get the celebration on with the minimal pantry. Hurrah!!!
So dig in, don't miss your pyjamas on.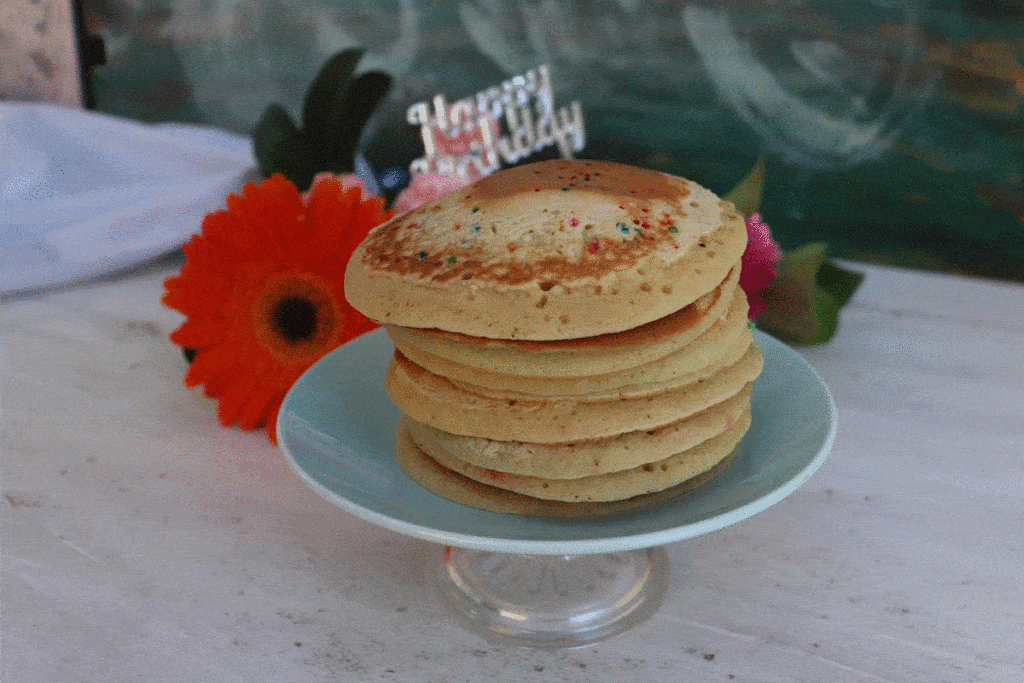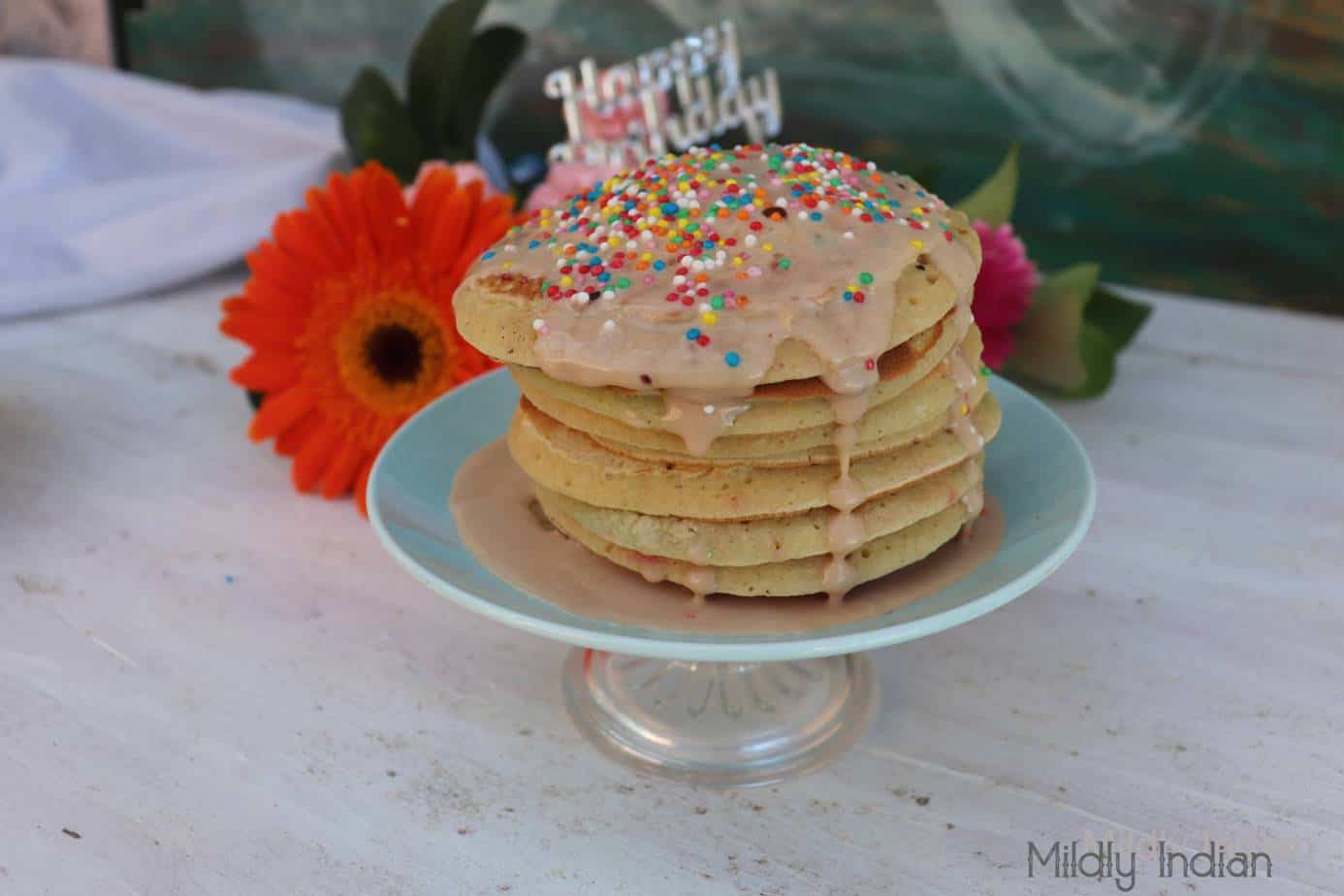 Confetti birthday pancake
with icecream glaze
Ingredients
For Pancakes - wet ingredients
1.5

cup

full cream milk

2

medium

eggs

1/4

tsp

vanila extract
For pancake - dry ingredients
2

cups

whole wheat flour

( I used self raising flour, add 1/2 tsp baking soda if not using self raising flour))

2

tbsp

funfetti

( sprinkles, ones and thousands, confetti )
For ice cream glaze
1

tbsp

butter

melted

1/2

cup

vanilla ice cream

( or any other flavour you like)

1

cup

icing sugar
Instructions
to prepare the pancakes
Sift together the baking soda and the wheat flour and set aside.

Whisk the eggs, milk and vanilla together to form a smooth mix

Add the sifted flour into this mix to form a thick batter.

Mix well and set aside

Heat a pancake pan or the pancake griddle to medium warmth.

Now add the confetti to the prepared batter and mix well, this last-minute addition makes sure that the confetti sprinkles don't bleed many colours out

Scoop a ladleful batter on to the warm griddle let it spread

When one side turns slightly golden and firm, flip over and cook the other side as well.

The pancakes will fluff up beautifully.

Remove from heat when both sides are golden and stack them.
For the icecream glaze
In a bowl whisk together the melted butter and soft icecream till it is smooth.

Now add 1 tbsp of icing sugar and keep mixing.

Repeat the process till you have a glossy sheen to the glaze.

Keep ready
To serve
Get the stack of pancakes on a cake stand and pour the glaze over it. Sprinkle more of the funfetti and have a great birthday.