J
ams, jellies and preserves are an absolute delight to have. They make one of the easiest options for breakfast as well. When you are diabetic, there are limitations as these can be sugar-rich and absolutely not suitable. Totally agree with you that life turns upside down, but not altogether. 
Fruits come with natural sugar.
Now my mission was to create a sugar-free version for my jam loving husband. Ever since he is diagnosed borderline, we have been working on deliberate attempts to remove added sugar from our diets. Yet, at times he does crave for the simplicity of that bread jam or a dessert treat. It makes my life easy as well if I don't have to think too hard for breakfast, there is nothing faster and easier than the toast with a bit of jam!! I think both of us miss the idea of a quick peanut butter toast as well!! 
Plum jam
Most tart fruits turn sourer when they condense to form jam and this often made the sugar free version quite difficult. Among the ones we have tried without the addition of any sugar, the plums turned out the best.
I like the way the plum condensed, released the colour from its peel and thickened up beautifully. It is genuinely honey-sweet with no addition at all. 
We were all so glad the plum jam worked so beautifully. Now we don't have to do two different varieties. It is one bottle for all.  The feeling is fantastic as we all can share the one breakfast option and feel no different. Though we will go in moderation with this plum jam, it made us feel one. I am sure I will come up with more jam recipes during our journey of no refined sugar. Hope you will join us on this journey.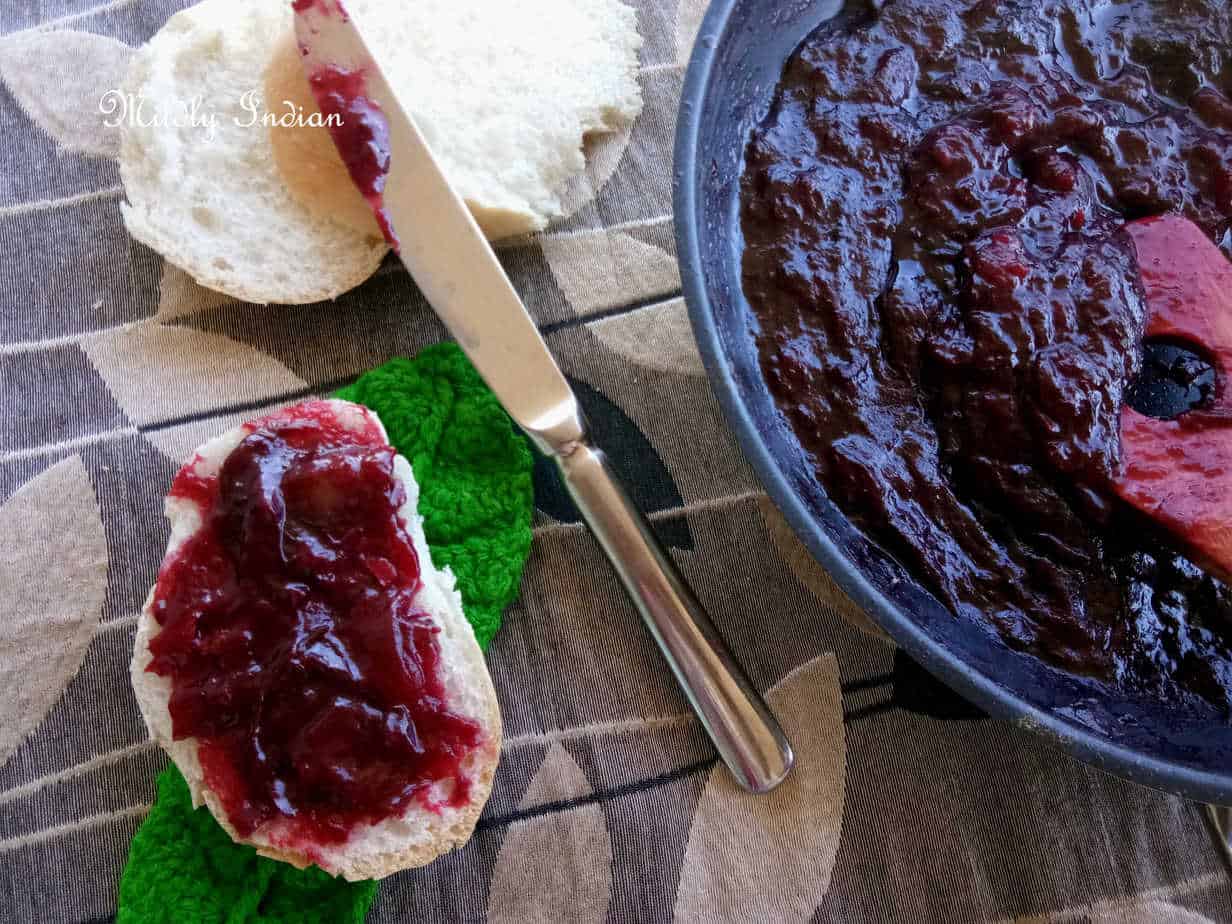 Diabetic friendly plum jam
Ingredients
1

kg

plum

better if over ripe
Instructions
Wash and dry the plums Quarter them and remove the stone. 

In a heavy stock pot add the cut plums and set it on medium heat. Stir it occasionally and let the fruit cook down. 

Turn down the heat if it gets dried out faster.

Mash the softerned fruit as you go along. 

When nearly most of the mositure seems gone and the fruit shows a jam consistency remove of heat and set aside for 10 minutes. 

Transfer into oven dried jam bottles. 

Use a clean dry butter knife to remove and spread when you need. Store in the refrigerator for up to a month.  
Notes
Take care to seal the bottles well and also ensure that the bottles are well sterilized.