Five ingredients and 15 minutes to one of the tastiest simple pasta recipes you can try for dinner. This quick and easy idea is better than any takeaway!!
It is ok to normalise some simple things, easy flavours. Just because of a food blog it is not always over-the-top food that we have s food at home. Most of the time, it is down-to-earth basics, quick weeknight fix-ups and just a healthy bunch of vegetables. It is hard, creamy cheesecakes, delish treats and mithais. 
While making pasta, it is nice to have sauces and creaminess. Yet the one that steals my heart is the ones that I make in a hurry. The basic toss ones like this cabbage pasta. With just 5 ingredients and 15 minutes, this pasta is bliss. Try some.
Ingredients to make cabbage pasta
Cabbage: the best pick of cabbage for this pasta is the regular white savoury one. Savoury cabbage takes a bit sweeter flavour. The red cabbage has a bit of a sweeter flavour. Usually, I avoid the Chinese or napa, cabbage though they will be ok, they have a bit more water in them. Chop them, dice them or shred them. That is all ok.
Pasta- shortcut pasta is ideal for this pasta. However, if you want to use spaghetti or fettuccine shred the cabbage into thin or thick threads to match the fork fit.
Spices –salt in the pasta water to get the flavour through. I have used cracked black pepper and mixed Italian herbs to use in this recipe. These add to the mild flavour without overpowering the pasta
Olive oil- Saute the cabbage in olive oil to create a slight caramelization. This takes off really well with the pasta. You could use butter, but I do find olive oil lighter and easier to pack for lunch.
Cheese- When you have pasta a bit of cheese goes a long way. I love to use shredded cheddar in this recipe. Choose mozzarella or parmesan based on your tastebuds.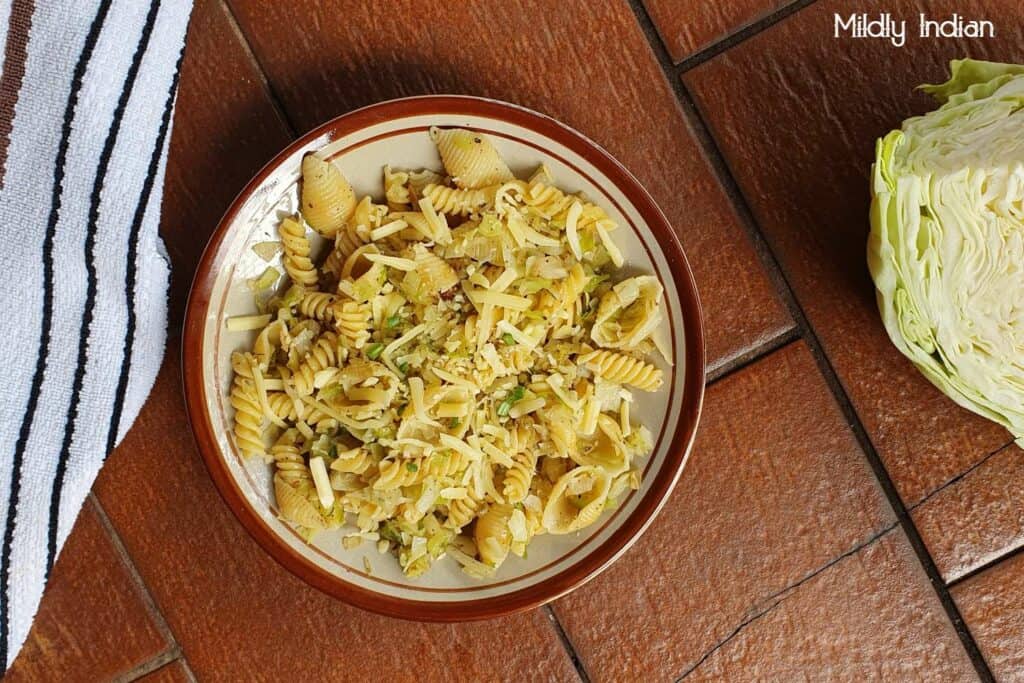 Variations to the cabbage pasta.
Peanutbutter – Alright if you like creamy pasta, try this. Stir up 1 tablespoon of peanut butter with a couple of tablespoons of warm water. Add this to the pasta and toss it around for the most delicious creamy pasta. 
Garlic – Crushed garlic or dehydrated garlic sits so well with this recipe. Saute the garlic with the cabbage to get the oil all flavoured. 
Lemon- Get the freshness of the pasta with a wedge of lemon, try this if you are packing the pasta for lunch. it smells and tastes incredible
Meal prep the pasta
The only meal prep I actually prefer doing for this pasta is chopping the cabbage. You could cook the pasta ahead too. The complete pasta should stay well in the refrigerator for 3 to 4 days. I have never frozen this so unable to give you any guidance. If you have success with the frozen pasta, let us know as it will be a good one to share.
Shredded savory cabbage pasta
Five ingredients and 15 minutes to one of the tastiest simple pasta recipes you can try for dinner. This quick and easy idea is better than any takeaway!!
Equipment
grater

Stock pot.

frying pan
Ingredients
500g

pasta

1 pack or the few packs leftovers together.

salt to taste

drinking water

to cook the pasta

2

tbsp

olive oil

1/2

head

cabbage

shredded or grated.
Instructions
Shred the cabbage or grate it based on the size of the pasta.

Cook the pasta or mixed pasta aldente.

Into the frying pan add the olive oil and set it on medium heat.

Saute the cabbage till it is slightly caramelized and add the herbs mix.

Add the cooked pasta to it and tozz well.

Add the shredded cheese and the pasta is ready to serve.
Let's share the love
While you are here on our blog, don't forget to check other pasta recipes. Type pasta into the search and it will throw up a few more ideas for you.
Or, try these.
Spaghetti with garlic, basil and chilli
Penne with lentils, spinach and marinara sauce
Subscribe to our content to receive an update when we post something new. Tag us @mildlyindian when your recreations are on as it gives us plenty more ideas to share.
Pin this recipe here for later