Do you have one of those loaves of bread you forgot about and all so crusty now sitting in your bread box? It happens to me too. However, much I plan, there is sometimes a stubborn one, who gets the better of me.
What all do you do with that cheeky loaf?
Here is a list of things I like to do with them
If it is too hard, I break them up into pieces and pulse them to get breadcrumbs.
If a bit crusty still good and I really need a bread for the day, I wrap it in a moist clean kitchen towel and stick it up in the microwave…it comes out soft bread for immediate use.
A slightly hardened baguette is perfect for a bruschetta.
A rock hard one again is a darling in a cold soup.
The happiest one of all for me is the Panzanella.
This Italian style salad is among all the filling salads it's Panzanella that tops my list.  One… I can use up my crusty bread.
The juices from the veggies and the extra bit of vinaigrette are perfect to soften the ripped pieces of bread.
So toss up the veggies, add the bread and toss in the vinaigrette, lunch perfect.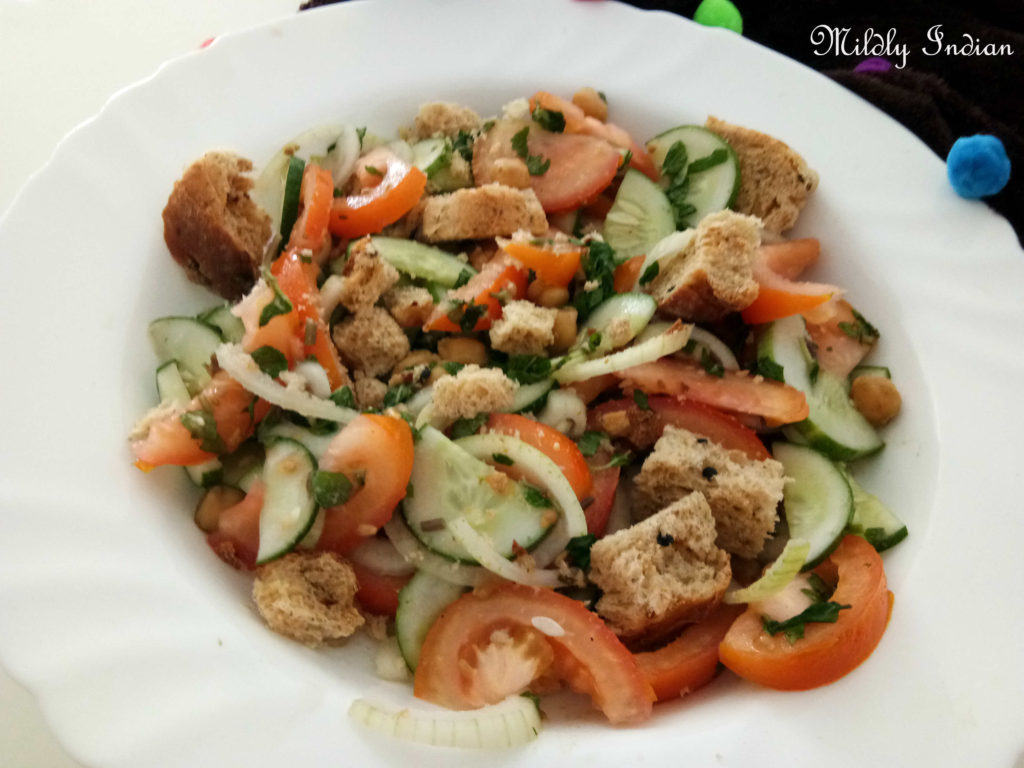 Panzanella is a perfect Friday lunch box one.
Panzanella works perfectly for us to carry on a picnic too.
Few things I have noticed makes the simple bread salad even better is a good quality bread and an equally good quality olive oil.  Top it all off with beautiful herbs for all that freshness. Make sure you get a good loaf of bread rather than the white fairly unproductive one. It just turns the salad mushy too as the fibre content is not enough.
So off we go with this fairly easy recipe, for a filling lunch and the best-packed lunch box recipe.
here are some more easy ones to fill the carbs part of your lunch box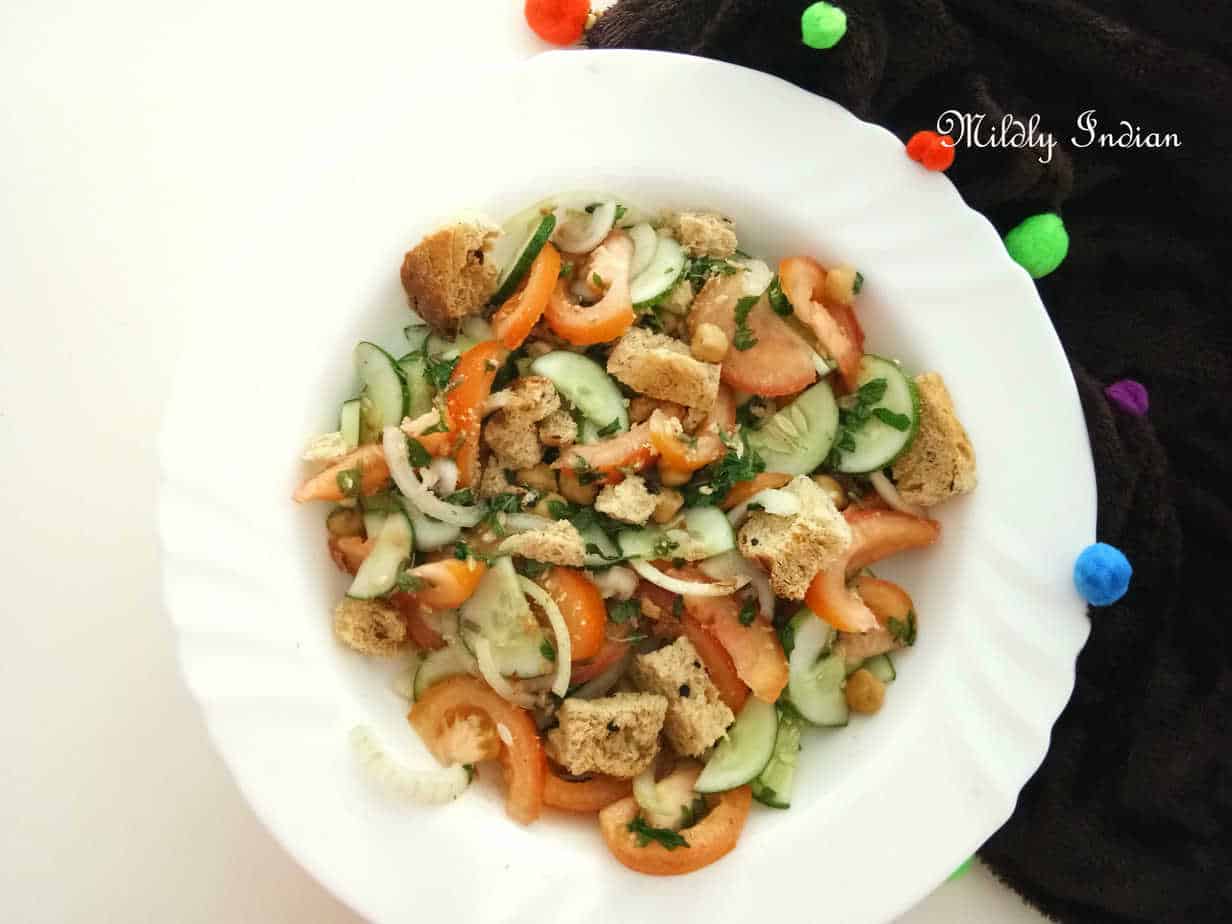 Panzenella
Italian style bread salad
Ingredients
Salad ingredients
1

Whole meal bread

old and crusty

5-7

medium

Tomato

1

medium

Onion

white, sweet

2

medium

english Cucumber

10

large

italian basil

(leaves torn)
vinegrette
1/4

cup

olive oil

(use the best you have)

3

tbsp

red wine vinegar

salt to taste

crushed black pepper

1/4

tsp

  dry oregano
Instructions
Wash and dice the fresh ripened tomato.Sprinkle a touch of salt and add to the mixing bowl.

Slice the onion thin and add them to the mixing bowl

Dice and add the cuumber to the bowl too.

Add the torn basil leaves

Tear the bread into bite sized pieces. Add all to the mixing bowl and toss well.

Whisk the oilve oil, red wine vinegar, salt and pepper together in a seperate bowl and add to the tossed salad.

Mix well and leave covered for 10 minutes.

Its ready to serve
Notes
You could toast the bread in a bit of the olive oil and then serve on top of the salad if you like a crunchier texture.
Use wholemeal loaf instead of the white bread loaf.