A fantastic vegan alternative, walnut mushroom mince is a filling textually satisfying alternative to faux meat. Try out this simple gluten-free, low-oil recipe that is keto-friendly.
Walnut mushroom mince is one of my favourite fillers for tacos and to add to pasta or fill up a sandwich. The idea was developed as just veggies as filling in a taco was never filling, nor gave depth to that dish. When the recipe was meal prep friendly it was one that my friends loved too. Usually, this mushroom mince is what I go for if there is an omni potluck in which I participate. Throw in some store-bought tacos, a simple pico de Gallo and some shredded vegan cheese, and the plan sounds easy and achievable, doesn't it?
What mushroom is best for this mince?
There are two mushrooms that work well with the mushroom mince. Portebella and the cremini. If you like a meatier version go with portabello. The cremini gives a nicer mouth feel with the walnuts. You can have a mix of mushrooms too. Baby Bella is not too bad, but it makes the mince much softer. Shimenji and enoki are not suitable for this recipe. I have not tried oyster mushrooms for this vegan mince. If it works for you, leave us a comment so we can try it.
Why walnuts?
Walnuts in this vegan mince provide that oily, crumbly texture. Plus it is a good bit of protein with crushed walnuts. The slightly bitter flavour of the walnuts complements the earthiness of the mushrooms. While mincing the walnuts make sure they are not overprocessed. The powdery walnuts leave the texture too soft.
Ingredients for walnut mushroom mince
This recipe is for a basic vegan mince. The flavour profile you want to develop depends on what you want to use it for. The recipe card below gives the measurements and step-by-step instructions to follow. 
Walnuts
Mushroom
Cumin
Oregano
Cayenne
Salt
Flavour variations
The walnut mince I make is predominantly used for taco filling and nachos, hence I have added flavours that taste towards it in my basic vegan mince. However, the mince base takes up flavours based on how you prefer to spice it up. You can add while cooking rosemary, oregano and thyme if you are just planning to be used in pasta or pasta salad. If making an Indian-based curry add to the mince some grated garlic, garam masala powder, some turmeric, cumin and coriander powders and chopped cilantro before cooking and then cook them. So it is up to your tastebuds how you like this walnut mince flavoured.
Walnut mushroom mince
Equipment
chopping board

Knife

mixing bowls and spoons.

frying pan
Ingredients
to prep the walnuts
1

cup

walnuts

2

cups

drinking water

luke warm
to prep the muhroom base
2

tbsp

olive oil

1/4

cup

red onion

chopped or minced

2.5

cup

mushroom

minced
Seasonings
salt to taste

1/4

tsp

cumin

1/4

tsp

crushed black pepper

1/4

tsp

red chilli powder
To add fresh after cooking
fresh herbs

use thyme and oregano

Lemon juice

as required
Instructions
Soak the walnuts in luke warm water for about 15 minutes.

mince the mushrooms and onion and set it aside till needed.

Once soaked chop the walnuts and set it aside.

Into the frying pan, add the oil followed by the onion.

Once the onion is golden, add the minced mushrooms and saute.

The mushrooms will release the water and slowly cook.

When the water from the mushrooms is nearly over, add the walnuts and saute further.

Add the salt, chilli powder, cumin and pepper and mix well.

Saute and cook till the walnut and mushrooms are well seasoned and cooked.

Remove off the heat, add lemon juice and fresh herbs and mix well.

The walnut mushroom mince is now ready to be served.
Serving the mince
Just as discussed above in this post this is a fantastic recipe to share with any of your vegan friends.
Taco platter: Put up a build-your-own taco with pico de Gallo, cheese, lemon and some soft wraps.  In addition, you can add it to salads or top up your nachos platter with it.
Make a sandwich: onto your slice of bread add some creamy Mayo (vegan-friendly ones are so tasty) a whole heap of the walnut mushroom mince, and some cheese and press it down with another slice of bread. Grill it or use a sandwich press and it is a filling sandwich on the go.
Build a burger: if you have leftover mince, mix it with breadcrumbs and some mashed potatoes so they hold shape. Now make them like a patty and this is your quick and easy mushroom burger patty.
Add some to your pasta: I would totally fork this on pasta to make this a wholesome meal. Mix it into the ragu or add it on top of your prepared pasta it tastes really good.
Make a good Indian curry: if you have some mince, thaw a small batch of buna masala and add the mince to it. Now Cook them together with a bit of water to bring them together. Adjust salt if needed. Garnish with julienne ginger, lemon juice and lots more coriander leaves. Keep the naan ready to mop up the curry.
Meal prep and storage for the mince
The mushroom walnut mince stays good on the fridge for a week. So if it is a busy week the mince will hold up your need for something filling and quick. Keep in an airtight box and use as needed. The mince can be frozen and thawed as needed, however, once you do that the texture changes slightly as the mushrooms are now a bit fibrous.
Stay connected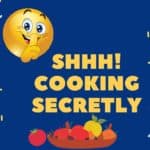 The walnut mushroom mince takes a bit of effort to make, yet is one of the handiest meal preps I have ever done. When Shh cooking secretly group placed the theme for vegan dishes this time, this mince is the one I wanted to share. Working with Anu Kollon as my partner, who was so easy to convince to do this, the recipe is now yours too. Let us know in the comments and by star rating how we are doing with our recipe. If you have not subscribed to our content yet, don't miss out. Follow the arrow below to keep new ideas coming your way.
Stay safe, meal prep and have a lovely week.