Any curry guru will tell you that a great curry starts from the best curry paste. Many a time I am asked for my curry hack. Well, there is the only one that perfects the Indian curries, predominantly the North Indian,  restaurant-style curries  – the buna masala. Once you get this roasted Indian curry paste to perfection you have mastered 50 per cent of Indian cooking. For a simple eye, it is cooked tomato-onion paste!! For a food connoisseur, it is the degree of roast, the balance of the spice, the smoothness of the paste and so on and so forth. This post is all about simplifying this process for you so you don't miss out on that irresistible, finger-licking good feel of the curries. When it comes to north Indian curries this is the mother of all curry bases.
Understanding buna masala
'Buna' means to roast. So, buna masala is basically roasted masala. As simple as it sounds this is the base of many Indian recipes.  Literally, the grand show of any Indian kitchen begins with small tweaks to this curry paste that created a variety of dishes from simple daal to the tikka masala.
This curry paste is actually, gluten-free, nut-free, vegan. It is perfectly customisable to suit the curry of the day or your spice tolerance levels. The recipe here today is one for a medium level of spice with recipe notes to make it spicier or milder.
Which is better -Chunky or smooth?
This is like choosing peanut butter. The type of masala that you make depends on how you like your gravy to be smooth or have a bite to it. For dal, I prefer a smooth paste and for karela ka bhartha a chunkier variety. So it really is just a personal preference.
I have finely chopped the tomatoes and onions this time. You can do this in the food processor or blend the tomato into a puree.
Which is better- Making it on a stovetop or instant pot?
I do find smaller batches easier on the stovetop. In this method, you can control,  how much each gets roasted easily, watch the oil and make sure there is no accidental catching at the base.
When I double or triple the batch for storing the instant pot /pressure cooker comes in so handy.
The measurements of the ingredients for the stove top preparation are in the recipe card.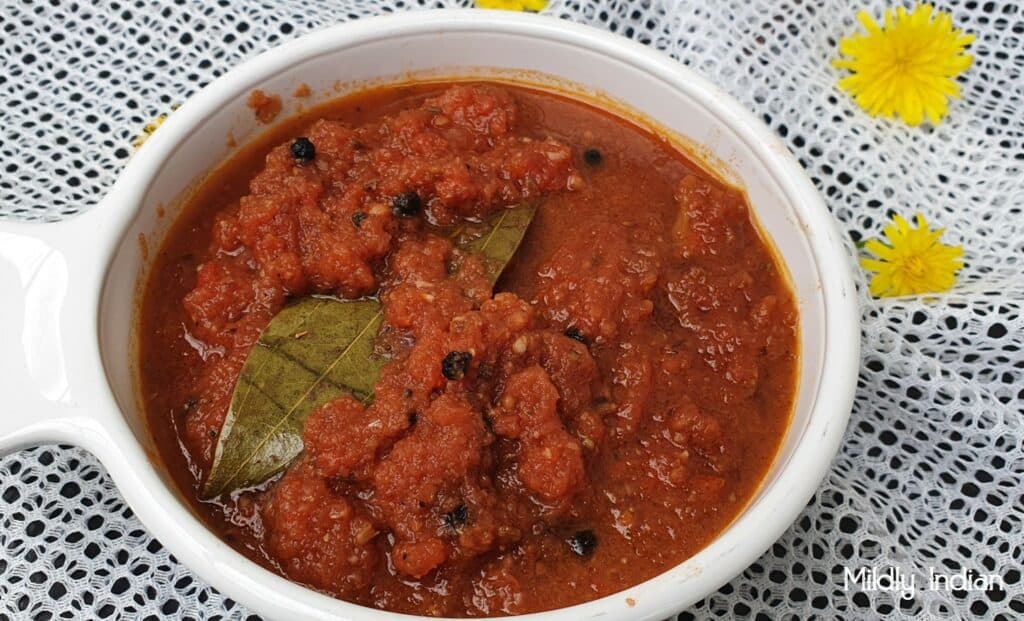 Buna masala
The basic Indian curry paste that makes the best of Indian vegetarian gravy is this curry paste.
Ingredients
2

tbsp

cooking oil

1/2

tsp

cumin seeds

1/2

tsp

Black pepper

1

bay leaf

2

cups

red onion

( chopped or minced based on the type of buna masala you want, check the post for details).

2

tbsp

fresh ginger root

4-5

medium

green chilli

2

tbsp

garlic

3

cups

tomatoes

( chopped)

1/2

tsp

turmeric powder

1

tbsp

red chilli powder

2

tbsp

coriander powder

1

tsp

roasted cumin powder

1

tsp

salt

1

tsp

garam masala powder
Instructions
Set a kadai or deep pan at medium heat.

Into a kadai or a deep pan add the oil followed by the cumin seeds.

As the cumin sizzles add peppercorns and bayleaf.

Follow this up with the garlic, ginger and chopped onions.

As the onions turn translucent and start to slightly brown add the tomatoes.

Mix well and let them cook together for about 3-5 minutes.

Mix again and add the salt, turmeric,red chilli powder coriander powder, cumin powder and garam masala powder.

Mix well and lower the heat to a simmer and let this cook till the oil seperates and the tomatoes are broken down.

Mix well and cook down further till it becomes a paste-like consistency.

The buna masala is now ready.

Cool the buna masala and transfer to storage jars or freezer-friendly pouches for easy meal prep.
Notes
I have used vine tomatoes to prepare this curry paste. The colour of the curry paste will vary based on the tomatoes you use. You can choose to peel the tomatoes or grind them to paste based on the texture you like.
For a spicier buna masala mix - Increase the green chillies or swap them from serrano to hotter peppers. To make it milder, use Kashmiri chilli powder and do not add any green chillies or peppercorns. 
How to store buna masala?
The buna masala stays good in the refrigerator for about 7 to 10 days. For a bigger batch, freezing is a fantastic option. The curry paste can be frozen for up to 3 months.
Here is an easier option – freeze them first in icecube trays or mould. Once frozen pop them out and store them in freezer-safe pouches. In this way, you thaw only what you need.
Canning the paste works well too.
How to use this Indian curry paste?
The basic prep work for curry each day is considerably cut down if you have this curry paste ready to go. With small tweaks, you can cut down a considerable time of starting from scratch. 
Rajma masala – add about 1/2 cup of the buna masala to 1 cup of cooked kidney bean and simmer to get the perfect creamy rajma masala.
Daal- Stir in 1/2 cup of Buna masala mix with 1.5 cups of cooked mashed dal simmer and add the tadka. 
Karele ka bhartha- 1 cup buna masala to be mixed and cooked with the 3-4 bittergourd makes a fantastic curry.
Channa masala- Simmer 1/2 cup of buna masala with amchoor ( dry mango powder), a cup of cooked chickpeas and stir in a tbsp of coconut cream to make the perfect channa masala.
Other impressive Indian must-haves in your pantry
Parippu podi – A south Indian classic rice dry mix made with lentils and pairs well with vegetable stir-fries too.
Vindaloo masala – A fiery Goan masala sauce that has the best of Portuguese cooking and Indian spice tricks in it.
Dhania podi – A firey lentil and spice mix that tastes perfect when mixed with oil and made into a spice rub.
Bisbelebath masala-A Karnataka special masala mix that you can use with a lot of curries and one-pot meals.
This buna masala recipe is the soffrito of Indian recipes.  When you make buna masala in bulk for your meal prep, you save a lot of time at making dinner. Do tag us #mildlyindian or @mildlyindian when you enjoy this Indian curry paste. Hope this solves a lot of your curry woes.
Stay on for more posts, subscribe to get updates and leave us your thoughts and ideas to use this curry base in your cooking.
Stay safe and enjoy an Indian vegetarian dinner today.