Check out this Tambaram aviyal kuzhambu recipe that is a home favourite. It is a gluten-free, vegan recipe that adds a lot of vegetables to your diet and tastes amazing when served with rice.
The sadhya style aviyal is my father's speciality. Made in classic Kerala style to exact specifications,  this aviyal is one he is passionate about. We had earlier shared this recipe -click here for the link. Whereas the aviyal kozhambu is what I learnt from my mother-in-law. More forgiving in terms of the vegetables you can add to it, the aviyal kozhambu is more like a mixed vegetable curry where the gravy base is coconut and some spices.
What is aviyal kozhambu?
I guess, this is a South Kerala tambarm adaptation of the sidedish aviyal. Tambram is the Tamil brahmin community that migrated in early times to Kerala. With them, they brought a unique style of onion-free, garlic-free cooking that is vegetable based. With the addition of local ingredients like coconut, mango etc the cuisine developed as one of its kind. This aviyal is one of its kind adaptation. Aviyal essentially means steam cooked and "Kuzhambu" ( or kozhambu) means gravy. So a medley of vegetables steamed,  and further cooked in a gravy made with coconut tamarind and spices make aviyal kuzhambu.
Ingredients and substitutions to make aviyal kozhambu
The Kerala sadhya style aviyal had specific proportions of the vegetables added as they keep the shape and form a thick side dish and provide flavour. When it comes to aviyal kuzhambu this is a bit relaxed. Potato,  capsicum, eggplant (brinjal) or other vegetables available fit it perfectly. This makes it easier to make this at home on fridge clean-up day or to adapt to the changing countries where some ingredients may not be available. 
Water-laden vegetables: wintermelons, chayote, cucumbers, tiger melon, watermelon rind and bottle gourd all provide a good amount of water-laden vegetables. You can use a combination of this or just one to make this curry.
Yams and potatoes: yams and potatoes form the starchy base that gives a creaminess to the cooked curry. Elephant yam (suran), taro and coloured potatoes work in this recipe.
Brinjal or eggplant: my. mother-in-law insists on having some eggplant. The variety doesn't matter. Cut into long chunks as they break down easily.
Capsicum: adds a variety of flavour and slight sweetness to the dish. Use the red ones if you like them a bit sweeter. The green ones impart a slight chilli flavour without the heat. You can use banana peppers instead of capsicum.
Moringa pods: You will find that most aviyal recipes surely have moringa pods added to them. They bring a classic aviyal flavour and the looks of the dish. 
Raw banana:  This is another vegetable that you can add. Along with potatoes, it adds volume to the dish.
Carrots: a lovely addition to the dish. It is sweet when soft-cooked and adds colour to the dish.
Beans:  add the crunchy beans as they will be visible and crunchy even after cooking.
The dish is not really about exact measurements but rather proportions. Usually, we take half the portion to be water-laden vegetables as upon cooking they release the water and shrink. One-fourth of the rest is a starchy vegetable like potatoes, yams and plantains the other quarter is a mix of the rest of the vegetables.
It is perfectly OK to add some frozen peas, cauliflower, swedes, daikon, raw papaya or even a frozen veggie mix. 
The gravy mix
The gravy is predominantly coconut based. The flavouring agents are cumin seeds, red and green chillies and curry leaves. I prefer to grind the curry leaves along with the coconut masala so that they get consumed rather than thrown away. However, you can just add it along with the vegetables if you prefer. the souring agent in this curry is tamarind. Instead of adding it as an extract and cooking the curry all over again, I grind it in along with the coconut.
Thickening the gravy.
If you prefer a thicker curry, here is an easy hack. Along with the coconut masala, grind a tablespoon full of roasted gram ( porikadlai). This reduces the amount of coconut used and thickens the gravy well upon boiling.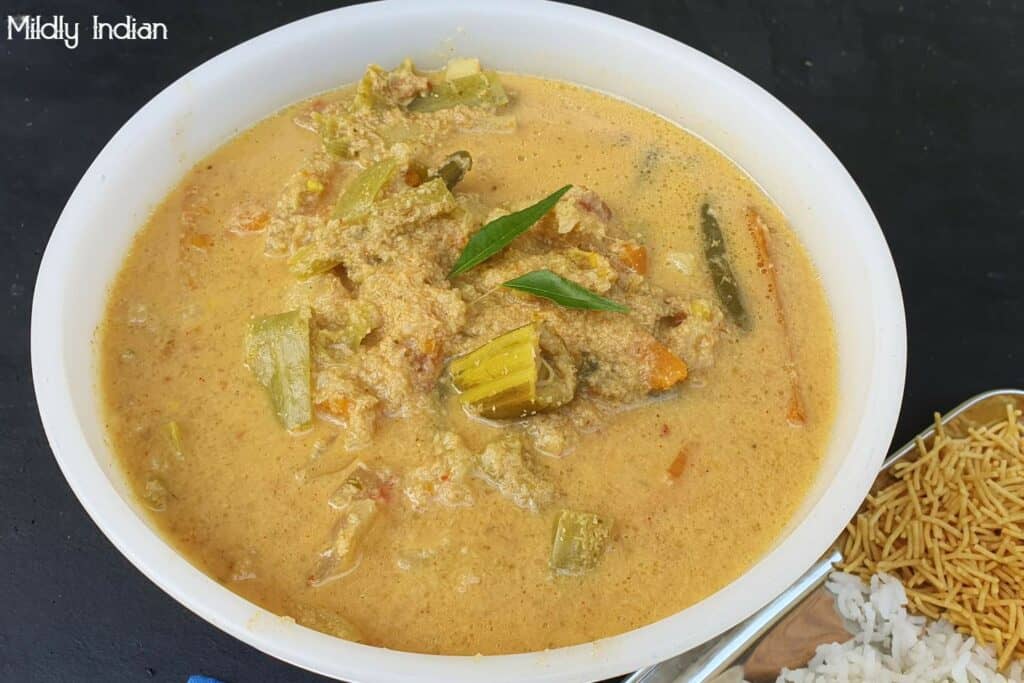 Aviyal kozhambu
Check out this Tambaram aviyal kuzhambu recipe that is a home favourite. It is a gluten-free, vegan recipe that adds a lot of vegetables to your diet and tastes amazing when served with rice.
Equipment
Pressure cooker

Knife

Cutting board

blender
Ingredients
for the vegetables
3

cups

mixed vegetable

see post above to see the proportions.

1/4

tsp

turmeric powder

salt to taste

1

cup

drinking water
for grinding to a paste
1/3

cup

grated coconut

1

tsp

cumin seeds

1

gooseberry sized

tamarind

2-3

green chilli

based on the heat you prefer.

2-3

dry red chillies

10-12

curry leaves
To garnish
1

tsp

coconut oil

5-6

curry leaves
Instructions
Wash and prep the vegetables.

Slice them all long, but not thin. More like clssic french fries cut!

Add them to the pressure cooker.

Add the salt and turmeric along with water.

Pressure cook for 1 whistle or in the instant pot for 10 minutes.

Once the pressure is released naturally, Mix and set the cooked vegetables aside.

Into the blender, add the coconut grated, cumin, curry leaves, chillies and tamarind.

Blend it into a smooth paste.

Add this paste to the cooked vegetables.

Mix well and simmer the mix.

To finish, add the coconut oil and curry leaves. Tuen off the heat.

Cover and leave this for 5 minutes for the coconut aroma to heighten.

Mix and the curry is ready to serve.
Notes
In today's mix of vegetables I have used watermelon rind, snake gourds, moringa pods, carrots, beans, potato, capsicum and brinjal. 
Pairing for the aviyal kozhambu
I use aviyal kuzhambu in a couple of simple ways.  Aviyalkozhambu tastes amazing with adai dosai. Usually, my mother-in-law serves the aviyal kozhambu with papadam and steamed rice. However,  we are happy with the leftovers to have with Chappathi or poori too. When my mother-in-law made aviyal, I loved to have a small bowl of it just like that with some plantain chips dunked into them for crunch. This kind of made my snack and I still love it. 
Meal prep and leftovers
The aviyal kuzhambu is always made in double quantities in my home. One to save for the week and one to have on a Sunday. Since the biggest workload involved is chopping the veggies it is the Sunday best. The kouzhambu stays well in the refrigerator for up to a week. If freezing use freezer-safe boxes in portion sizes that you will thaw for one meal. The curry can be saved for up to 6 months when frozen.
Stay connected
Tell us how you serve this aviyal kuzhambu or what vegetables you find to add to this. I am sure my mother-in-law will be pleased when she knows aviyal kozhambu recipe has reached the blog. Here is the link for another one Thalagam that she taught me.
Share and rate both the recipes based on your experience. Don't miss out to receive our updates by subscribing. We will love to see you connect with us on our social media pages, Instagram or Facebook.
Collaborations
Some recipes are made more often than they get published on the blog. When Mayuri and Renu announced cooked what you like theme for the month, I was making a batch of aviyal kuzhambu for the week. It took no longer than two minutes to think, well here is something I enjoy making. This conversation was quickly appreciated by my partner Priya who expertly suggested the secret ingredients. The leftover aviyal kozhambu with Priyas Beetroot vattalkozhambu was an incredible combo meal the next day. So here we are with the simple yet satisfying gravy of all times.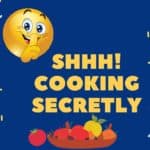 Take care
See you at the next post.