Wambatu moju or brinjal pickle is a mouthwatering, vinegar-based pickle recipe classic to Srilankan cuisine. Enjoy this sweet and sour pickle with your meals or as a relish.
My introduction to Srilankan cuisine came during my stay in the Philippines. A lovely school mother introduced us to core Sri Lankan cuisine. Shalindri's cooking was perfect that even my parents keep talking about it to date. She will have an array of vegetarian recipes for us to try and always finish off with classic Sri Lankan love cake! Offf! The experience is so pleasant and it always makes me think of her very fondly.
Wombat moju clearly is one of the recipes I tasted at her lovely garden lunch table. Wambatu moju is a tasty (eggplant) brinjal pickle that passes off as a relish as well.
Choosing the right eggplant
The deep-fried eggplant is the major part of this eggplant relish. For this, you need firm eggplant as the spongy ones absorb a lot of oil leaving a distasteful mouth feel. Small rounded eggplants, either deep purple ones or variegated ones are preferred to make this recipe. If not choose the long Lebanese eggplants and avoid the larger varieties.
Prepping the eggplants
Wash and pat dry the fresh eggplants. Just before you are ready to fry these. This prevents excessive browning. Remove the green tops and dice them into one-inch cubes. Now, press it down with a paper towel and proceed. Deep fry in hot oil (anyone that you are used to), drain and set aside till you are ready with the rest. As you get other ingredients ready the fried brinjal will be a bit softer don't worry, the magic is in the softness coated with the sauce.
The Allium inclusion
The second main ingredient is the onions. Ideally, shallots or pearl onions are the absolute best to add to this dish. However, this is kind of a luxury if you are outside the zone, so we go with red onions or roselle onions. Peeled shallots or diced onions are also quickly fried in the oil. Literally a flash, you don't need it crisped up, just a touch translucent.  Add this to the eggplant mix. Alright, you are almost there. Don't forget to flash fry the chillies right after.
Let's get the sauce balanced
For the liquid part of the sauce, we need vinegar, tamarind, salt and sugar. The vinegar that is used in South Indian and Sri Lankan cuisine is a lot sourer than the ACV, hence I tend to add tamarind to add a punch to it. Now the sugar and sourness ratio actually depends on personal taste, so adjust the sauce as per your feel. The curry leaves and garlic are the other additions. I like to crush them so that they coat the onions and fried brinjal a bit more with that pickle flavour than biting into the slices of it. The heat comes from the fried chillies that are added, you can pound a few with the garlic if you like more of it.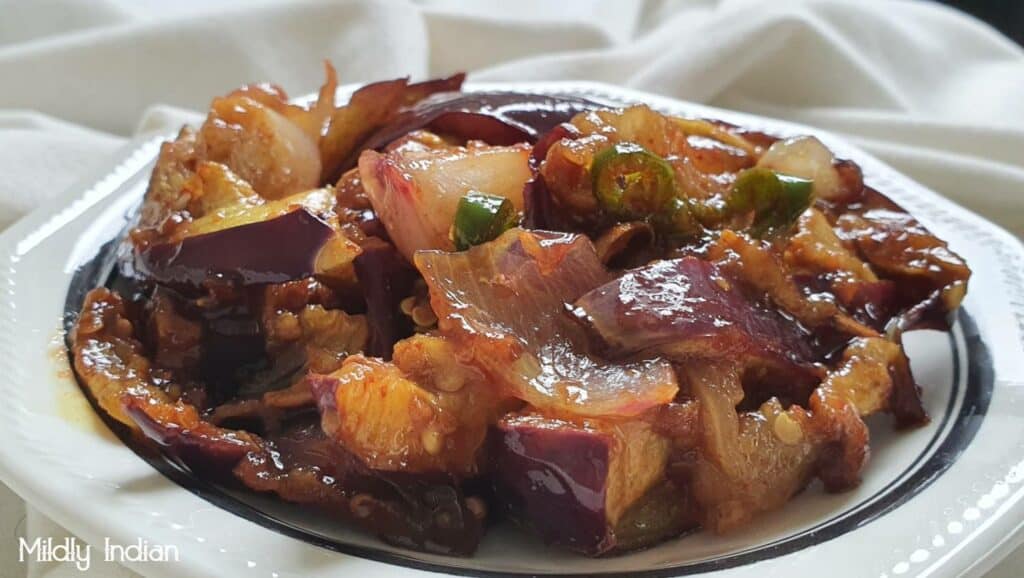 Now that you have an idea of where we are heading with this recipe,  check the recipe card below for exact measurements and proportions. You directly pin the recipe card to your recipe pin board from here.
Wambatu moju
Wambatu moju or brinjal pickle is a mouthwatering, vinegar-based pickle recipe classic to Srilankan cuisine. Enjoy this sweet and sour pickle with your meals or as a relish.
Ingredients
4-6

small

eggplants

cut in wedges

1/2

tsp

salt

1/2

tsp

turmeric powder

2

green chilli

slit

4-6

curry leaves

1

red onion

diced
For the sauce
1/2

tsp

mustard seeds

1/4

cup

vinegar

1

tsp

tamarind paste

2

cloves

garlic

crushed

1

tbsp

red chilli powder

2

tbsp

unrefined sugar

salt to taste
Instructions
Wash pat dry and remove the stalks of the brinjal.

slice them into wedges and add to a mixing bowl.

Sprinkle salt and turmeric and toss it well.

Set it aside for 10 minutes.

Dice the red onion and set it aside.

Set the frying pan ready and add the oil to heat up.

Squeeze the water out of the eggplant.

Deep fry this a few pieces at a time in the hot oil.

Drain and set aside as the eggplant appears golden brown and crispy. Use a clean fresh bowl to place them.

Fry the diced onions likewise and add to the bowl.

Fry the green chillies and curryleaves and add to the bowl.

In a small bowl add the ingredients for the sauce and whisk well till the sugar and salt dissolves.

Taste test this to check the balance of flavours.

Now add this to the fried eggplants and mix well.

Set aside for 10 minutes for the pickle to absorb the flavours.

The brinjal pickle is now ready to serve
What to serve with the wombat moju?
Steaming hot rice, parippu curry ( red lentil dal), thibattu malung (turkey berry stirfry) and thalkali sambola salad is my chosen combo any day. You can pair this relish with bread or crackers too. It tastes amazing with some string hoppers. The brinjal pickle is a personal favourite with jackfruit biryani.
Storing the brinjal pickle
The brinjal pickle stays well for upto two weeks on the fridge. Make sure you have it in an airtight container and use dry spoons to get some out. To have the meal, microwave the wambatu moju for 30 seconds or so.. just warm enough.
Collaboration
The call out from Narmada to try Srilankan cuisine set off so many memories and emotions. The one that I could clearly remember from Shalindri's cooking is the eggplant relish and love cake. The love cake is saved for another day as my partner Anu choose mustard and red chilli as the ingredients. Along with her coconut sambol, this simple meal will be a heavy treat.
Stay connected
It has been ages and unfortunately, we lost touch with Shalindri when we both moved countries. Her daughters will almost be young adults like mine now. They will always be special to me with that cuisine etched in my memory. Through this blog, it is these connections that I am trying to establish. So if you try out our recipe, reach out to us in the comments and let us know how and what you like about it. Rate the recipe based on your experience as there is always room for improvement.
Stay on with us for more posts by subscribing or scrolling through our content.
Catch up later…