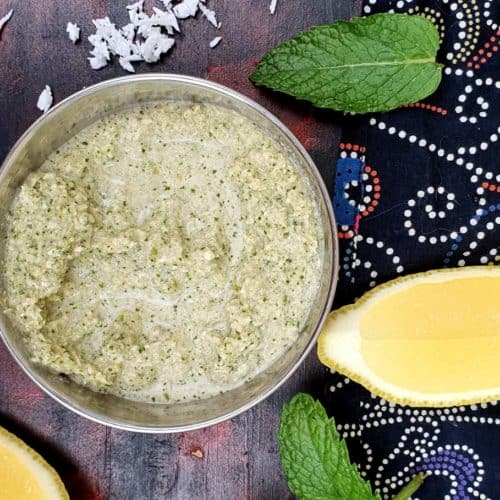 Coconut and pudina chutney.
easy to make chutney dip made with fresh coconut and home grown mint.
Ingredients
1

cup

grated coconut

1

tbsp

roasted chickpea

1

handful

mint leaves

2

medium

green chilli

salt to taste

1/2

cup

drinking water

2

tbsp

lemon juice
Instructions
Add all the coconut. roasted chickpea, cleaned mint leaves, chillies and salt into the blender.

Add the water and blend to a smooth paste.

Remove the blended mix and mix in the lemon juice.

Serve with idly or pongal.
With ample summer rains, the mint in my garden decided to grow rogue. It was just a stem that started the patch and after two years, it has invaded the entire area. In a way, happy me!! No herbs buying needed except an odd bunch of coriander.
The moment pudina comes up in plenty, it is the mindless effect that creates the ever-popular coconut and pudina chutney. l first and then the evergreen hari chutney.
I love the generous quantity of this coconut mint chutney poured over steaming idles. this is the way darshinis serve in Bengaluru. This chutney dip idly is the perfect one to cut the idly swirl in the chutney and mmmm. The mouthwatering effect, right? Try out this recipe and pair it with the soft and fluffy idly recipe here.
Growing the mint.
Mint is literally the easiest herb to grow. Since it grows easily from a stem cutting, sturdy stems among the bunch you buy will be perfect to start the bunch.
Leave the study stem in water for a week. With a  few leaves at the tip intact. Change the water every day till you see roots growing. Prepare the pot with general potting soil and transfer the rooted stems. Water generously to keep the soil moist. Once the leaves are upright and start looking fresh the mint has held on to the roots. Keep the soil moist but not waterlogged. The mint will be plenty soon. Once the growth is established you can start clipping the tops about an inch to stimulate the growth of the buds. Soon you will have plenty.
Best combinations
This coconut pudina chutney pairs well with Pongal, Maligaipoo idly and forms the base to my chutney cheese sandwich. Share what ideas you have to use this chutney. This chutney does freeze ok, but the oil from the coconut condenses on top upon thawing. So I avoid freezing it.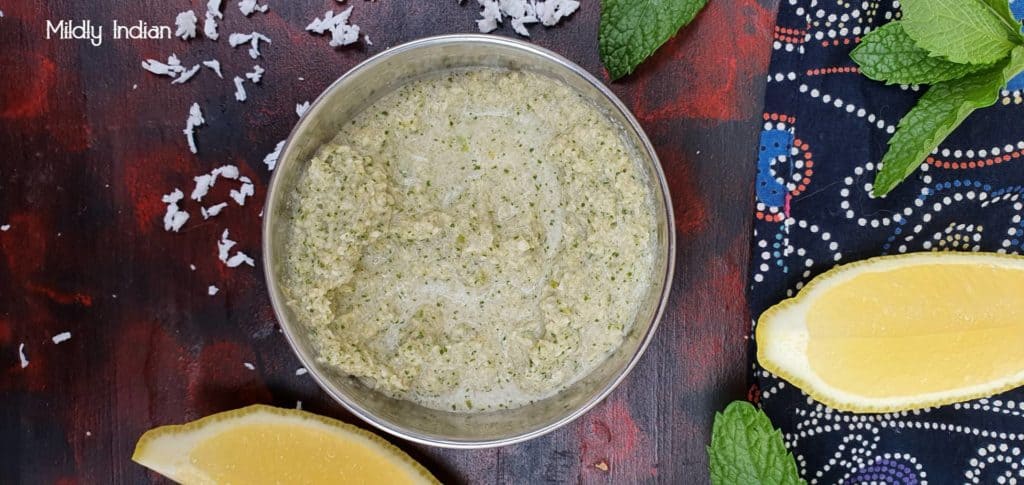 We love hearing from you so post in your comments and share your likes with us, Share your ideas to improve this experience. Stay safe.