We are continuing on the path of resilience to avoid the refined sugar craving throughout this festival season.  We successfully trudged through a few of the celebrations for this year, holding on to our promises and are about to hit the biggest sugar-loaded party of all-Diwali.
All Indian festivals have an abundance of sweet recipes that shows happiness and cheer. It is true sugar does give us a massive good feeling and that you will want more in the festival times. This is why we exchange a box of sweets with our friends and families during Diwali. The meal with a creamy kheer (pudding) is the one that the family really gets together. A small bowl of chilled kheer, served in a clay pot has for centuries never failed to make one feel like a royal. Kheer has that incredible happiness effect on you. I am sure many of my readers will agree to this too.
Here are some loved kheer options 
I did love kheer all my life and was not ready to easily let it go for the no sugar challenge. This is a challenge we are undertaking to help my husband become free of the sugar-infused additions. Since he is borderline diabetic we are hoping this change in lifestyle will help him to keep his sugar levels in check.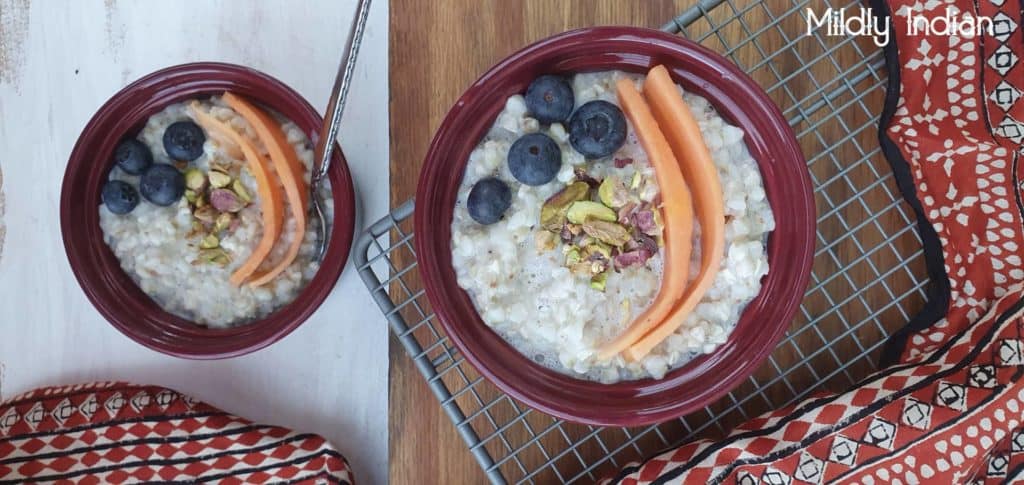 Making use of buckwheat
This recipe is one that we devised so we do not let go our refined sugar-free pledge and at the same time enjoy the festival traditions. This delicious kheer had incorporated gluten-free buckwheat. Buckwheat is a wonderful gluten-free pseudo cereal. Being a seed, it has no relationship with wheat, except for in its name. here is something more special about buckwheat, it carries all the 9 essential amino acids needed for your body. So that nutrition aspect is high here. We are slowly experimenting with buckwheat in our foods. I will surely update you as we do.
Getting the sugar off  this buckwheat kheer recipe
The creamy fruit kheer here is no added sugar. It was a tricky balance to achieve. The entire sweetness comes from the milk and the added fruits. Since fruits are rich in sugars, your taste buds start appreciating these more when you remove the sugar from your diet. I promise you you will find fruits extremely sweet, it is all in the training. I have used, a mix of dates, apricots, some berries and pears in this recipe. You can vary the fruits based on the availability and it will still be gorgeous. The fruits I will tend to avoid are fresh pineapples and apples as they tend to split the kheer. 
This buckwheat kheer recipe is one which I would call as "sinlessly decadent." Let me know if you would like to try this figure-friendly, diabetic adaptable, gluten-free, grain eliminated recipe swap for the Diwali season. We are very excited about it. Check out the recipe details below and pin it ( here) for your collection.
Watch out for more exciting recipes from us as we learn to keep off sugar and improve every day. See you next week.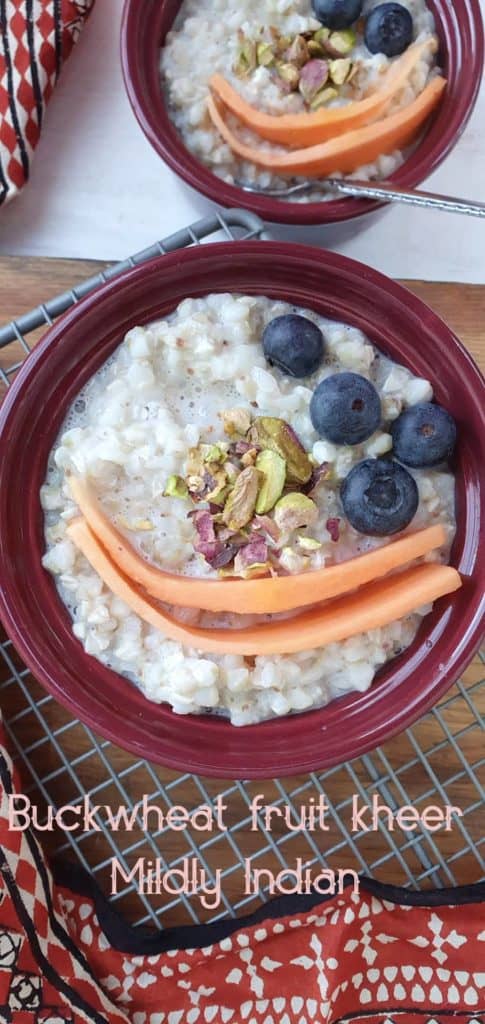 This buckwheat kheer post has been updated with images and a few optimisations of the original content.
Submitting this to the collection of Foodies redoing posts, blogger group as a part of its 29th collection. It is exciting for us bloggers to bring content to you which is at its best and we do that by improving a bit at a time and with the help of our co-bloggers. Hope you like it.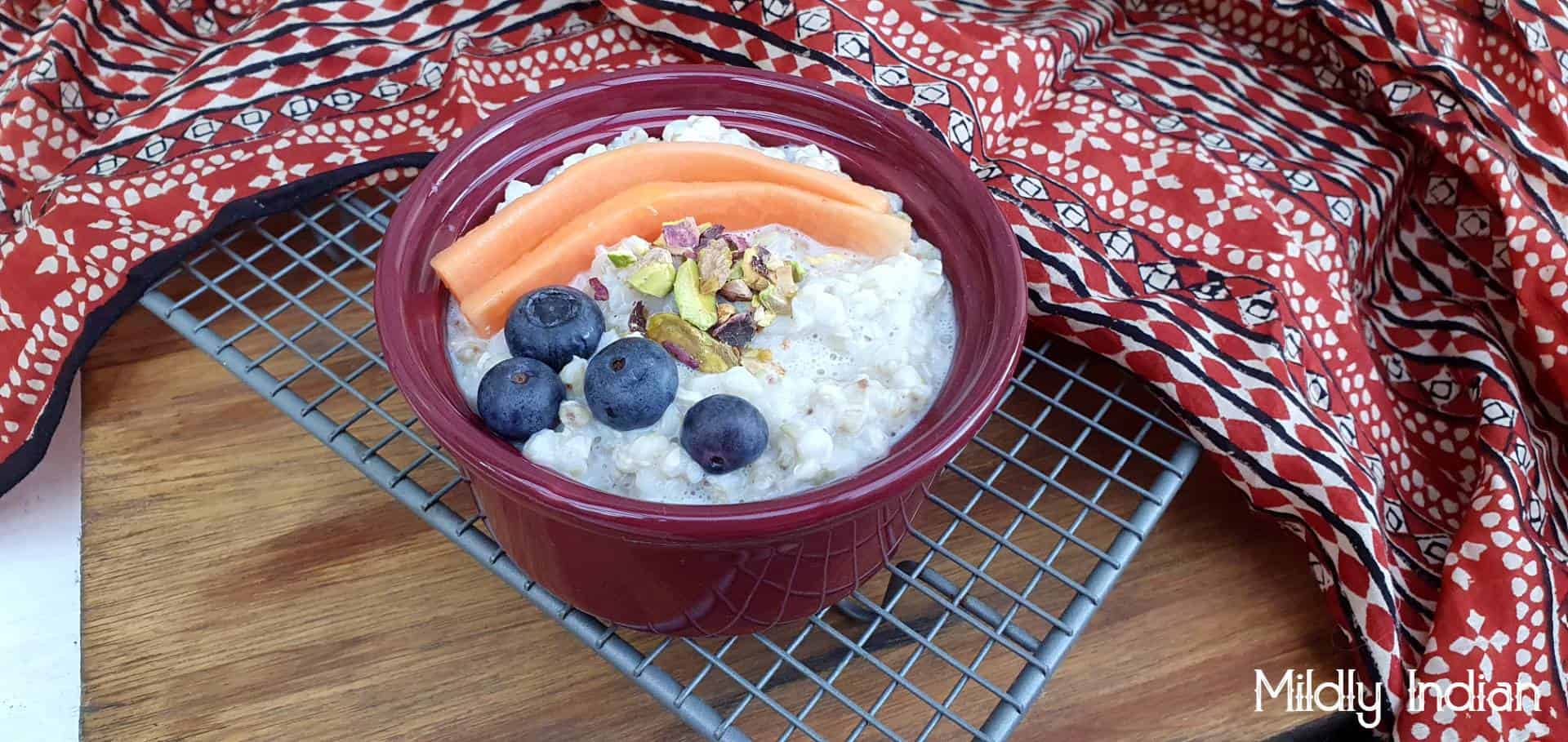 Buckwheat fruit kheer
no sugar, no honey, no jaggery, no stevia.
Ingredients
for the kheer
1/4

cup

buckwheat

3

cups

low fat milk

4-6

strands

saffron
fruit addition
1/4

cup

Dates

chopped

1/4

cup

dry apricots 

chopped

1/4

cup

peaches

fresh; chopped

1/4

cup

cherries

fresh, Pitted and halved
to serve
2

tsp

rosewater

sprinkle as needed

1-2

tbsp

Assorted nuts

crushed
Instructions
Wash and clean the buckwheat and set aside.

Into a pressure cooker add the buckwheat, saffron strands and 1 cups of water with 1 cup of milk. pressure cook for 2 whistles.

Once the pressure is released , open the cooker add the excess milk and mash the buckwheat gently.

Meanwhile, clean and chop the fruits and dry fruit to be used. and chop them into small pieces. Mix them well and set them aside.

The juice from the fresh fruits will plump up the dry fruits.

Simmer this milk and buckwheat mixture to the thickness of a pouring porridge, approximately 5 to 7 minutes.

Remove from heat and allow the mixture to cool down

Add the fruits and chill till use.

The chilled dessert is perfect to serve with a touch of rose water and topping of more nuts and fruits
Notes
Instantpot method 
In the instant pot set it to manual mode and follow the same process as the pressure cooker. It will take about 10 minutes. Let the pressure release naturally and the cooldown to stir in the fruits and chill. 
Open pot method. 
Into the open pot add washed buckwheat with two cups of water and 1 cup of milk ( it takes more water to compensate the evaporation). Once cooked add the saffron, the rest of milk and cook again to kheer consistency. 
Nutrition
Calories:
167
kcal
Carbohydrates:
31
g
Protein:
8
g
Fat:
2
g
Saturated Fat:
1
g
Polyunsaturated Fat:
0.2
g
Monounsaturated Fat:
1
g
Cholesterol:
9
mg
Sodium:
79
mg
Potassium:
508
mg
Fiber:
3
g
Sugar:
22
g