Through the summer months, watermelons or melons in general just hold your hand and so gracefully keep you off dehydration. I used to love the watermelon smoothie to start my day during my stay in South East Asia. The water content was just perfect for the humid heat, that draws all your energy.
It started simple, but the practice still on. We became bolder and better at the watermelon smoothie combinations. The biggest drawback of watermelon is that you put the melon cubes in the blender and you get watermelon juice. Now in a smoothie that is not what you are looking for. It is that creamy, thick slurpy deliciousness. Certainly not a runny juice effect.
Of course, a bit of yogurt will make it thick, but who cares for runny yogurt too!! Here is where get bolder!! Make the dairy-free delicious smoothie, by freezing the watermelon. Yes you heard it, this makes the dreamy creamy thick and delicious smoothie ever that is not just juice.
How to freeze watermelon?
The thirst-quenching watermelon is easy to freeze.
Remove the rind, slice the flesh into a 1-inch thickness. Cut this into cubes. Layer it as a single layer in a tray and freeze. Once frozen, collect them into a zipper bag and store them in the freezer. It is that simple!!
Use the excess frozen watermelon to make Watermelon gazpacho. Don't throw the rind, try this – Watermelon rind chutney or watermelon kootu curry.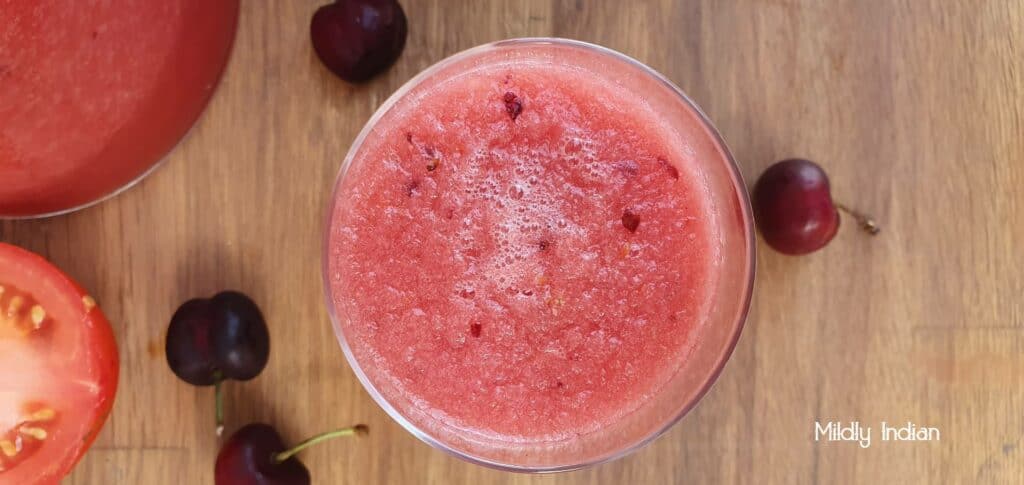 Smoothie additions
This smoothie has a few additions that make it sparkle.
Cherries: watermelon alone can be a bit bland. The curries have a vibrant sweet freshness to add to the smoothie. Being rich in antioxidants adds to the value of the smoothie. Choose frozen or fresh, remove the seeds and blend them in.
Tomatoes: unusual for sure, but it sure is a berry with a bit of tartness.  The combination of watermelon with tomato is highly recommended.
Coconut water: for health or not coconut water contributes a lot of minerals that the body tends to lose on a hot day. Since the watermelon is frozen the coconut water helps in the blending as well.
Sweetness: Personally, I find the watermelon and cherries sweet enough. If you like it sweeter, try stevia or coconut sugar.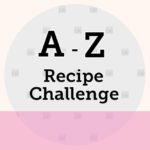 So there we are with the dairy-free watermelon smoothie for any time of the day. W for watermelon so this is the recipe I am adding to the A to Z recipe challenge. Hope you enjoy this refreshing recipe and will let us know. 
Cherry watermelon smoothie
Dairy free, nut free, breakfastsmoothie with thirst-quenching watermelon
Ingredients
2

cups

watermelon

diced, frozen.

1/2

cup

cherries

halved.

1/2

medium

Tomato

diced

1/2

cup

coconut water
Instructions
Dice and freeze the watermelon as decribed in the post.

Add the frozen watermelon, cherries, tomato and coconut water to the blender.