Once upon a time, when travel was normal, my husband came back from an India trip with a box from the famed A2B outlet. Anticipating a box full of Indian sweets my kids opened it quickly. It was a set of flavours of idly podis, 9 to be precise. The tiny little bottles had about 2 to 3 tablespoons podi each. Some were exciting, the others just the usual and they all got eaten.
With the current 10 weeks plus stay at home, the kitchen is the most buzzing centre of activity. There are so many shelved projects that we are trying out like baking bread, perfecting circular rotis, reviving the YouTube account etc. One of the projects was to try out some of the flavours of the podis that we tried a long while back.
The flavour that actually stuck on with us was the dhania podi. The flavouring ingredient in this podi is the coriander seeds.
Picking and storing coriander seeds.
The seeds of the cilantro plant are coriander. This is a popular ingredient in most curry powders (like sambhar podi, rasam podi or bisibelebath masala) provides a mild earthy lemony fragrance. The harvested coriander seeds which are green are sundried to produce the pale brown colour lightweight seeds. This is what you want to pick up. When you press a seed it splits into two pods and they will be firm. This is a good indication of quality spice.
To store coriander seeds, keep them in an airtight jar. To keep them fresher I store them in the freezer. It keeps them longer and bug-free.
Other ingredients you need for this coriander chutney podi.
Urad dal– gives the bulk for this condiment. This is also the protein addition.
Channa dal- I like the dry texture and slight coarse bite of the roasted chickpea dal. It is different from the urad dal. It also adds to the bulk and protein of the podi.
Dry red chillies -the spice factor come from the dry red chillies. You can use the spicy Salem chillies, the globular Gunter chillies (spicier), or the bydegai chillies (less spicy) based on your heat tolerance.  (Here is another post that we have discussed the index of heat)
Curry leaves -are just like any other South Indian curry powders, the curry leaves render that unique smell.
Sesame seeds -this us an optional ingredient. I use the roasted white sesame seeds to give a nutty flavour to the dhania podi.
Flax seeds – this is not an essential ingredient for this recipe. I add them as they add up to the tbsp of flax seeds I try to consume per day. If you are planning to keep the coriander seed chutney podi for a few days, avoid the flax seeds as they reduce the shelf life.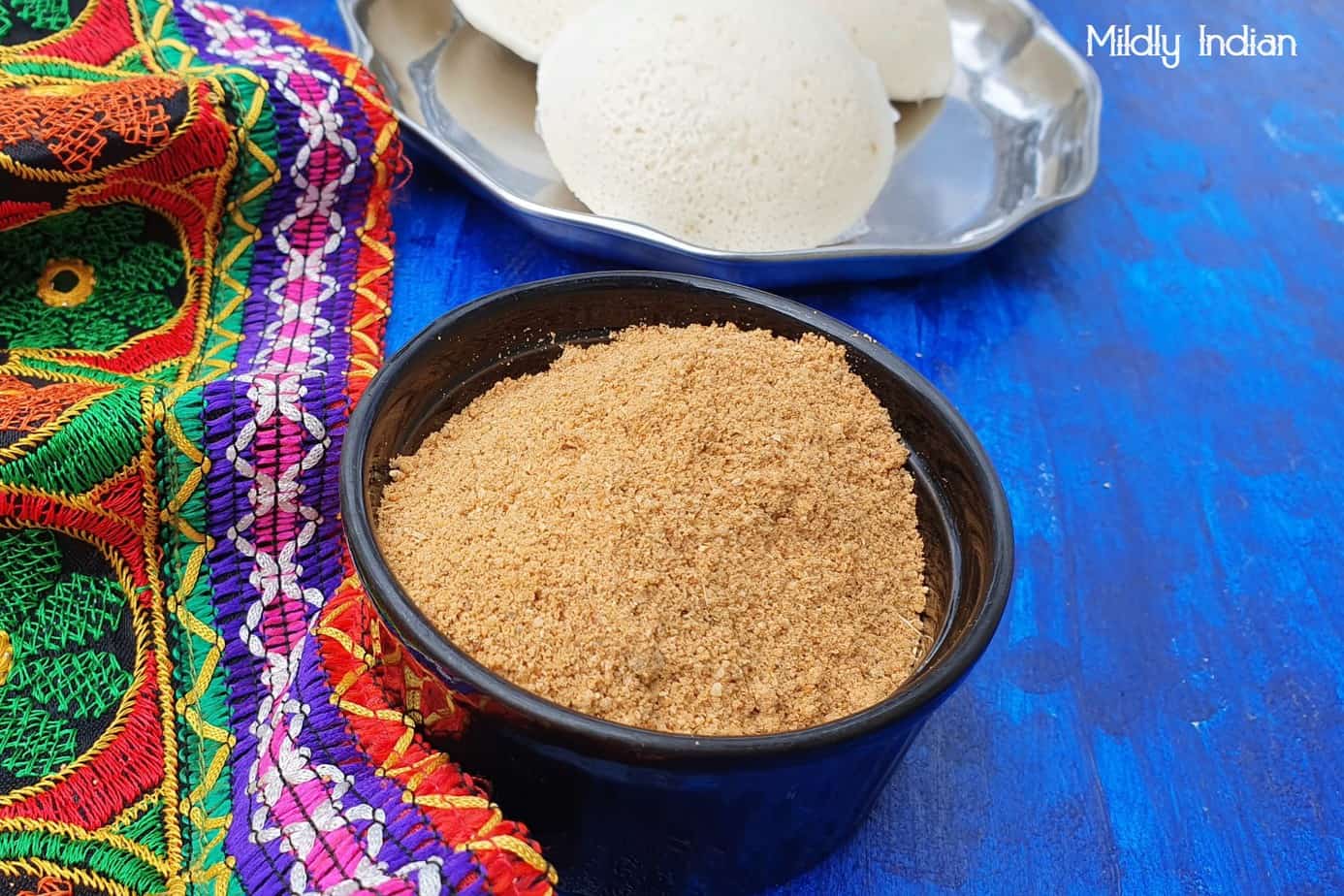 Dhania podi.
The coriander chutney podi is spicy condiment to go with the idly or dosa.
Ingredients
1/2

cup

coriander seeds

1/2

cup

Urad Dal

1/2

cup

Channa Dal

1/4

cup

flax seeds

10-15

curry leaves

10-12

dry red chillies

salt to taste

1/8

tsp

Asafoetida
Instructions
On a dry flat pan, dry roast each of the dal separately.

Remove and keep it on a plate.

Dry roast the coriander seeds and add them to the roasted dals.

Roast the flax seeds, dry red chillies and curry leaves.

Powder the dals, flax seeds, coriander seeds, red chillies and curry leaves.

Add the salt and the asafortida and powder it again.

Mix well and store in an airtight bottle.
Using this coriander chutney podi.
The coriander chutney podi is a dry mix that you can store in an airtight jar for 2 months or a bit more. So, this dhania podi is a flavourful condiment to keep in the kitchen. Just like idly molagai podi you can use this mixed with oil (sesame oil) as a dip for idlies and dosa. You can toss the rice with a tbsp of ghee and this podi to make a flavourful variety of rice to have for lunch, just like you use parippupodi. The chutney podi can be sprinkled on poriyals for that extra layer of flavour.
Now, I hope I convinced you to try this recipe. If you are an idly dosa lover this podi is a handy one to aid in the busy mornings. Let us know if you like the flavour of this dhania podi. Stay safe, keep in touch with us.