There is something that always bothered me about making that batch of pasta with marinara sauce. My brain keeps thinking oh!! I haven't added enough to get the protein in it.
I did try the chickpea pasta, well, that's where it is bothering mentally. My brain doesn't agree to the fact that it is the chickpea, just the pasta stays on. It doesn't quite cut me as a perfect wholesome dinner. So,  here is the plan.
Lentils are a staple in vegetarian cooking. It comes naturally to me to think of these lentils as the go-to option. Since I had a bag of good brown lentils, had to get it right on.
The marinara sauce
Now to the marinara. Marinara us the most basic Italian pasta sauce. A great good amount of tomatoes, garlic and salt will do. Here the quality of the tomatoes is the key. This time vegetable shopping, I was lucky. The tomatoes were perfectly ripened beautifully red. I couldn't resist adding a few more vines to my basket. So that forms the base for this pasta sauce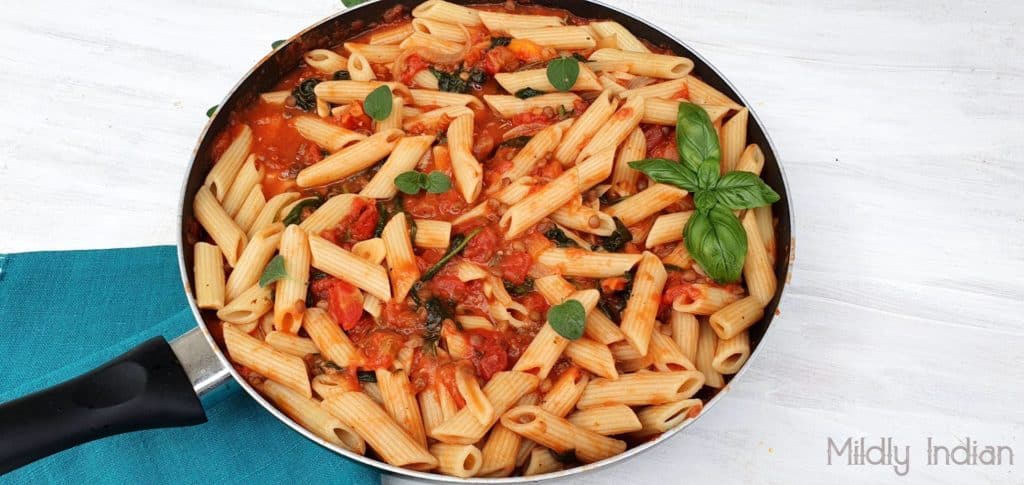 Could I call this bolognese?
Technically you can. The bolognese is a meat-based tomato sauce. Marinara, on the other hand, us a very simple tomato sauce. When we are substituting the lentils for the minced near, yes you can call this lentil bolognese. This is Ok only if you are adding a primarily larger quantity of lentils to the tomato-based.
Since I have much more of my tomatoes in the sauce than lentils,I will stick with marinara with lentils as my description. So here is one filling dish of penne with lentils and marinara sauce.
Ahh, now no more thoughts of pasta being carb-heavy. I have added some lovely green spinach as well to complement all that red juiciness from the tomatoes. If you like this recipe and make it, do tag us to your social media post. If you have feedback, don't hesitate, leave it in the comments. We love to make an improvement. Most of all, share the pasta, that's called happiness. Wait, the leftovers make a great breakfast so make a huge batch.
Here are a couple more of pasta recipes from this blog
Unicorn colour changing pasta -aglio olio
Spaghetti with garlic, basil and chilli
Ziti and Peas – One pot weeknight dinner.
Take care, stay safe and hope you are enjoying this collection of dinner essentials that are on this week.
This is what we had made earlier
Mixed vegetable pulao with ghee croutons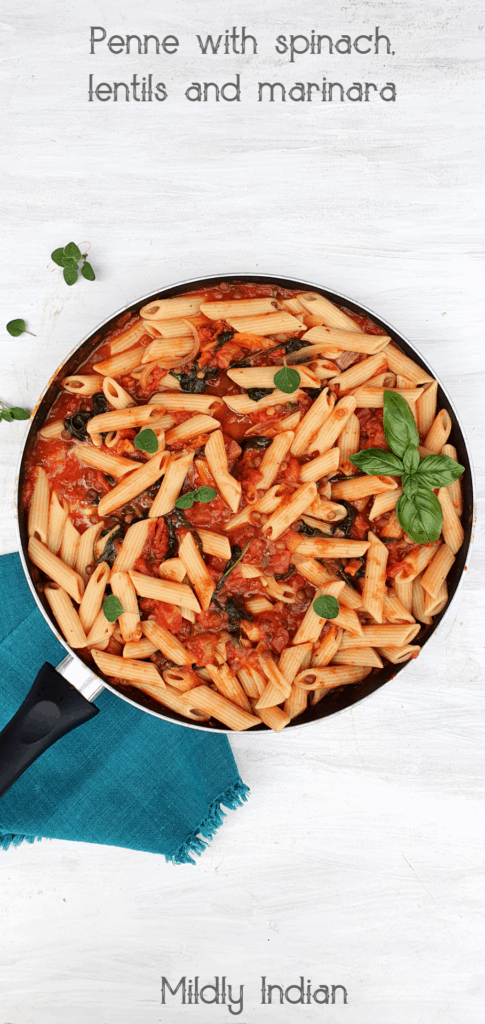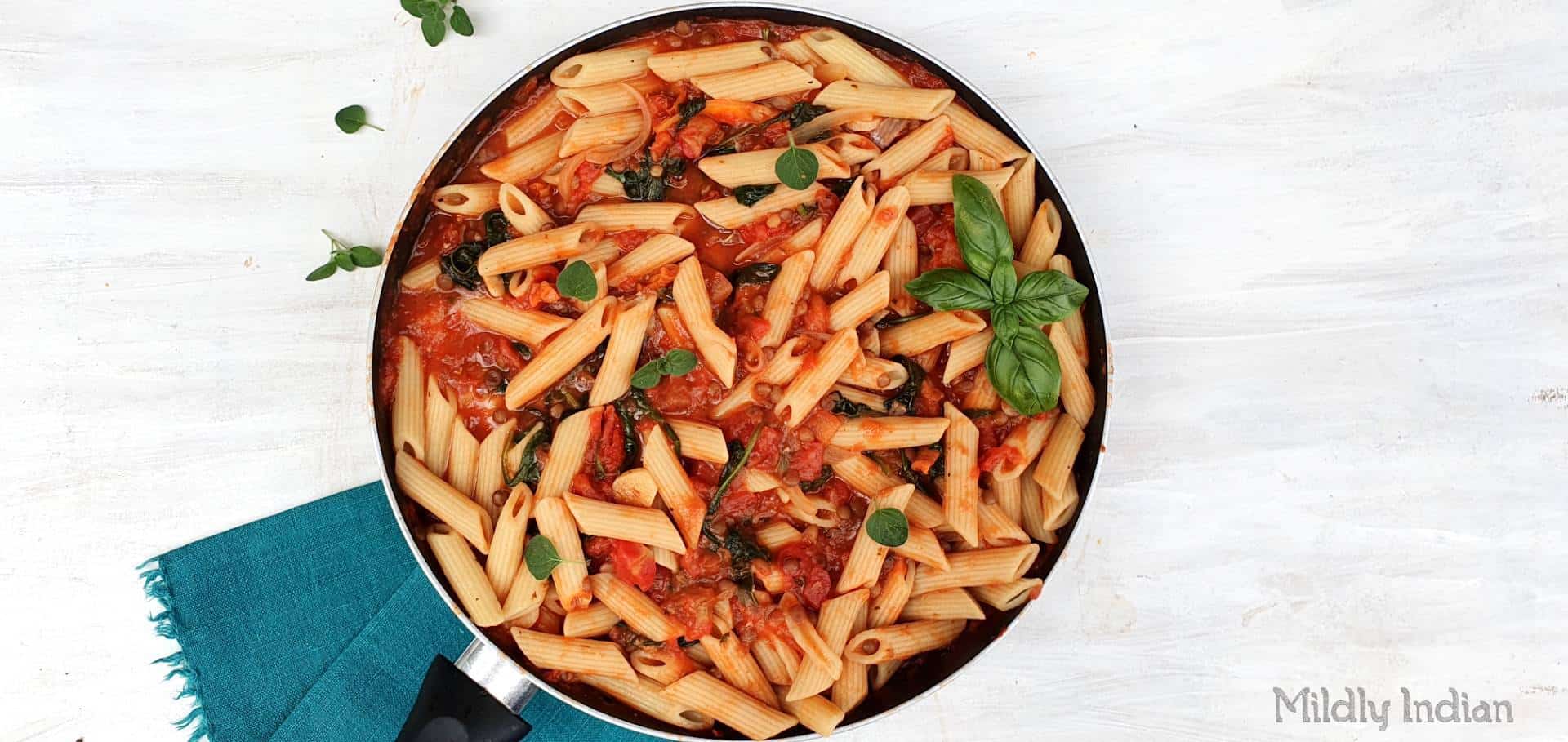 Penne in marinara sauce
with lentils and spinach
Ingredients
for pasta
10

ounce

pasta

penne, wholegrain

drinking water

(as per the package to cook the pasta)
other ingredients
1.5

cups

brown lentils

( cooked and drained)

1.5

cups

Spinach

(loosely packed)

2-3

large pieces

sundried tomato

(sliced, I like them preserved in oil)

10-15

basil leaves

10-15

oregano
For marinara sauce
1

tbsp

olive oil

2

cloves

garlic

sliced

6

large

tomatoes

Chopped

1/2

medium

Onion

( white or yellow)

salt to taste

1/4

tsp

black pepper powder

( optional)
Instructions
Marinara Sauce
Wash clean and chop the tomatoes.

Peel and clean the garlic and the onion and slice them thin

Into a deep saucepan add the olive oil and as it heats up add the sliced garlic and onion

Saute these well till the onions are translucent and add the tomatoes with salt.

Stir this around and allow this to cook down on a slow heat

This will simmer and breakdown the tomatoes for the marinara sauce.

When the tomatoes are broken down and forms a sauce consitency add the pepper powder.

Simmer for another 2-3 minutes and set aside.
For the pasta
Cook the pasta as per the instructions on the box. I prefer to use a dry, wholemeal pasta here. You can choose spelt, buckwheat, chickpea or pulse pasta

Once the pasta is al dente drain the pasta reserving a cup of the cooking liquid.
For this pasta to come together
Reheat the marinara sauce and check if it has enough liquid, if not add in a bit of the pasta cooking water,

Add in the cleaned washed spinach, sundried tomato and drained lentils

Stir it in well and check for the salt.

Now add the pasta, crushed basil and oregano leaves and mix it all together.

Serve hot with shaved parmesan (optional) on top
Notes
To cook brown lentils from scratch
Soak the lentils in warm water for about 1-2 hours. Drain and pressure cook with excess water for 2 whistles so they stay aldente. Drain the cooking liquid, dont throw it, use for soups or stews. the lentils are ready.
In case you end up with excess cooked lentils, Try this
Mujjadhara