It is interesting to see how cuisine evolved around the world. Indian and Mexican cuisine both get called out for being spicy. To be honest, they have unique spice combinations that are just beyond the heat of the chillies. The one pack that says red chilli powder does not satisfy the needs of both the cuisines. Mexican cuisine offers the best insight into the various forms of chillies and their use in different sauces and recipes. The use of the chilli for smokiness, depth of flavour and finally the heat varies based on the type of chilli it is.
Chilli peppers and heat index
Chilli peppers come in all forms and shapes. The SHU, Scoville heat units is a heat index that shows the uniqueness of each pepper that you choose. This helps you understand and adjust the sweetness and heat levels based on the recipe you are making. With ghost peppers topping the list for the heat, you have the sweet bell peppers that hardly raise a unit. Here is a handy list of some common pepper and their heat index. (source)
Bell peppers – sweet with no heat (0 to 100SHU). We have used bell peppers in a few recipes on the blog, but try this – Carrot and bell pepper salad with Italian dressing
Bull horn peppers – Sweet to mild, no heat ( 0 to 100 SHU). These peppers swap over for the nonspicy version of Mirchi nu sambharo – Gujarathi cuisine chilli stirfry
Poblanoes – mild heat  (1000 – 2000 SHU)
Jalapenos -both green and red are mild to strong in heat levels. The red ones are a bit more fruiter in flavour than the green ( 2500 – 11, 000 SHU). Try pickled jalapenos.
Chipotle- Smoked, dried jalapeno creating a unique spicy flavour with a mild heat in your dishes (2500 – 8000SHU)
Serrano – Works well in most Indian recipes. they tend to pack in some good amount of heat ( 6000 – 25,000 SHU) 
Thai chillies – With the fruity aroma, these chillies are hot!! ( 50. 000 to 100.000SHU) 
Habanero – the citrus-like aroma and beautiful colour will allure you. Wait don't fall for the looks as these are spicy ( 100. 000 – 350,000 SHU)
Nagabon chillies – looking like a habanero, these are incredibly hot. In fact, these peppers are a cross of Bhot Jolokia and SCotch bonnet peppers (800. 000 SHu or more) We have used it here just to jazz up the refreshing soup –Watermelon gazpacho with Nagabon chilli kick.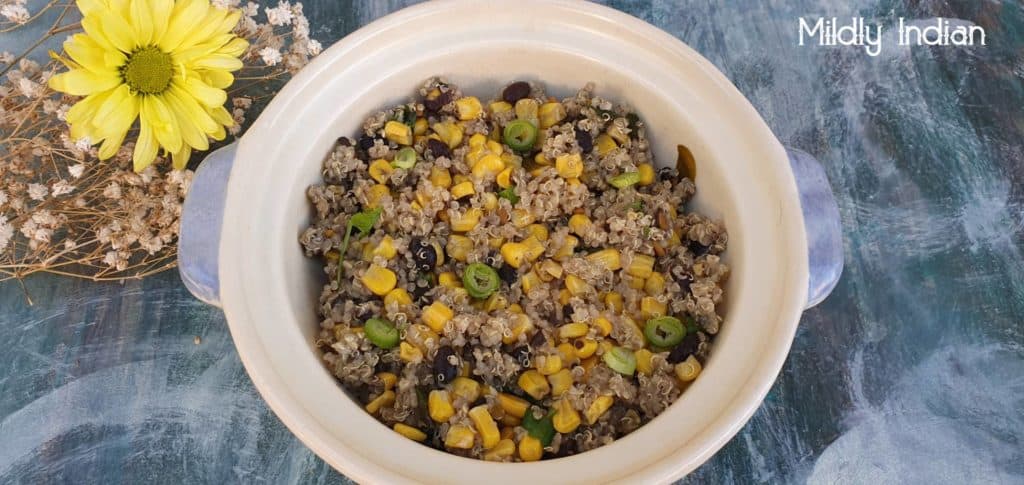 As we are exploring peppers, today we are taking up a milder chipotle pepper. The first thing you notice in taste about these peppers is their smokiness. This combines well in the recipe today with the meatiness of the black beans, the sweetness of the corn and the crunchy quinoa. Though the title says rice, it has been replaced by quinoa. If you are using rice, use the Spanish rice as it works best in this recipe.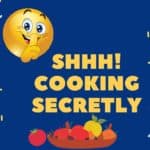 Recipe pairing.
The recipe pairs really well with the Peach cilantro salsa made by Preethi Prasad. She is my partner for this month's Shh cooking recipe challenge. The Mexican theme proposed by Nams Corner brought forth some of the best in us. Surely it challenged me to look beyond the usual snd bring forth some more wholesome flavours into my kitchen. Previously I have only put together some easy condiments that go well with this chipotle corn and bean recipe. Here are the links to the condiments
Here is a quick few images of what made this recipe happen.
Scroll down for the full recipe. This is great meal prep and stays well for 2 to 3 days in the refrigerator. Add it to you wraps with a salad or make it into a burrito bowl with some pico de Gallo and guacamole is totally up to you.
Do tag us when you make this recipe.
Stay safe and enjoy your day.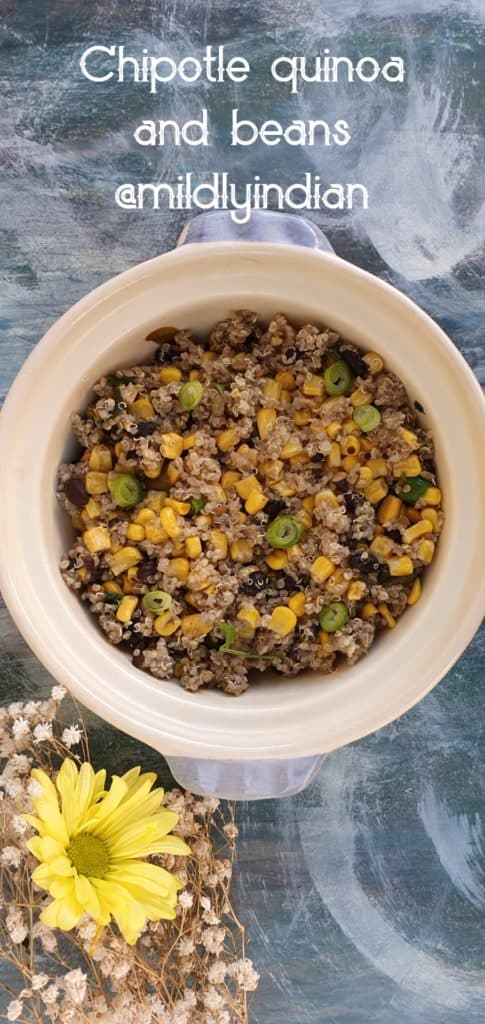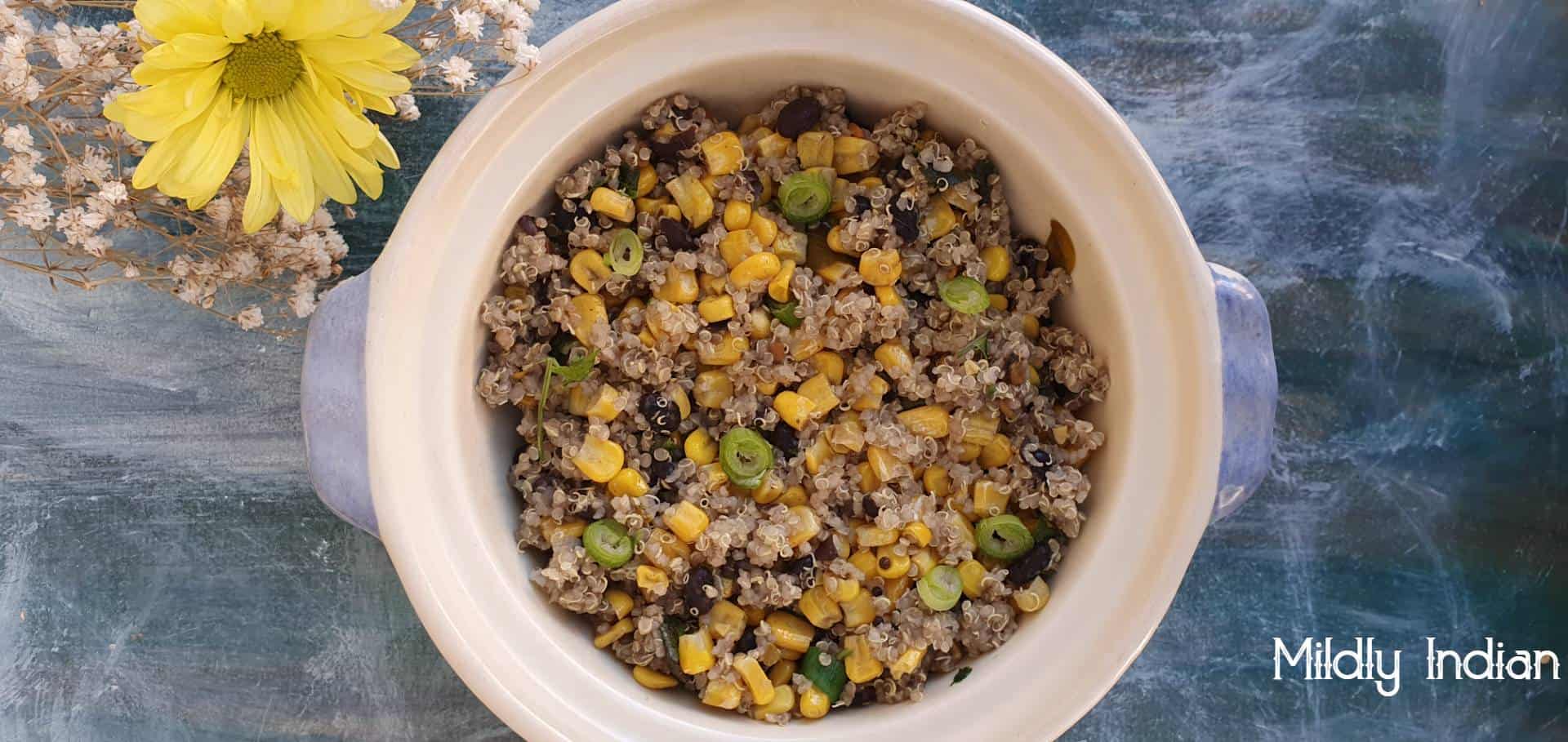 Chipotle rice and beans with quinoa and corn
Gluten-free, protein-rich, low oil, healthy dinner recipe.
Ingredients
1

tbsp

olive oil

1

clove

garlic

1

medium

Onion

( yellow)

1

tsp

chipotle paste

1/4

tsp

roasted cumin powder

1/8

tsp

  dry oregano

2

cups

vegetable stock

3/4

cup

quinoa

Black pepper

( crushed)

salt to taste

1

cup

sweet corn

( I have used frozen)

1

cup

black bean

( cooked and drained, use canned if you prefer)

1

tbsp

green onion

chopped

1

tsp

coriander leaves

chopped
Instructions
In a deep pan. add the olive oil and add the garlic and chopped onion.

As the onion roasts well add the chipotle paste, cumin powder and crushed dry oregano and mix well.

Add the quinoa and stock and bring it t a boil.

As the quinoa cooks halfway add the black beans and sweet corn.

Add salt, black pepper and mix well.

Mix well and cook further. Once the quinoa cooks through it is crunchy and the centre appears glassy.

Stir in the coriander leaves and green onions and remove from heat.

Serve warm.
Notes
For the cooked black beans:
Soak  1/4 cup of black beans in lots of water overnight. Drain and wash the beans in the morning and pressure cook for 3 whistles. Release steam naturally. 
In the instant pot, Add 3 cups of water, rinsed soaked black beans and set on Pressure cook- high for 30 minutes. Let the steam release naturally. Remove the lid carefully.