That sweet traditions have to be seriously looked at once in a way to keep up the good feeling. Now my Facebook and Instagram feed has been flowing with tantalising images of the classic carrot halwa. As it is the season for carrots and winter in many parts of Indian, I am literally left hot and sweaty for some with summer at its peak here down under.
With a couple of heatwaves our way, there was no way I would even think of stepping into that halwa making zone. So naughty that halwa kept coming back and forth on my feed, till I couldn't resist anymore. What's the best way to solve a long cooking process without hitting that heat… microwave of course. Zapp and get stuff done in a much faster way , especially the microwave carrot halwa.
Just like in most of my recipes, there is a variation. Guess what I found in the farmers market, purple carrots. Previously I have used the purple carrots in this salad.
Purple carrot kosambari, we made earlier and today we have the classic gajar ka halwa revamped to make microwave Kali gajar ka halwa. These are the two kali gajar recipes along with a roasted black carrot recipe that we have on the blog till today. 
The biggest achievement with this microwave carrot halwa is, I had no heat to withstand and did the halwa in the comfort of the cool drink and a book to keep me company. The occasional stir and mix and zap did the trick. Are you ready for this? Check out the step by step recipe for this easy kali gajar halwa.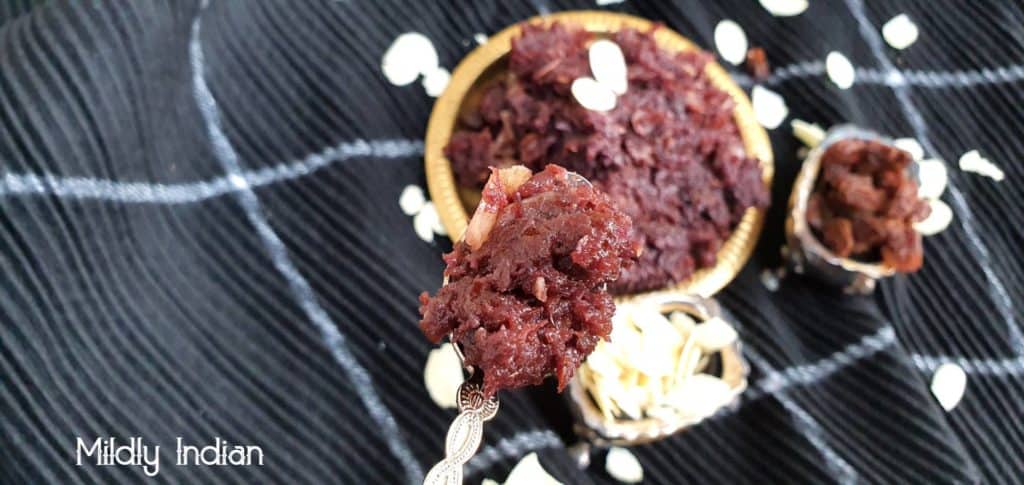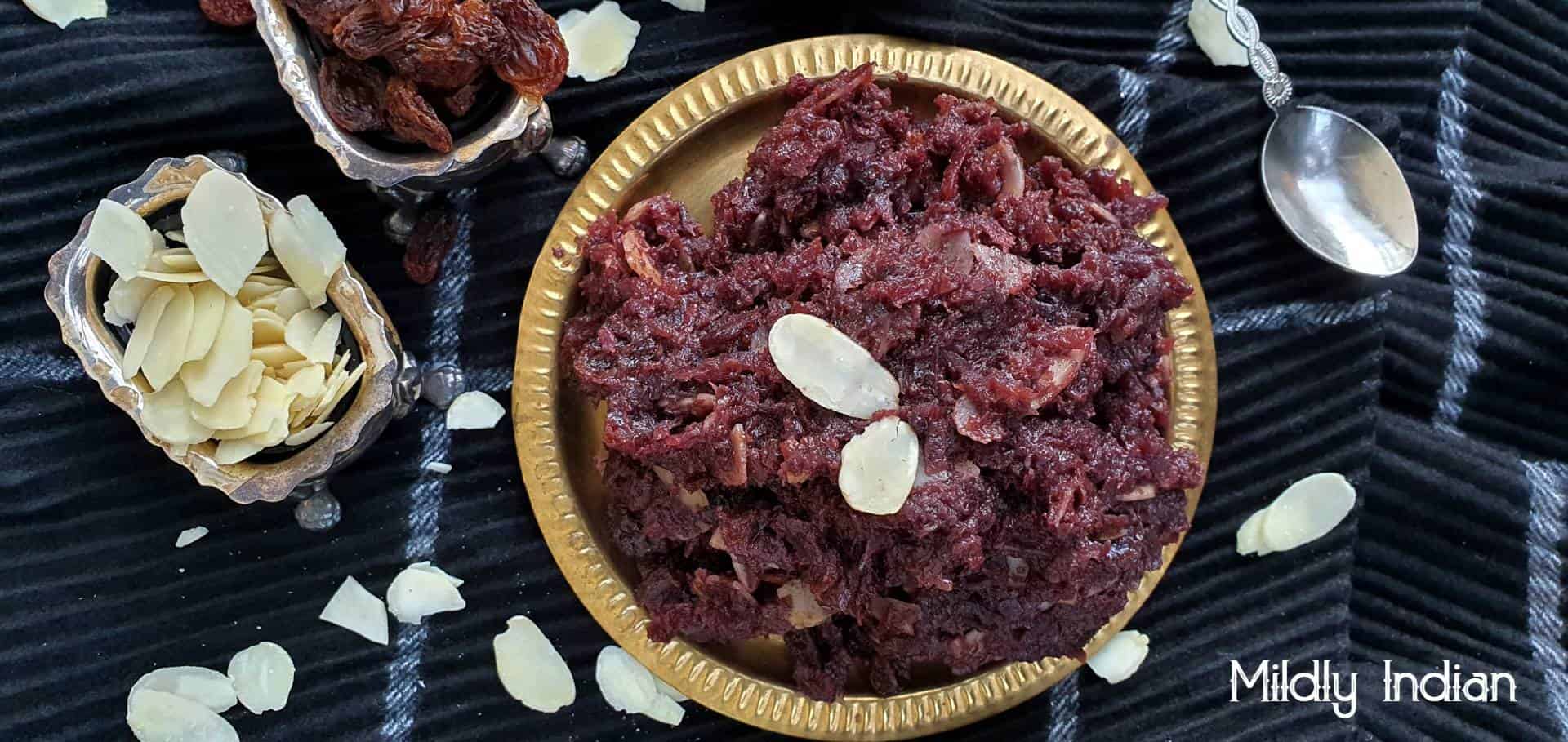 Kaligajar ka gajrela
Microwave recipe for purple carrot halwa.
Ingredients
1.5

cups

carrots

grated

1/4

cup

milk

4

tbsp

Sugar/brown sugar

1/8

tsp

cardamom powder

1

tbsp

ghee / clarified butter

2

tsp

almond flakes

2

tsp

raisins
Instructions
Into a large microwave-safe bowl, add the ghee, the almonds and the raisins and microwave of high for 15 seconds.

Remove the bowl carefully and remove the roasted almonds and raisins. Set this aside till you need later.

Add the carrots into the same bowl, add the milk and microwave it on high for two minutes.

Stir well and give it another 2 minutes on high.

Add the sugar and mix well. Set on microwave high for another two minutes.

Add the cardamom powder, the almonds, raisins. Stir well and set on high for a minute.

The carrot halwa is ready to serve.
Notes
The finer the carrots are grated the easier it is for the halwa to come together.
You can use this method for any colour of carrot depending on what you find. 
More carrot recipes
We love carrots and try our hands to grow a few each year. that experiment has had decent success, but carrots is always in my fridge. Here are a few more published carrot recipes on this blog.
Curried carrot and celery soup
Zucchini, carrot, cheese muffins.
Roasted black carrots with thyme honey.
Carrot fries and hung yogurt relish
Carrot and bell pepper salad with Italian dressing
Stay connected
When you make the kaligajar ka gajrela, let us know what you like about them in the comments. Dont forget this microwave gajar ka halwa recipe with work with carrots of any colour. We are always all ears to hear your reviews, twists and turns. While you are here, do subscribe to get updates as regular as we can post them for you. Tag us @mildlyindian or #mildlyindian with your version of these recipes on all your social media accounts.
Wish you a happy healthy and colourful 2022!!