Passing through the teen phase is a tryout through a million things that go wrong. It is the phase where you begin to recognise black and white are not the only colours in ideas and people. A sudden grey appears from nowhere clouding the most important aspect of life, judgement.
The sudden expectation to be a person can be overwhelming the sudden changes in the hormones can be overpowering, a sudden change from play and school to future and career thoughts to top it all can really leave them exhausted. In addition food choices, growth spurts etc do add up to the frustration.
As a parent, the best advice I have received was to learn a cat, coz that how this phase is going to be. Being a dog-friendly person and expecting my kids to have everlasting cuddles. All this broke the very day one of mine turned teen.
It was a slow and steady recovery from then. We got a feline to learn to handle this transformation. So far that experiment is successful, coz that someone is always hungry.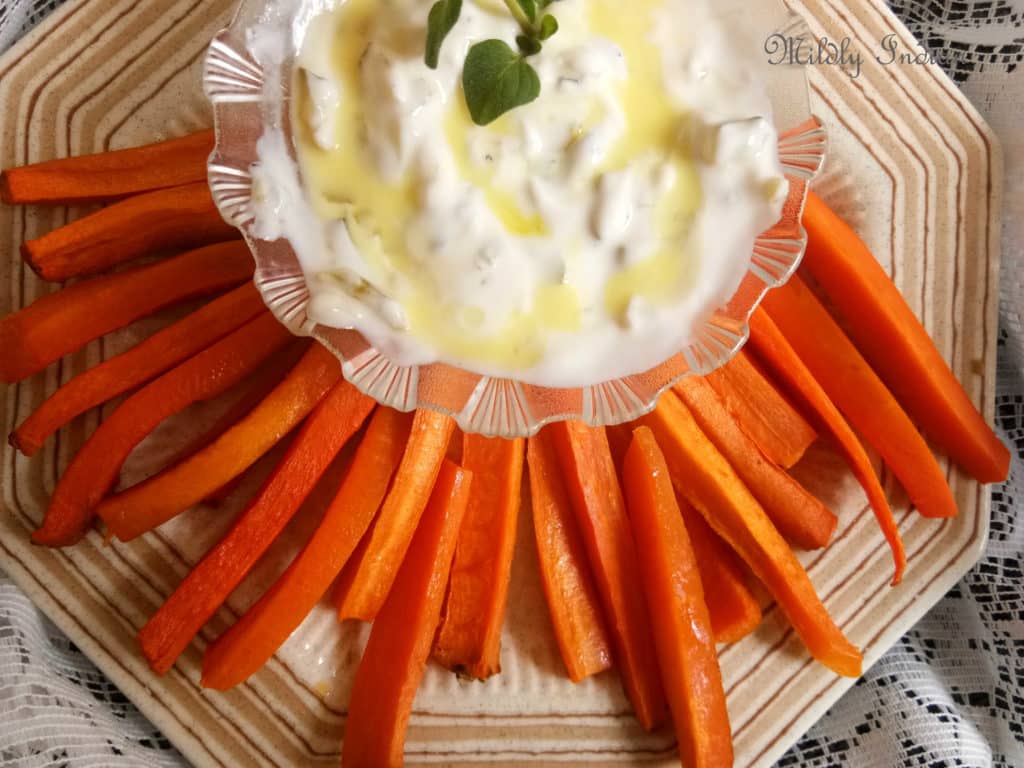 Cool Eats
One of the things I learnt in the process was "cool eats." At the same time, I am a mum who can worry about nutrition, the effects and more. The oily acne inducing packaged stuff sure does catch the eye, but rarely comes home nowadays. Slowly and steadily we have learnt to make cooler snacks. So here is the easiest
Baked carrot fries with a yoghurt relish.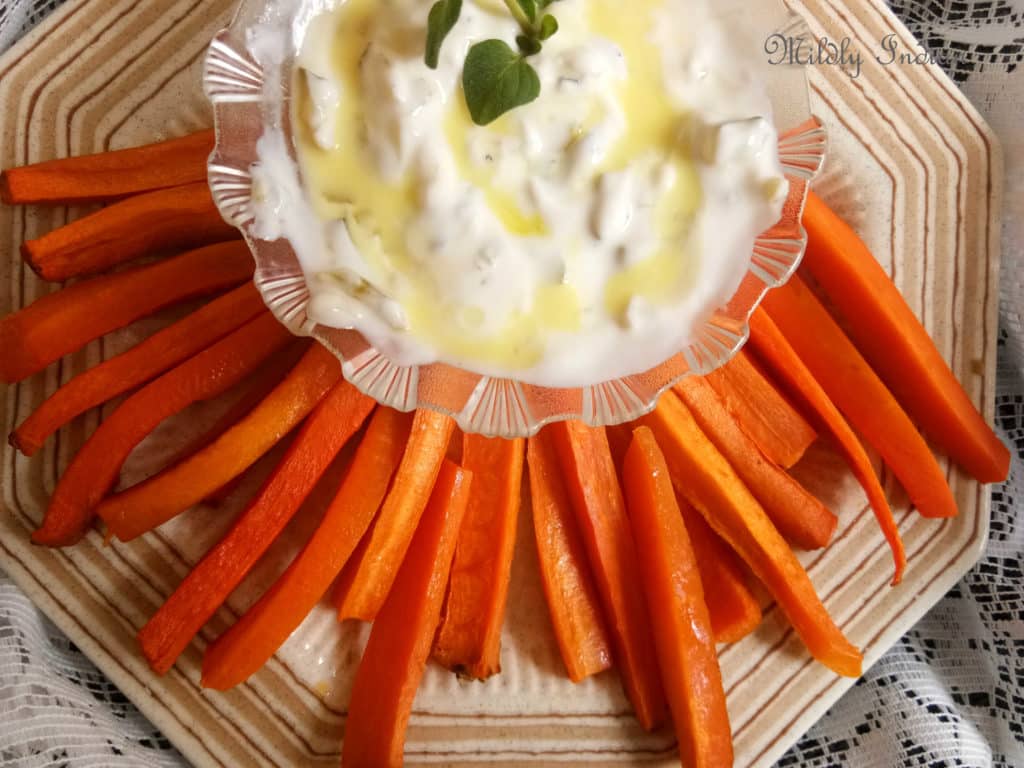 Nevertheless, the learning through my journey so far is ..   Listen and open up your space with love and not judgement ( tough one, I am learning too)
Enjoy this short fuss-free one today, which goes towards #rootingforroots by Sujata Shukla from the Foodie Monday Blog hop panel.
Enjoy this sweet root one. On mix up some purple carrots too if you have, it makes a hugely colourful platter. Pin in for your future use.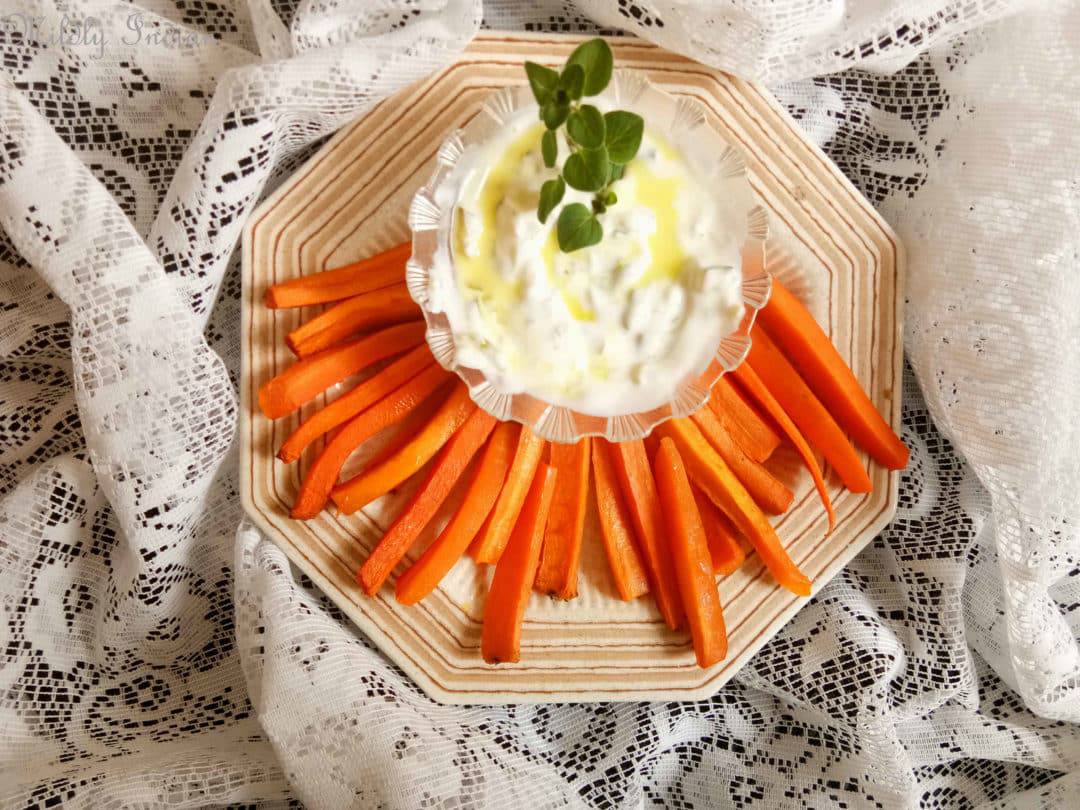 Carrot fries and hung yogurt relish
baked cool treat.
Ingredients
for the fries
300

gram

carrots

2

tbsp

olive oil

salt to taste

fresh herbs

I used oregano, swap to any you like.
for the yogurt relish
1/2

cup

low fat yogurt

10-12

pieces

pickle

use brine pickled gerkin slices,pickled peppercorns(check pickles and preserves for recipe) red peppers or jalapenoes

1

tbsp

pickling juice

1

tsp

fresh herbs

chopped

salt to taste
Instructions
For the baked fries
Wash and pat dry the carrots.

Cut them into two to three inch long and further into fingers

Toss in the olive oil, salt and crushed herb leaves.

Bake at 160 degrees for 10 minutes

Remove and flip the fingers over and re bake for another 5 minutes.

Once done it is ready to serve
For the yogurt relish
Finely chop the pickles and herbs you have chosen.

Mix it well in the yogurt, with the pickling liquid.

Grate the garlic clove and str in that too.

Adjust the salt ( the pickling liquid will be salty)

Ready to serve... dunk in the chips.
Notes
The seasonal herbs of choice can be used.
The baking temperatures may vary slightly if using fan-forced oven
Here is the link for the peppercorn pickle.
pepper corn pickle in lemon
Nutrition
Calories:
112
kcal
Carbohydrates:
10
g
Protein:
2
g
Fat:
7
g
Saturated Fat:
1
g
Polyunsaturated Fat:
1
g
Monounsaturated Fat:
5
g
Cholesterol:
3
mg
Sodium:
652
mg
Potassium:
257
mg
Fiber:
2
g
Sugar:
6
g