Since I never grew up with Christmas,  my Christmas traditions come from the countries I lived in, the friends who opened their Christmas day family to us and the warmth and love for cooking.
The Christmas I knew came from Kerala and a dear friend Ciya. So there was always cake, food, children, gifts etc. The tree came while the life of my toddler in the Philippines. It was all about putting handmade decorations and opening the presents under the tree guided by our dearest helper Anna. Slowly and steadily it made sense to decorate the house. A quick makeover from Diwali decor to Christmas theme. Every year there is something new to add and a lot of lovely memories to cherish. Currently, we are experimenting with a bit more complex baking beyond the Christmas cake and here we are exploring Christmas fruit mince pies.
Fruit mince pies tradition
With an absolute misleading name, these delicious bite-sized fruit pies are a classic Christmas bake. it makes sense to the regions from where it comes. It is winter, baking is a great warm option and filling with apples and preserved fruit was one of the best desserts possible. As we read into the food history, this Christmas fruit tartlet has undergone a remarkable transformation from where they started. Nevertheless, fruit mince pies still feature on the Christmas dessert table for luck and love.
Why do we try this recipe?
Certainly, if the pies bring good luck, I need some at the moment! Beyond that, the idea of making soft flaky Christmas fruit tartlet seemed appealing as it puts you right in the spirit of Christmas.
The flaky, buttery shortcrust is actually so tasty, especially fresh off the oven, so it is a great idea to bake your own than a supermarket chain bought one. 
Homemade fruit mince had this delicious aroma wafting through the house that we just had to go a step further and try these pies too.
The pies are good to be made ahead.
The muffin tin sized pies need not much equipment or tons of effort.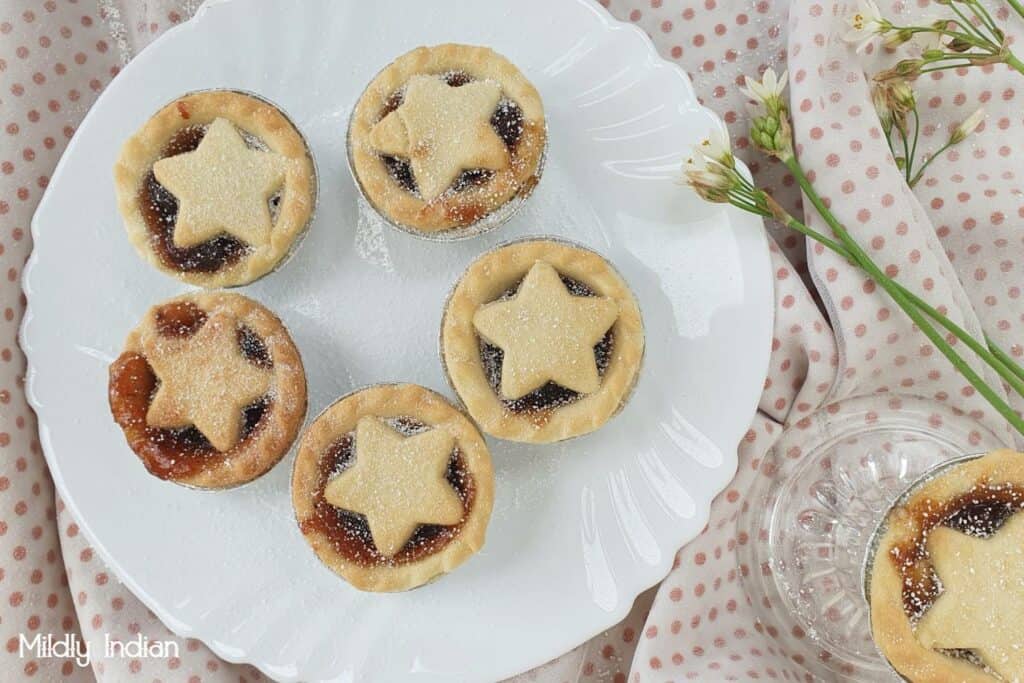 Hope this will convince you to try this recipe. Here is the detailed recipe card with step by step instructions that make it easy to follow. The fruit mince that was made earlier was used in this recipe –  click here for the recipe to fruit mince. You can add this to your Pinterest board or save it to your personal account.
Fruit mince pies
Ingredients
For the shortcrust pastry
250

grams

flour

7/8 cup

butter

1

small

egg

yolk only is needed

1/4

tsp

salt
For final presentation
2

tbsp

icing sugar

for dusting on the pies.
Instructions
Sift together the salt and the flour into a mixing bowl.

Rub in small pieces of cold butter into the flour and rub it together.

Make a well in the centre of the dough and add just the yolk of the egg into it.

With the warmth of yoru hand and the yolk, bring together the dough.

Chill the dough till use ( at least half an hour)

Preheat the oven at 180 degrees.

Remove the pastry from the refrigerator and roll it thin.

Using a cookie cutter cut circles bigger than the muffin tin ( or tart shells like we have used here) diameter.

Press down the shortcrust pastry into the muffin cups.

Spoon in a tablespoon full of fruit mince.

Cut out a few stars to top the tartlets and plca them on each tartlet.

Press down the edges to seal it.

Bake at 180 degrees for 20 minutes.

Once slightly golden on top, remove and cool on a wirerack.

When cool, dust icing suagr on top and the dessert is ready.
Notes
We have made these pies in tart cups. The muffin tin version held more filling than the tart shells making the pies sweeter and juicier, So on second thought bake yours in the muffin tins. 
Some recipes to add to your Christmas table.
A few recipes that I will add this season to our Christmas table needs to be shared.
Christmas cake – we certainly cannot get through Christmas without cake! Here is an easy, booze-free, eggless recipe for spiced Christmas cake.
If you had a cake fail don't fret, turn them into adorable cake truffles and keep going with a second cake trial.
Being from Kerala, I add vattayappam and vegetable stew to the Christmas table as it is one I fondly remember my friends with.
My children began Christmas in Philippines (atleast one of them!!), so cannot do the table without a basic Pancit bihon.
And here we are adding one from the Australian traditions the mince fruit pies.
Don't forget there is always room for cookies and hot chocolate. Maybe in our case, currently it is better to go with a chocolate cheesecake shake to comply with the summer Christmas from down under.
Collaborating this Christmas bake.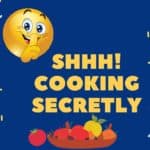 The admins of Shhh cooking secretly (Renu and Mayuri) called out to have a great baking season for Christmas. That sounded perfect as it actually made me try something new. Starting from scratch these Christmas fruit tartlets are to stay. Anu Kollon, my partner for the theme was extra generous with her time for discussions and chose, whole wheat flour and salt from the pie crust as the secret ingredients. The result is in front of you. Anu's blog is a hideout for many authentic Kerala recipes that you need to try. Check it out.
Stay connected.
By now we have spread our wings to a few different social portals. It should be fairly easy to find us on these as @mildlyindian. Our YouTube channel is growing and we would love to see you subscribe to it as well.
If you have not yet subscribed to this blog, do so please as we plan to bring you plenty of recipes and stories as we go. Do feel free to ping us or write to us. If you feel like sharing our images, let us know first as there will be nobody more thrilled than us. You are most welcome to share the recipe links with your friends and family and tag us as you make it. We love your honest reviews, please share them in the comments (we do take time to read and try and respond).
Enjoy the season of sharing with these giftable fruit mince pies. Don't forget, luck always grows when shared.