Try out this lip-smacking, small quantity, crushed kiwi preserve with your toast or scones. The slightly tart low sugar added recipe stays well and is relished by kids making morning easier. 
Jam making with mum
Jam making is one of the skills mum passed on to me. I grew up watching her squeeze those huge juicy mangoes or pineapple into a small bottle of jam. Once summer was done, we had these bottles of a long stay, preservative-free jam to catch up on those wet monsoon days. In between, these huge bottles of mango jam she had these tiny bottles filled with exotic fruit jams, sometime passionfruit, a bit of grape, homegrown jamuns etc. These were special treats. It is from these patient hours next to her in the kitchen in the corner, where, she will constantly give me cooled down a spoon of jam that I learnt flavour and the structure of how the fruit and sugar break down to form jam. 
Amma constantly amazes me with her jam collection. There is one recipe I amazed mum with, perhaps the first one where she was confident she had done a good job teaching me the basics well. 
Building in these basics
Once you learn the basic idea of jam making, making small quantities of jam becomes an easy weekend project. Pretty much,  this is an easy way for mums like me to use up those ones and twos of fruit left in the weekly fruit bowl before the refresh. Since it gets used up for breakfast during the week with toast, I love it and am happy that we have fruit on toast rather than colour and preservatives.  This helps me to experiment with various fruits like Sweet Strawberry Preserve or the Frozen berries jam.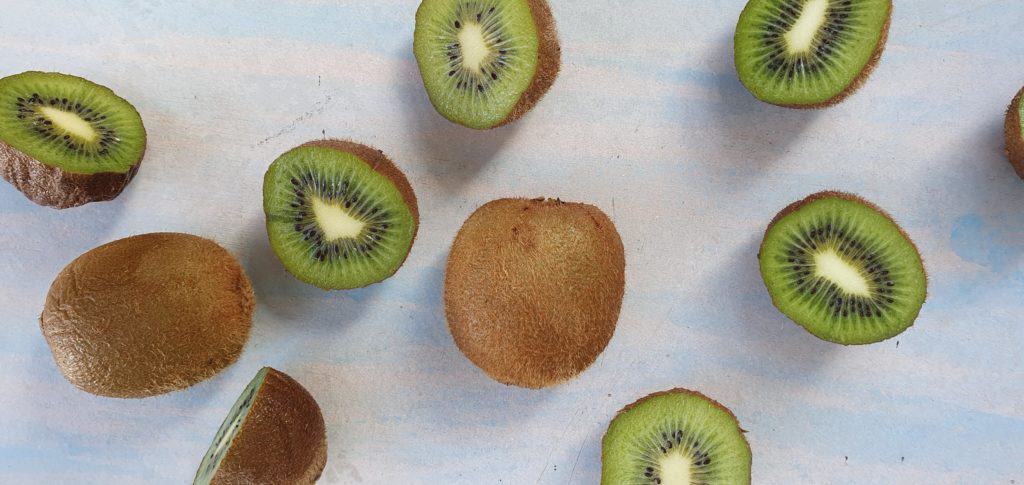 Making this crushed kiwi preserve
This time we are bottling up four kiwis with the least amount of sugar to add to it.  You can use the same recipe to do green or yellow kiwi. Kiwi is one of the best fruit to add to jam making. The acid flavours and the pectin in it combined with the sugar makes the taste factor perfect and the consistency with nothing more to add. This crushed kiwi preserve is perfect when you have overripe kiwis too, as you are anyway going to mush them. 
To blend the kiwis or not?
Usually, I don't blend the kiwis as they attain a greyish colour from the seeds and I am not a fan of that speckled look.  Yet, if you have children or adults who like a smooth jam then blend it. 
What kind of jaggery to choose for this crushed kiwi preserve?
Since kiwi is a fruit that easily changes colour when cooked, to retain the green colour as much as possible I choose the lighter coloured jaggery.  The recipe tastes equally tasty with stevia too and much better colour. 
Crushed Kiwi preserve
no pectin added, no white sugar added, no preservative
Ingredients
4

medium

kiwi

(I used green kiwi)

1

tbsp

jaggery

(use a lighter colour one to keep the kiwi colour intact)
Instructions
Wash and peel the kiwis and give them a quick rough chop.

Add these to a thick bottomed pan on medium heat.

Sprinkle the jaggery on top and allow the kiwis to release the juices in gentle heat

Stir the mix around and as the kiwi gets cooked mash it gently with the back of your spoon.

As the liquid evaporates, reduce heat and allow the mixture to simmer and keep stirring,

Once it becomes thicker than honey, the jam is done. Remove from heat and allow it to sit for 5 minutes

Transfer to a clean, moisture-free, dry glass bottle to use.

Store in the refrigerator and it lasts well for about 2 weeks.
Notes
If using stevia 1/4 tsp of Stevia powder will be perfect for this recipe. 
Nutrition
Calories:
16
kcal
Carbohydrates:
4
g
Protein:
0.2
g
Fat:
0.1
g
Saturated Fat:
0.01
g
Polyunsaturated Fat:
0.1
g
Monounsaturated Fat:
0.01
g
Sodium:
1
mg
Potassium:
84
mg
Fiber:
1
g
Sugar:
3
g
Stay connected
It is from mum that I certainly perfected the idea of looking at the glossiness and saying, yes that's done! The fact that I learnt from making jam in smaller quantities to use up in a shorter period of time is that it takes far less sugar in it. You can rely on the natural sugars to release upon slow cooking to make this work, like this diabetic-friendly plum jam.
As usual share your thoughts and experiences with this amaranth cutlets recipe in the comments below. If you happen to make this flower tea infusion, don't forget to rate it.
Sign up for the free updates on new posts that come directly to your inbox. Don't forget, you can always stay in touch with us with our Facebook, Instagram, Twitter or YouTube accounts.
Pin this recipe here for later use. 
Stay safe and see you at the next post.