There is no meal in the Indian cuisine that ends without something sweet on a festival day. The need for  "meeta "on the plate is a compelling tradition. In fact, this is a common occurrence in many traditions.
The past couple of weeks have been extremely stressful and I was surprised when one of my children wished to have something sweet to have. It set me thinking.
What prompts our sweet tooth to awaken?
Like any other animals species, our lookout for sugar is a sustenance model we have created. This is because sugar simply equals to energy for our body to burn down. This innate system is intricately attached to the brain. So when we have something sweet, the sweet receptors of the mouth signal the brain to feel a sense of pleasure and relaxation. This helps the brain to rest to the fact that the nutrition factor is taken care of.
Essentially fruit rich in sugars is a tough find in prehistoric days has programmed our body system to recognise the sugar to help sustain our body. This sense of satisfaction is the feeling of pleasure.
Why do meals end with a dessert?
Examining many eating cultures around the world all point to the fact that the dessert is always at the end of a meal. This is perhaps a way our cultures have come to recognise the fact that sweet tastes provide a feeling of fullness. At the same time, the nourishment needed for the body needs to be provided first. So the meal first and small quantities of the dessert at the end.
It is also a fact that when desserts are at the end of a meal, you tend to get less of them as the stomach is nearly full and it is just a small space left. In this way, you don't overindulge.
 Don't skip your dessert (:lol: )
Put a bit of thought into your dessert and its best not to skip it as a part of an occasional meal. This really goes back to the fact that the sweet feel leaves you much more satiated and happy. It helps in promoting an active lifestyle and weight loss. Yes, the feeling of pleasure actually regulates the eating habits better…so stay on that dessert, have a bit when you are nearly full. So here it is the facts of the dessert.
This really doesn't mean to indulge in all refined sugar-based products. But to have a small portion of natural sugar like fruit to sweeten up your day. Here are a few desserts with no refined sugar used but fruits that sweeten them up naturally.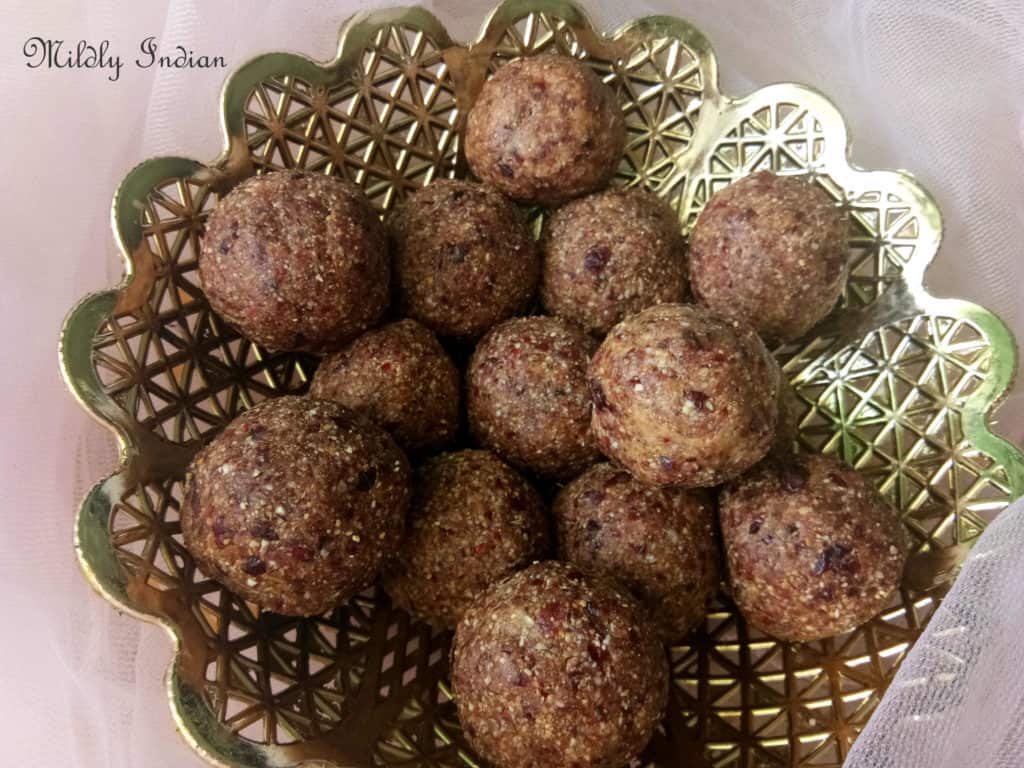 Here is one I am making for this Srikrishna jayanthi…the sweetness comes from dates. I roll them small so a small portion goes a long way. Ever since I left off refined sugar from my diet, I have loved the aroma of cardamom which feels like an indulgent dessert. Try this and let me know how you are with your sugar craving.  Please do not give up on the refined sugar challenge you have taken up.
Keep up with us on the blog and don't miss to subscribe for updates.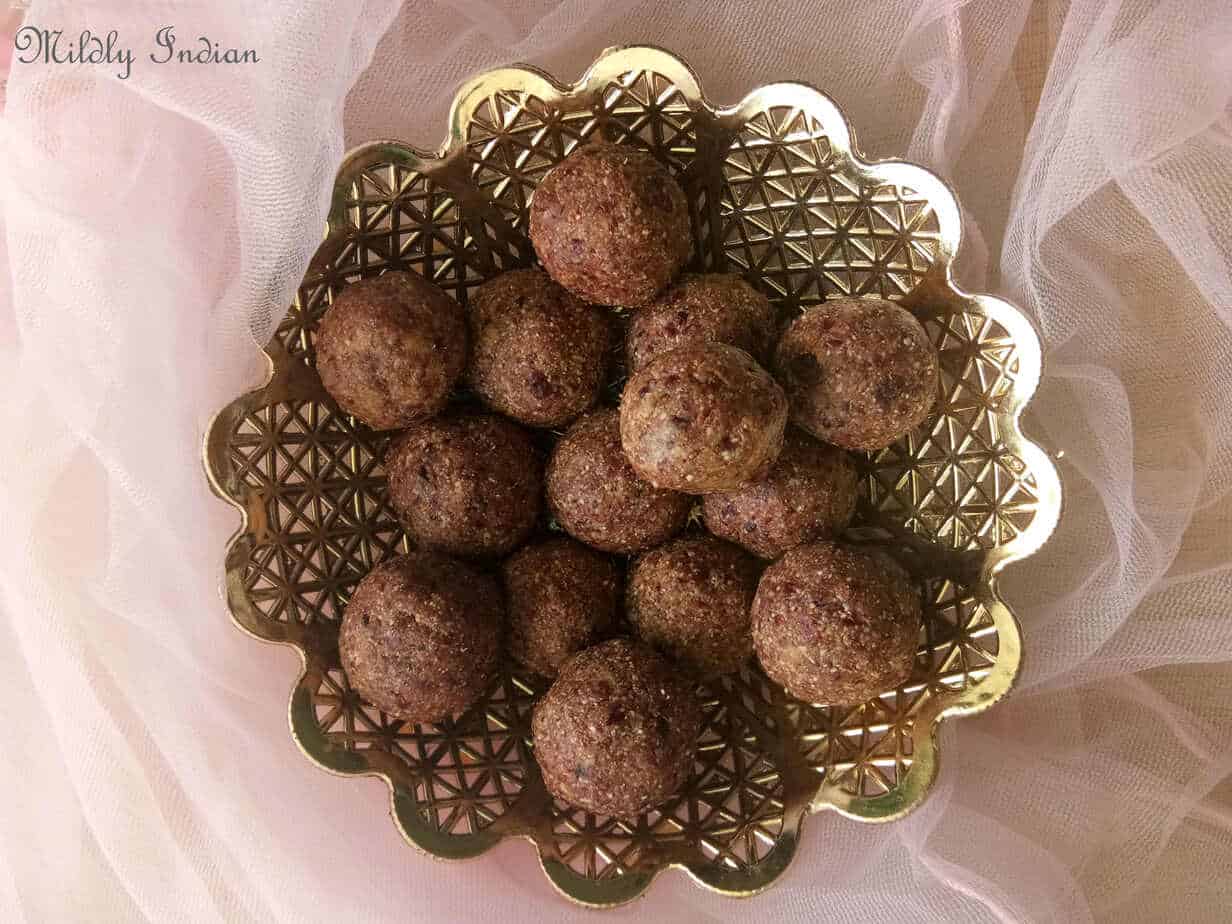 Dates and Aval Ladoo
no sugar added ladoo.
Ingredients
3/4

cup

rice flakes

( here, I have used the red aval/poha)

1/4

cup

almond meal

optional ingredient- added it for a bit of protein content.

3/4

cup

Dates

deseeded.

1/4

tsp

green cardamom powder
Instructions
Clean and de-seed the dates to get 3/4 cup loosely packed.

Clean and dry roast the aval/rice flakes on a pan. this burns really fast so keep an eye on it and mix often.

Once crisp, remove from heat and set aside to cool

Add all the ingredients into a food processor and pulse till the dates are broken down and it is all evenly mixed.

Remove a small quantity of this mix and press it down to form lime sized balls.

Store in airtight containers
Notes
Swap the almond meal for roasted cashews or pumpkin seeds. Pulse them first to get a fine powder and then add them to the mix so as to get an even bind.
Nutrition
Serving:
20
g
Calories:
82
kcal
Carbohydrates:
19
g
Protein:
1
g
Fat:
1
g
Saturated Fat:
0.1
g
Polyunsaturated Fat:
0.01
g
Monounsaturated Fat:
0.01
g
Sodium:
20
mg
Potassium:
149
mg
Fiber:
2
g
Sugar:
14
g