Kaju katli is a classic Indian mithai that fills up the typical colourful boxes that are exchanged at Diwali or stealing a few hearts at colourful Indian weddings.
That colourful box of mithai filled with kaju katli is one of our favourite Indian sweets. The diamond-shaped silver-coated cashew fudge is one that my children love as well. This no-cook cashew fudge is fairly easy to make. Look forward to making this at Diwali, Raksha Bandhan, Navratri, Krishna Jayanthi or any other Indian festival. In fact, this is one of the most loved edible gifts at Christmas too.
Let's get making kaju katli.
Making kaju katli as a  beginner can sound intimidating. Trust me, it is easier than baking. This recipe card has the details of this process. Check the recipe notes as well before you start.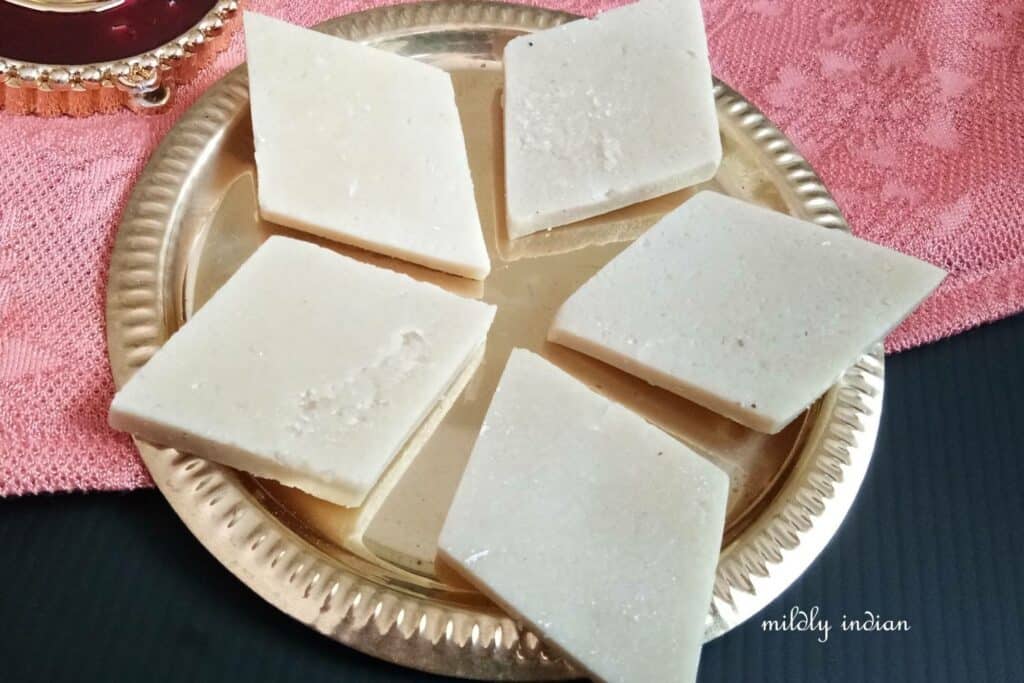 Kaju Katli - Indian Cashew fudge
A delicious indianmithai made with cashews and flavoured with cardamom.
Equipment
blender

Thick bottomed pan.
Ingredients
1

cup

cashew nuts

1/2

cup

unrefined sugar

1/4

cup

drinking water

1/4

tsp

green cardamom powder
Instructions
On the heavy bottomed pan, roast the cashews on low heat.

Remove one cashew and check if it crushes well.

Remove the cashews and let them cool.

Grind the cashews into a fine powder. Set it aside till it is needed.

Dissolve the sugar in the water and add it to the pan.

Set it a low heat and bring it to a vigrous boil.

Sift in the cashew powder and keep stirring so there are no lumps formed.

Add the cardamom powder and keep stirring and mixing.

Let the mix cook down , till you can move it around in the pan easily.

Once you are able to pinch of pieces and it holds shape, remove from heat and transfer to parchment paper.

Allow a couple of minute to cool,.

Knead the mix well and flatten the mix .

Place another parchment paper on it and roll the mix.

Roll to about 0.5 cm thickness.

Slice the flattened mix at diagonals to make diamond shaped patterns.

Allow to cool further and remove the slices onto a plate.
Why make it at home?
There are plenty of Indian sweets in the market. Then why make these cashew thins at home? Homemade kaju katli is tastier than the store-bought ones. They are nuttier as there is no other flour added to them. When you are making this at home you are in total control of the amount of sugar that goes in. Since the homemade kaju katli is not loaded up in sugar it is on a delightful treat that an overloaded greasy mithai. This is why it is one that is loved by a lot of my colleagues as edible gifts.
Try some more of these Indian style mithai during this festival season.
Here is a long list of Indian sweets that you may like.
Black rice ladoo – Roasted rice ladoo with coconut and cardamom is a sweet treat perfect as a jar snack as well.
Carrot halwa– you cannot resist digging into a bowl of this ever satisfying treat.
Karachi halwa – the mithai that brings in a perfect halwai touch to it is this sliced halwa.
Almond papaya halwa– dig into this bowl of soothing papaya halwa during any Indian festival and make memories.
Peanut ladoo – Easiest to make, this peanut ladoo comes together in no time.
Linking up.
As a food blogger, I am constantly in search to make this blog better each day. Hope you are with me on this journey. Originally, this recipe was published in 2017. I think it is high time to get it updated. So here we are with Foodies redoing old posts to update and improve the reader experience. The recipe and images remain the same. Let us know how you like the changes.
Do tag us #mildlyindian when you make this recipe and leave your thoughts in the discussion below. We love to hear about your experience of making this recipe. If you are a seasoned bajra roti maker and have better tips share them with us in the comments as it will benefit a lot of us who are learning. Don't forget to share and subscribe to this blog. We are working on getting our youtube channel with more recipes and learning experiences. Kindly encourage us by subscribing, liking and sharing the videos as well. Stay safe and keep in touch.