Alright, we have jumped in. To be honest, I was very eager to see the last year move on. Now what? Wait to see what this year unfolds. As for resolutions  I do have a couple of simple ones… cheeky ones of course. Read a book in one sitting like the old times when I just could. I do believe  I will be able to make it sometime in these 365 days. The second is to put me back on cycling or some fr of outdoor exercise. Well, this is a leftover resolution and hopefully, I will make it this year.
Let's welcome it sweetly.
Most traditions I have come across tell us to welcome new beginnings with a sweet touch. Surely this initiates the good feeling in us and thereby we look forward to some good hard work that will be rewarding through the year. So yes let's welcome the first post for this year with a sweet mulberry cobbler. With a self-proclaimed love for mulberries, a berry beginning sounds good.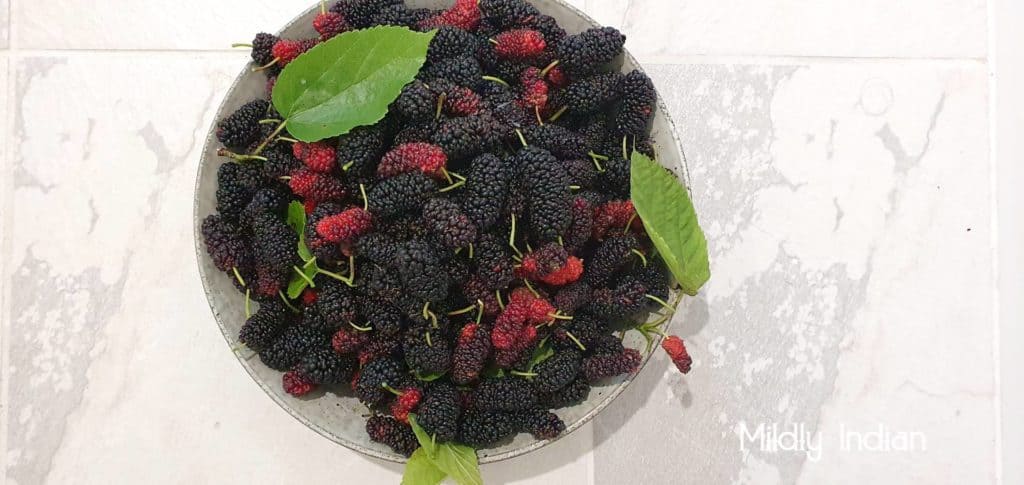 Why make a Mulberry crisp recipe?
A crisp is a sweet dessert with a based layer of baked fruit and topped with a thin layer of flour, sugar and butter mix. The top of a crisp is lightly thin and not cakey as in a cobbler. It is a version of a crumble, I feel it is a bit more crunch than a crumble and hence a crisp. 
Mulberries are by far my favourite berries. The primary reason is that I can forage for them rather than buy them off the supermarket. In this way, they are so so so sweet and cuts down any decadent addition of sugar to it and organic and with no pesky insecticides on them. 
Putting the two together you have one of the loveliest warm desserts to have.. The one that makes mulberry crisp so addictive is that they warm up a rainy day or winter day perfectly. Cracking the crisp topping is the part that seals the deal. I am the more of the juicy warm fruit girl. But, if you are the crust girl, go for it, add a bit more. They are guaranteed satisfaction.
For the vegan version. 
The easiest way to veganise this recipe is by using vegan butter. It tastes as good as the regular one. Here is one more option I tried, virgin coconut oil. The coconut oil melts fast, hence,  whisking in a portion of soy milk or almond milk really helps to bring the topping together. It forms the golden colour faster so watch the baking time a bit more regularly with this mix. 
Make this crisp recipe gluten-free.
I have made the berry cobbler multiple times with oat flour, I love the aroma of baked oats. Use a pack of gluten-free oats and powder it in the coffee grinder ( the best sort of mill for small quantities of grains). I also have tried a grain-free version with almond meal. With this, I found it a bit too buttery to my taste and so fast with the baking as it burns very fast.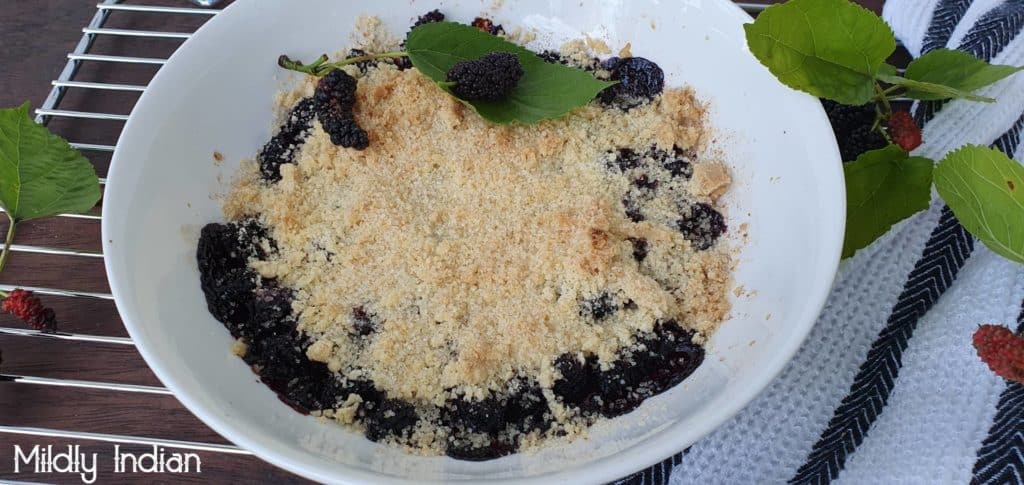 Easy Mulberry Crisp
An easy mulberry crisp, with fresh mulberries is a delicious warm dessert. Make it vegan, gluten free or regular, the crisp recipe is the one that you will love to keep having.
Ingredients
for the berry layer
1

cup

mulberry

1/2

tsp

orange zest

1

tbsp

oat flour

( or use whole wheat flour used for the topping)

1

tbsp

unrefined sugar

( brown sugar or jaggery can be substituted)
for the topping
2

tbsp

butter

( refer the post for swaps)

6

tbsp

whole wheat flour

(refer the post for gluten free and grain free swaps)

1

pinch

cinnamon powder

1

tbsp

unrefined sugar

1

pinch

salt
Instructions
Preheat the oven at 170 degrees.

Clean and remove the stalks of the mulberries.

Wash and drain them well.

Add them to a baking dish and add the sugar, zest, flour and mix them well.

Into a separate bowl, add the flour, sugar salt and cinnamon and mix well.

Add cold cutes of butter and rub it well into the flour till the mix resembles soft crumble.

If it appears too dry add a tsp of milk at a time and mix it up well.

Sprinkle this on top of the berry mix.

Bake for 30 -35 minutes till the berries bubble up and burst and the crust turns golden.

Serve it with a dollop of whipped cream or ice cream.
If you have forged more mulberries, here are some useful recipes.
Breakfast parfait with stewed mulberries
Spinach, peppers and mulberry salad
No more wait, enjoy the recipe and let us know your feedback. The recipe is perfect when you want to take a dessert over for a get-together. The frozen mulberries work easily in this recipe. If you don't have mulberries, you can try blackberries, cherries, blueberries, peaches or strawberries with this recipe. Like a crisp, they all taste amazing.
Share with us your pictures of this recipe by tagging #mildlyindian or @mildlyindian on your socials. Share this recipe around and let your friends enjoy it too. Stay on with us a bit more, subscribe to get fairly regular updates.
See you at the next post.