Get one spoonful of this thenga chammandi with your lunch and transform your everyday meal into a palate experience. Enjoy this recipe for an everyday Kerala coconut chutney
One of the things I actually like about the food scene in Kerala is that it is slowly moving back to the original foods that are classic to everyday Kerala life, like kanji, pothichoru, ela sadhya etc. The pothichoru especially brought back memories of school life. my mother was not a pothichoru kind of person, nor did I show interest in eating it at school, but I distinctly remember the aroma of the wilted banana leaf the matta rice and that chammandi along with cabbage thoran. Years later, amma taught me to make these elements and put them together as pothichoru.
Alas, now being in Sydney,   there is no banana leaf, but that nadan thenga chammandi will never leave my life. What attracts me to this chammandi is the colour the flavour and the way the rice makes a small ball when this shallots chammadi is mixed with the matta rice, just perfect for each mouthful. Below is the recipe for you, enjoy 
What is the difference between chutney and chammadi?
This is a constant debate in most South Indian households. So to a true Keralite, chammandi is a coarsely ground preparation that has coconut and chillies along with a souring agent. This can be a seasonal ingredient like mango, bilimbi, pineapple or tamarind. This is thick and semi-dry in nature and often served as a ball. Whereas, a chutney is a fine ground with slightly liquid preparation with just about the same ingredients. Chammadi is a side for dosa, idli or even rice. Chutney has its limitations on use as wraps like the pothichoru as it is a bit runnier.
What is the difference between thogayal and chammandi?
Thogayal on the other hand is a dry preparation very similar to chammadi. However, there are roasted dals of various kinds that are coarsely ground along with the coconut mix. At times the coconut is also roasted, increasing the shelf life of the thogayal.
Ingredients for this Kerala coconut chutney.
The Kerala chammandi uses classic Kerala ingredients, still, these are not unusual for an Indian kitchen.
Coconut: Coconut scrapings for the bulk of this condiment. Using fresh coconut without a doubt gives a a smooth chammandi. However, if you have access to only frozen go ahead. I have thawed the frozen coconut before using it in this recipe.
Chillies: this recipe uses dry red chillies and green chilli. I prefer to use a mix of dried seranno and bydigai. The bydigai gives more of a brighter colour than much of the heat. If you are looking for a mild chutney recipe, check the cheat method I have added below. The green chilli is added to give a good freshness to this dish. It can be avoided if desired. 
Ginger: Ginger gives a complex intensity to the chutney. You can use, frozen ginger to the mix too. 
Shallots: fresh shallots are the actual secret ingredient in the Kerala chammandi. Avoid if shallots are difficult to procure and add a clove of garlic. The flavour changes but still tastes very good. 
Tamarind: The underlying sourness that gets the spicy chutney so tasty is a small ball of tamarind added to the grinding mix. You can use lemon juice in its place. 
Salt: Can't do without the savoury salt in this dish. 
Let's make thenga chammadi
Thenga chammadi is a traditional household recipe that has so many variations in the way it is made. We have made it the easiest simplest way. Blend together all the ingredients to make this chutney without adding excess water so that you get a thick coarse blend. The recipe card below outlines all the details of how to achieve this Kerala coconut chutney. Hope you will enjoy making this raw and easy recipe to have with your meals.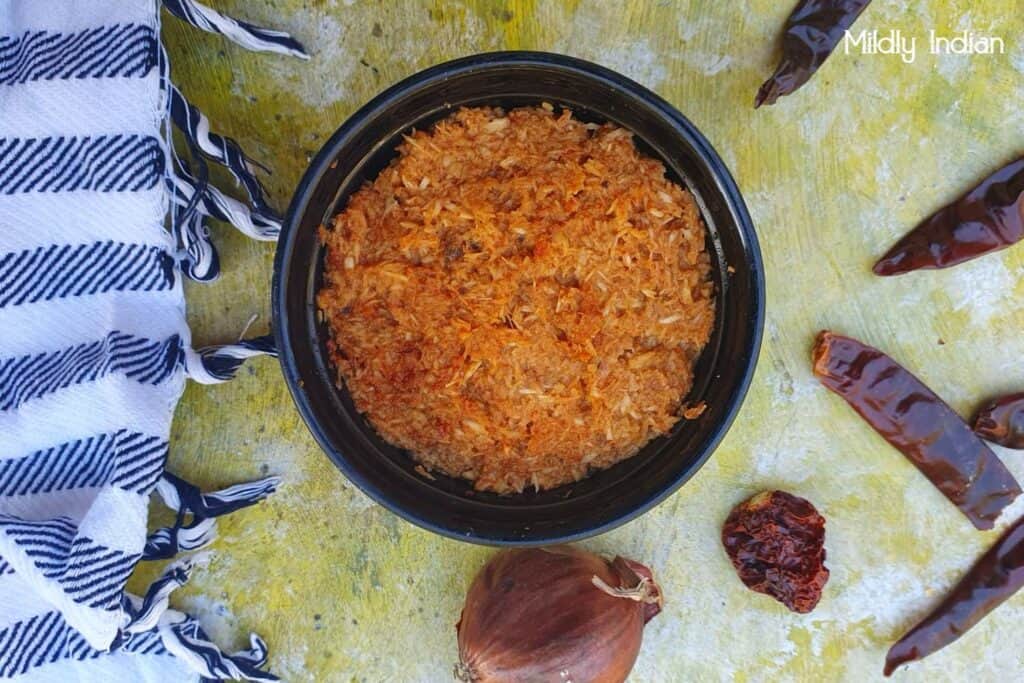 Cheats version of thenga chammadi
Classic thenga chammadi is ground to perfection using an ammikallu. Not that is long gone and replaced by the trusted blender. The pulse mode is what gets the chammadi done perfectly. However, using regular chillies will give the spiciness but not the colour. If you want a less spicy version, yet enhance the colour, ditch the chillies. Grind all the other ingredients. Into the frying pan add a tsp of coconut oil and add half a tsp of Kashmir chilli powder or paprika to it. Remove as soon as it starts sizzling. Add this to the ground paste and mix well. This will be far less spicy than the original version but will have the same bright orange colour to it.
Meal prep and storage
Thenga chammadi stays good for three days in the fridge. You can freeze the chammadi for up to three months. Freeze as small balls so you can thaw small portions. Keep it overnight in the fridge so that it thaws evenly.
Thenga chammandi
Get one spoonful of this thenga chammandi with your lunch and transform your everyday meal into a palate experience. Enjoy this recipe for an everyday Kerala coconut chutney
Ingredients
1

cup

grated coconut

4-5

shallots

1/2

inch

fresh ginger root

1

small ball

tamarind

salt to taste

4-6

dry red chillies

1

green chilli

optional
Instructions
Peel, wash and slice the shallots.

Greate the coconut or thaw the frozen coconut.

Dry roast the red chilli.

Into the blender add all the ingredients needed for making the chammandi.

Pulse and grind without adding water to a coarse paste.

Remove this paste and shape it into a ball.

The chammandi is now ready to serve
Serving ideas for chammadi
With kanji:  the best combination for chutney is matta rice kanji.or payar kanji. You can add some papapdam to the side along with uppu maanga achar or some stirfried eggplant, achinga payar thoran to make it a meal.
With rice meal: there is always a place for chammadi in a Kerala meal. Though kept on the side the small ball provides so much flavour to the entire meal.
As wraps or sandwiches:  I use chammadi to make a quick sandwich or as a spread for the wraps. Since there is limited water in the chammadi it doesn't make your sandwich soggy. A layered add-up of sliced tomatoes, cucumbers and spinach with generous chammadi taste really good. For a wrap, you can have chammadi with any thoran leftovers.
As a variety rice: Variety rices are where the rice is flavoured with spice mixes and veggeies. Chammadi choru is one of the best-kept secrets from the Kerala lunch box variety rice menu. Will share that with you soon.
Stay connected
Every household is going to have a version of the thenga chammadi in Kerala. This is the one I love and I am hoping that you will like it a lot too. Let us know in the comments how we are doing so far. We will love it if you can add an image of your creations for us in the comments below or tag us on your Instagram, Threads or Facebook accounts.
Stay in touch and see you in the next post.
Pin this for later.