As the weather cools down and the lentil stews seem more comforting.even with this variety is still a keyword. The vegetable enriched Dalma from Odisha is the one I am trying out this time. This Sunday lunch was not only a hearty one but on bestowed with a number of vegetables.
Dalma influence
I have first had Dalma with my former short-term cook Kailas to whom it was his home cuisine. He always made it for us on the days when he missed home (I guess). We loved the comforting feeling of the recipe on the wet and cold Bangalore days. Though I enjoyed it, I hardly wrote down how he did the same. So never had a recipe to repeat it years later. 
The second factor that prompted me to try this recipe was my parents account of travel towards Puri. The sacred Jagannath temple at Puri has always served Dalma as a sacred offering. The Mahaprasad is an elaborate and dedicated service at the temple. The offering to the god is later served to the devotees who visit. This vegetarian fare is not only elaborate but has strict constraints with respect to the way it is prepared and served. One of the recipes that are served on a daily basis is this lentil rich Dalma. My mother described the dish to perfection that it was enough to create a lasting want for the same.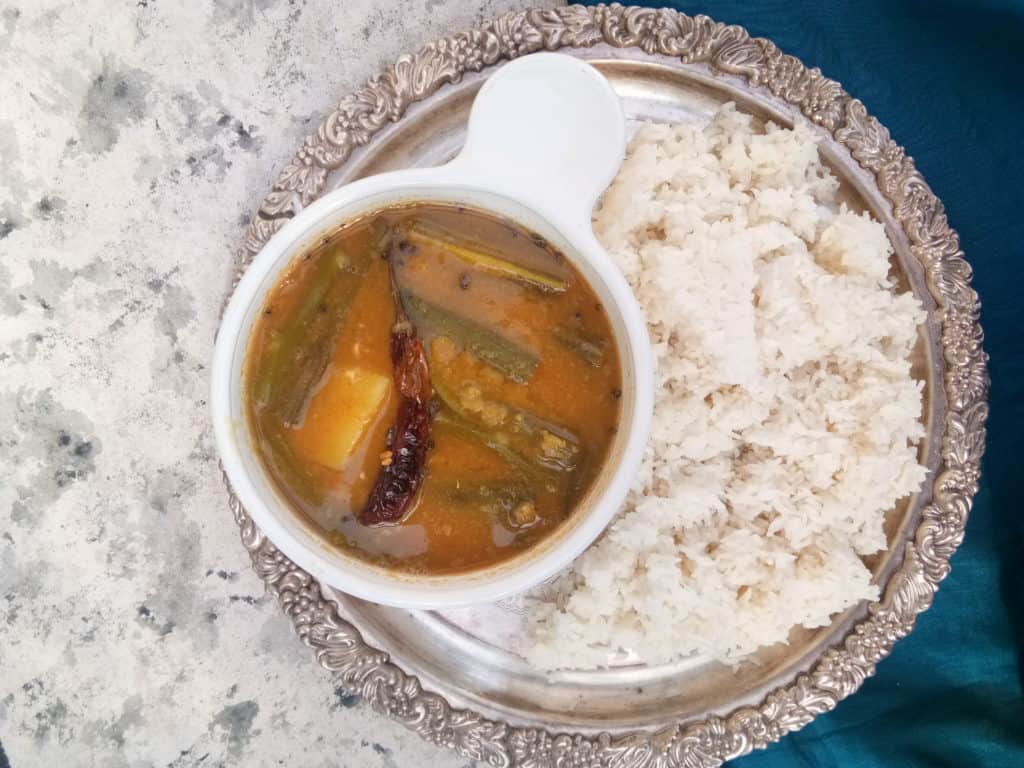 This time around
This recipe was influenced by the secret ingredients, from the Shhh cooking secretly group where Sujata Shukla gave me- Lentils and mustard. It is fun playing around with these as they are quite versatile in the Indian cuisine. Towards the lentils, I narrowed down to pigeon pea(tur dal)  which I have used in this recipe. Sujata Shukla is an inspiration as a blogger. Her recipes are often inspired by extensive reading and a huge collection of cookbooks she preserves. Another side of her recipes is easy to put together recipes which suit a busy homemaker like me. Above all these, Sujata is a valuable blogger buddy and a person who takes a genuine interest in the share of knowledge. Don't miss to check out and follow her blog.
Check out her recipe for a perfect accompaniment with the Dalma recipe below. Both the recipes are essential to the Mahaprasad served to Lord Jagannath.
Since I did not have an original recipe I could completely rely on and wanted to reign in as much authenticity as possible I requested the help of Sasmita. An enthusiastic Odisha blogger she was so happy to share her knowledge of the recipes.
The recipe I have formed is devoid of garlic and onion. The addition of these in the recipe is totally personal. I kept it away so I can feel the flavour closest to what my parents would have enjoyed during their trip.
here are a couple more lentil based ones from Indian cuisine
Scroll down for the recipe and don't miss to keep in touch with us. Subscribe for weekly updates and see us on our social media pages. Here are the links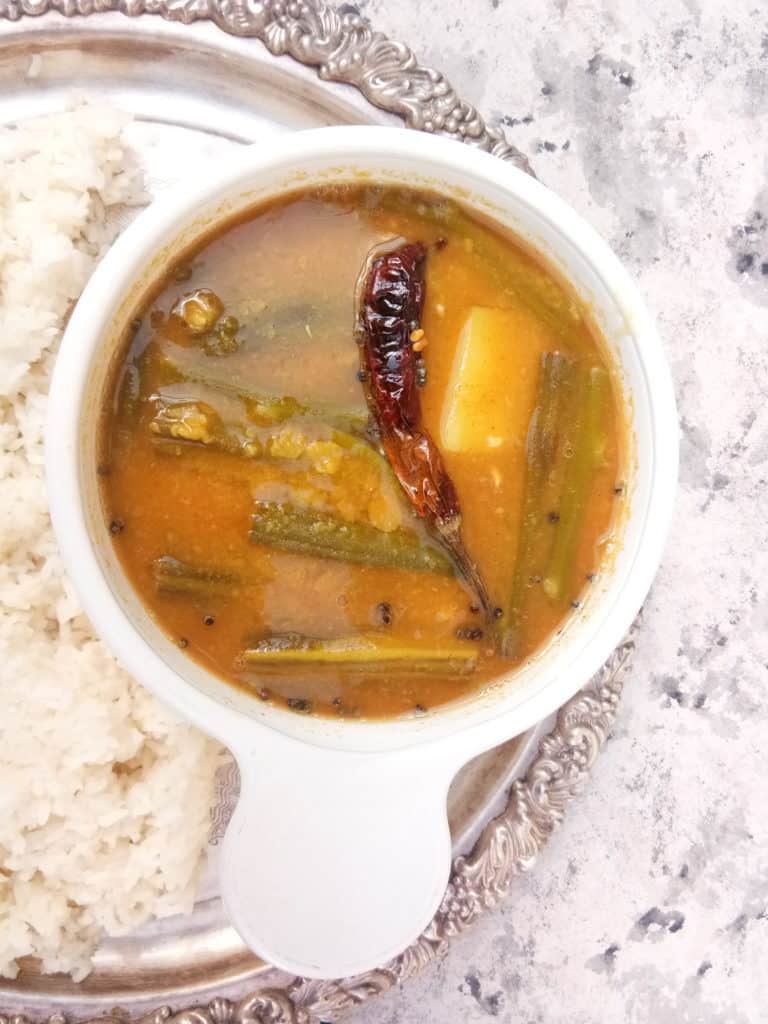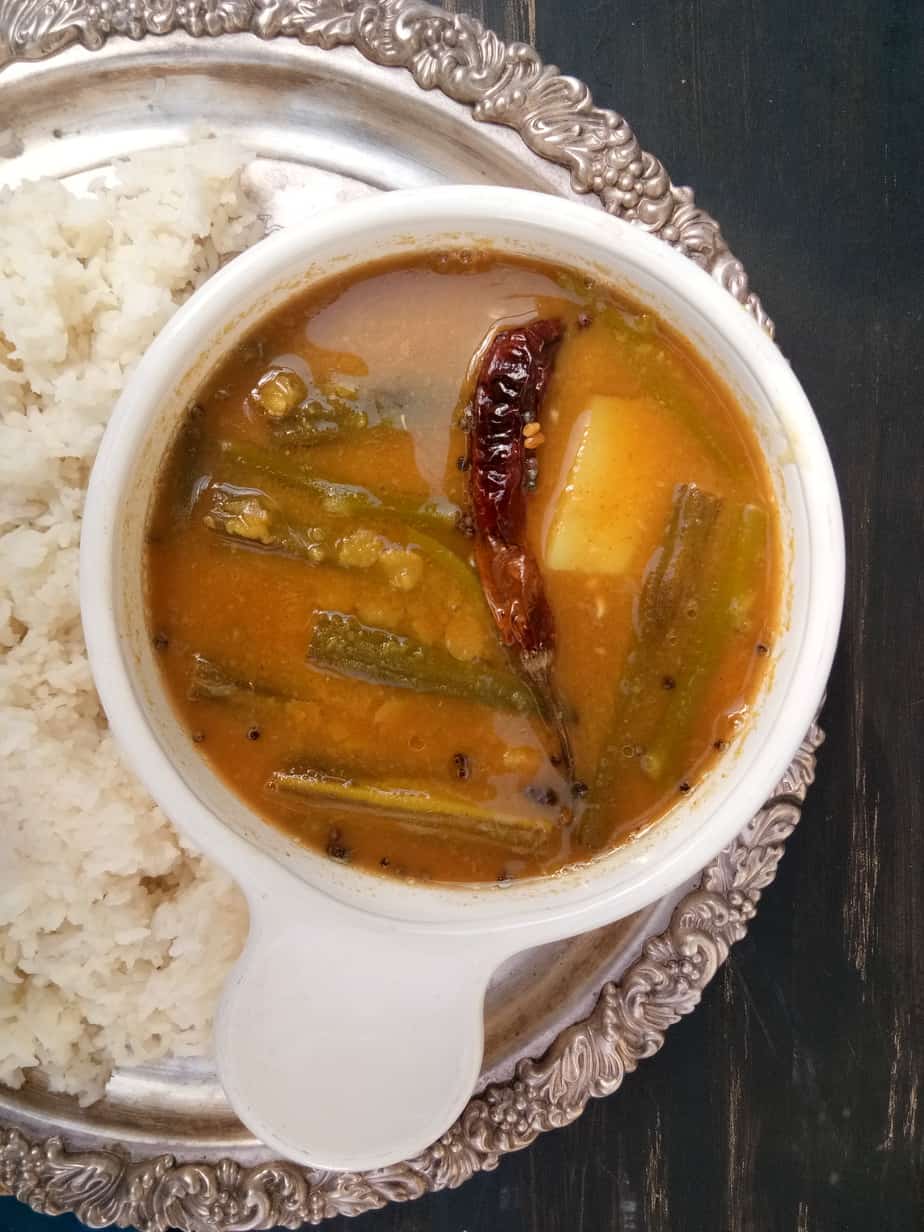 Dalma from Odisha
Winter perfect lentil stew
Ingredients
lentil cooking
1/2

cup

tur dal

3

cups

drinking water
vegetables needed
1/4

cup

pumpkin

diced

1/4

cup

raw banana

diced

1

medium

potato

2

medium

drumstick

1

cup

drinking water

1

large

Tomato
for tempering
1

tbsp

cooking oil

1

tsp

mustard seeds

1/4

tsp

Nigella seeds

1/4

tsp

cumin seeds

1/4

tsp

fenugreek seeds

1/4

tsp

fennel seed

2

medium

dry red chillies

1/4

cup

grated coconut
for the masala
2

bayleaves

1/2

tsp

roasted cumin powder

1/4

tsp

fresh ginger root

grated

1/4

tsp

turmeric powder
Instructions
Wash and soak the tur dal for 20 minutes and then pressure cook the same till soft and pulpy. Release the pressure naturally and mash the dal ready to go.

Wash and dice the pumpkin, the potato, the tomato and the raw banana. Keep them separate.

Cut the drumsticks as an inch and a half long pieces.

In a large pan add the oil and the ingredients for tempering except for the coconut

Add in the coconut once the ingredients have started to splutter and roast it for a couple of minutes till aromatic.

You can remove this and set it aside to add in later, but I continued.

Add the tomatoes, the bay leaf, the ginger, roasted cumin powder and turmeric powder.

Saute for a couple of minutes till pulpy and then add the cut vegetables.

Add a cup of water, salt to taste and bring it to cook the vegetables

Add the cooked tur dal and continue till the dal is well incorporated. check the salt levels and it ready.

Serve with a steaming hot plate of rice.
Nutrition
Calories:
126
kcal
Carbohydrates:
18
g
Protein:
5
g
Fat:
5
g
Saturated Fat:
1
g
Polyunsaturated Fat:
2
g
Monounsaturated Fat:
1
g
Sodium:
49
mg
Potassium:
388
mg
Fiber:
4
g
Sugar:
2
g