Get a glass of fresh tomato juice when tomatoes are in season and enjoy the best of summer. Try out the flavour combos we have listed too.
Amma never missed an opportunity to get tomatoes when they were in season. She will save them as dried tomatoes or as tomato thokku. I was happy for a different reason, a full tomato basket in the house meant I could get tomato juice. I don't know why but I always felt they were a good fatigue reliever. As I built my kitchen confidence, I never missed an opportunity to juice some.
Why not the boxed tomato juice?
Now, the boxed tomato juices are not for me. They feel bitter and lack the freshness of that juicy tomato flavour. Instead, to me, they tasted more like thinned-out passata. So fresh is my way. Other than that, I could give you many reasons for added unwanted chemicals. 
What tomatoes taste the best?
The plum tomatoes will be a bit sweeter in variety. In Australia, among the smaller varieties it is perino. I have used Field Gourmet today which has a lot more juice but is less sweeter.
Do I need a special blender?
You don't need any special blender to make this juice. Any regular blender that can break down a bit of the soft pulp is perfect. If you have a juicer that will do the job beautifully too.
How can I make juice without a blender?
Tomatoes are always called juicy tomatoes! So, getting the juice out of it is fairly easy. If you don't have a blender but a grater it will work to get you a good glass of juice. Grate the tomatoes by keeping the grater in a bowl to catch all the juices. Now, line a strainer with cheesecloth and a bowl at the base.  Pour the grated tomato into the cheesecloth. Make a bundle of the cheesecloth and squeeze out the juice. The juice will be strained into the bottom bowl.
Do you peel the tomatoes?
This is entirely up to you. If you are making a big batch, peel so that you can use the pulp. Since you are straining the juice it wouldn't make a difference to the quality of juice.
To peel make a small slit at the base of the tomato and soak in hot water for 5 to 7 minutes.
What do I do with the pulp?
If you are making a big batch of juice,  then you are going to end up with some pulp. This can be mixed into buna masala, rasam or curry bases that you are making. If doing a big batch, preferably peel the tomatoes, so you don't end up with a lot of peel for the pulp.
Ingredients needed to fresh tomato juice
To make my kind of tomato juice, you only need tomatoes. Red and juicy vine ripe tomatoes have a lot of fresh flavour that is perfect. Check the recipe card below to see the simplest way to make this tomato juice. Further, if you feel like adding any flavours,  I have listed a few combos that come to my mind.
Flavour variations
Cardamom and ginger: Ginger and cardamom actually bring out the flora aroma of the tomatoes.
Lemon and honey: Since the tomatoes have a mild acidity, spike it up a bit more with a squeeze if lemon and stir in some honey for the sweetness.
Gazpacho mix: This works as a quick soup too. Along with the tomatoes, blend some cucumber and leave the pulp in. When you need a quick cold soup stir in the bread crumbs and herbs and you have a ready gazpacho.
Black salt: rim the glass with black salt and sip the juice through. It gives the flavours of tomato chaat without all the eating… oo yum.
Make ahead
The juice stays good for 3 to 4 days in the fridge. Somehow I do find that that one made with the juicer stays better. However,  if you have leftovers, put them in a popsicle mold and freeze for a hot day.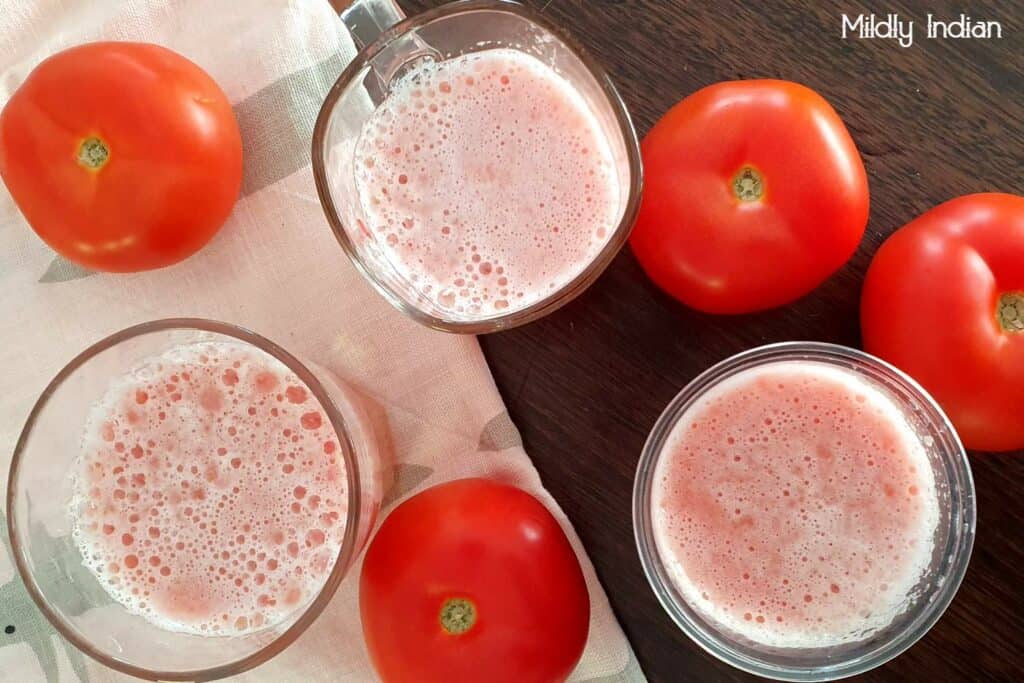 Fresh tomato juice
Get a glass of fresh tomato juice when tomatoes are in season and enjoy the best of summer. Try out the flavour combos we have listed too.
Ingredients
6

large

tomatoes

3

cups

drinking water

chilled if preffered
Instructions
Add this to the blender with a cup of water.

Blend this till it apprears smooth.

Now add the rest of the water and blend a bit further so the juice is not too thick.
Allergen information
Tomatoes belong to the nightshade family. So if you are allergic to nightshade, keep away from this recipe. We are not medical practitioners so check with yours before you consume tomato juice.
Other juices that we have shared
Stay connected
Building your basics in the kitchen is absolutely essential to understand the ingredients and the quality of food that you consume. When you plant your tomato crop this season, try each variety separately to appreciate the unique flavour and texture. If you have excess, roast them and keep them in your freezer or simply sundry them. Let us know how your experience is with this fresh tomato juice. Share with us your tips if you make them too. Now back to my feeling, did you feel fatigue-free after the tomato juice?
Let us know.
Pin for later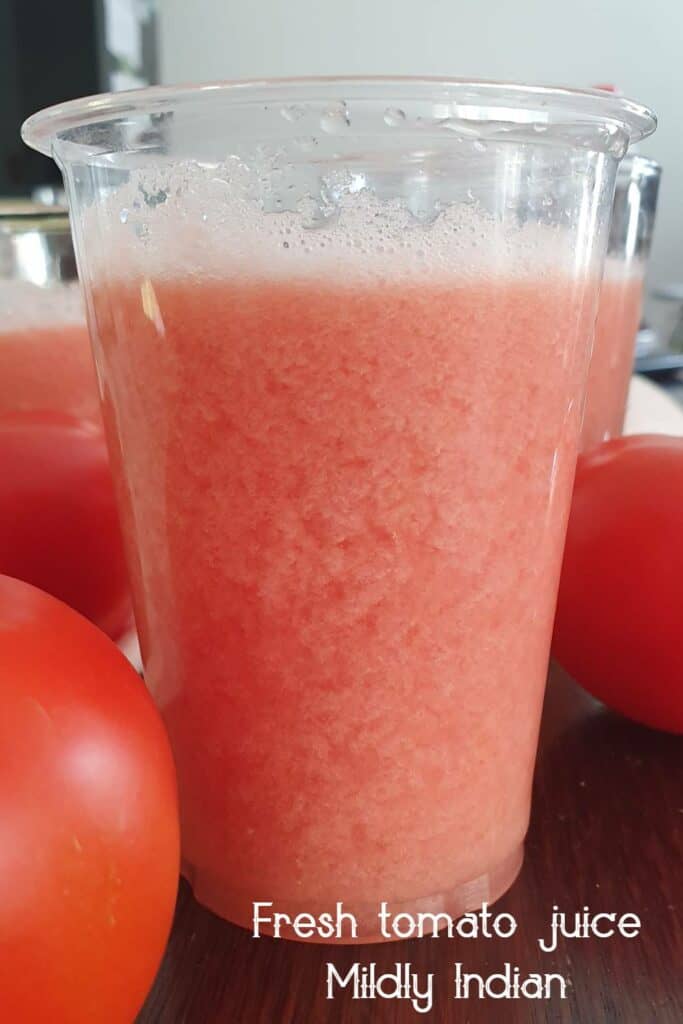 See you at the next post.