This refreshing, ginger pineapple juice is an all-weather recipe. It is sweet, fresh and soothing to the throat. Enjoy this three ingredient juice to freshen up your day and soothe your throat.
Ingredients to gather.
Pineapples- the pineapple variety we get here currently come as the Queensland variety. With slightly yellow skin, these one apples are juicy and sweet on their own. Peel the skin off with a sharp knife and cut the top and bottom off. Now, slice the Pineapple vertically to the size of your juicer inlet. In this way, it is much easier to feed the Juicer. If using a blender, chip up the Pineapple into bits so they can blend smooth. If the central core looks tough, I remove it as it can be woody. If it appears soft, no worries, add it into the blend.
Fresh ginger root– most Asian groceries will have fresh ginger root. The best way to save up some if you buy a big chunk is to wash, clean and freeze it. To clean, I just use the back of a spoon and scrape down the scale leaves.
Water- if using a blender, you will need some water to smooth it all together. Use just enough water to blend the mix and thin out the juice later if you need more.
Ice cubes- on a hot summer day a glass of pineapple ginger juice over ice cubes is heaven. As you sip slowly, the juice thins out just enough too. If using frozen pineapple, you may not need much ice though.
Add-ins to create variations
Turmeric-the fresh root of turmeric is good immunity. Add in more than 1/2 inch of turmeric root to the mix to blend. No one will figure out as the pineapple is the more robust flavour.
Spinach– trying out a green juice variation? Add baby spinach to the Pineapple ginger blend. The result is a delicious green juice that you can absolutely love.
Mint- fresh mint to the Pineapple ginger juice creates a mojito feeling, rather than just juice.
Berries– a handful of any berry you have creates a new mix to the idea. Since berries are easily frozen, add to the mix you plan to freeze.
Juicer or blender?
I love the idea of slow juicing. In fact, this is a process I love when I do a mango papaya refresher blend as well. The fact that I like about juicing is that the pulp is already filtered out. It is also not a watered-down version, but rather just the juice.
If you don't have a Juicer, don't worry. The blender works perfectly. Sieve the pulp after blending to get just the juice.
Pineapple ginger juice
This refreshing, ginger pineapple juice is an all-weather recipe. It is sweet, fresh and soothing to the throat. Enjoy this three ingredient juice to freshen up your day and soothe your throat.
Ingredients
1/2

large

Pineapple

1

inch

fresh ginger root

ice cubes

as needed
Instructions
Wash, pat dry and peel the Pineapple

Chop the flesh vertically.

Add them to the juicer one by one and add the piece of ginger too juice up.

Collect the juice and place it in the refrigerator.

Add some ice cubes to your glass and pour the juice in.
What to do with the pulp from the ginger pineapple juice making?
Most of the highlighted issues with juicing are wasting the pulp. The fruit pulp for this ginger pineapple juice can be of better use. If you are juicing a large batch, cook the strained pulp with a couple of spoons of sugar to make a fantastic jam. you can zap it in the microwave and take this process quicker likely have done the mango papaya jam.
The other idea to try with the oulp is to make pineapple curry. Grind 2 to 3 tbsp of freshly grated coconut, curry leaves and green chillies (based on the heat you like) and combine with the pulp. Add about half cup water and cook their into a smooth curry.
I hope these two ideas come in handy for you.
More with Pineapples
Thai pineapple fried rice – khao pad sapparod
Mango pineapple ladoo with coconut
Pineapple chaat- Bangalore style street food
Storing the ginger pineapple juice for later
With a busy schedule,  juicing ahead makes sense. However, I won't do a huge juice batch to store rather will prep the ingredients. The ginger and pineapple freeze well. So pop them into portion-sized packs and freeze. You can add the optional ingredients to the mix too. If you happen to make extra, freeze the juice as popsicles.
Stay connected
I hope this ginger pineapple juice idea and the ideas with the pulp come in handy for you. Once you are addicted to this pineapple salad, blame me!! I love the salad with fried rice or just on its own. If you like these recipes or our travel post, don't forget to let us know. Here are the links to our Instagram, Facebook and Twitter. More than anything,  subscribe to this blog newsletter so we can update you regularly (not every day!).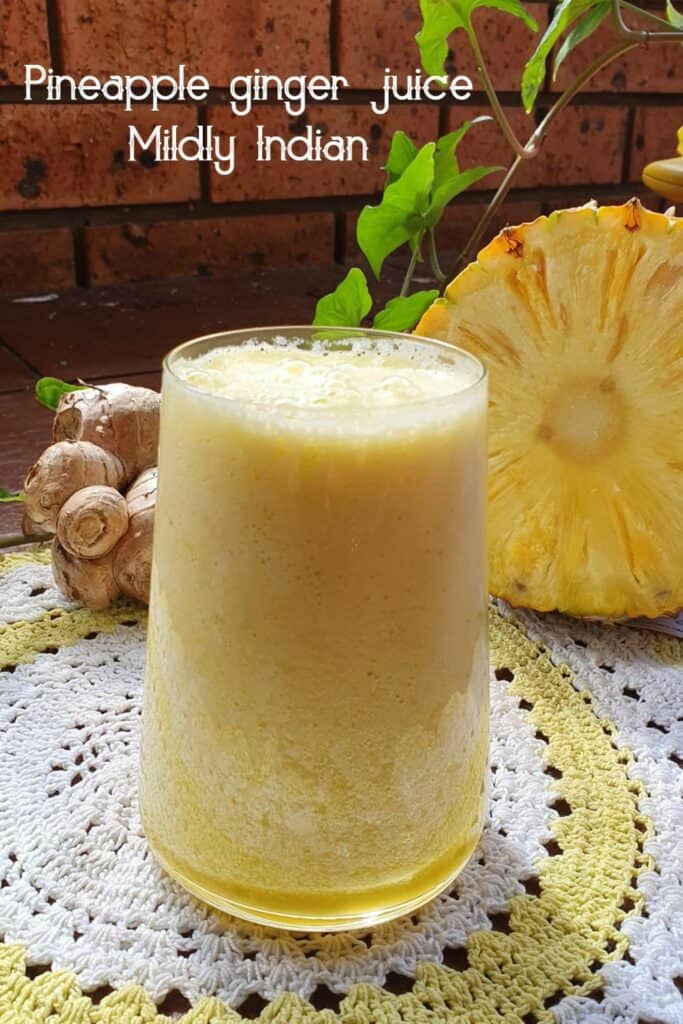 Stay Safe and see you in the next post.