If you are one for the wind on your face kind of long journey that is not a drive, you should try the Indian railways. It has always been the most satisfying journey. The long-distance trains are a whole experience of making friends from different parts of the country, country music, sharing food and of course the chugging of the train to match this rhythm.
How I became this train addicted?
Both my parents worked in institutions that afforded them an LTC every couple of years. They loved and looked forward to these days of travel. Since the train was the mode of travel and flights were not a norm, we enjoyed long travels on endless trains and buses. They meticulously research,  plan and make all the bookings without Google to help. This is how we managed some memorable travel. Now every time I go back, I love to have something short to do with them on the trains.
Experiencing food from the Indian railways.
The railways have their in-house catering (pantry) that dishes out trays of hot food. In long-distance journeys, this becomes the main support for people who cannot carry food for 2 to 3 days at a stretch. The food is not completely prepared on board, but rather sourced from different caterers at main stations and then distributed to the passengers. This brings in regional variations to the food that you get between these three days.
Then you have the quick eats and snacks that get sold on the platforms by hawkers along with incessant call-outs for sweet tea and coffee. These two means of food keep the travellers happy and the conversation flowing to the rhythm of the train.
During one such travel is when my father sourced pooris and this aloo curry for the rather difficult teen me. I don't know whether it is the special train hunger or the journey itself that appealed to me about this combo I have loved it for a lifetime now.
Ingredients for this railway aloo curry
The aloo curry is rather a simple basic curry recipe. However, the memories associated with it make me always look at it as comfort. This one-pot curry relies on the following ingredients.
Potatoes: I have used an all-rounder white potatoes to make this recipe. You can use red-skinned or Yukon gold potatoes too to make this recipe.
For the masala base: The curry is on an onion – tomato base gravy, very much like the classic Indin curry paste, buna masala. This involves, ginger, garlic, onion and crushed tomatoes. 
Spices and flavourings: though this is not a spicy curry but the coriander powder, cumin powder, red chilli powder and garam masala along with salt and lemon juice flavour in this recipe.
The recipe card below has step-by-step detailed instructions to make this railway aloo curry. Hope you like this recipe and will let us know when you make this curry. 
What to serve with this one-pot potato curry?
There is no doubt this potato curry tastes amazing with pooris. However, steamed rice,  cooked millets or spinach phulkas taste splendid. Add a chickpea salad on the side to complete the meal.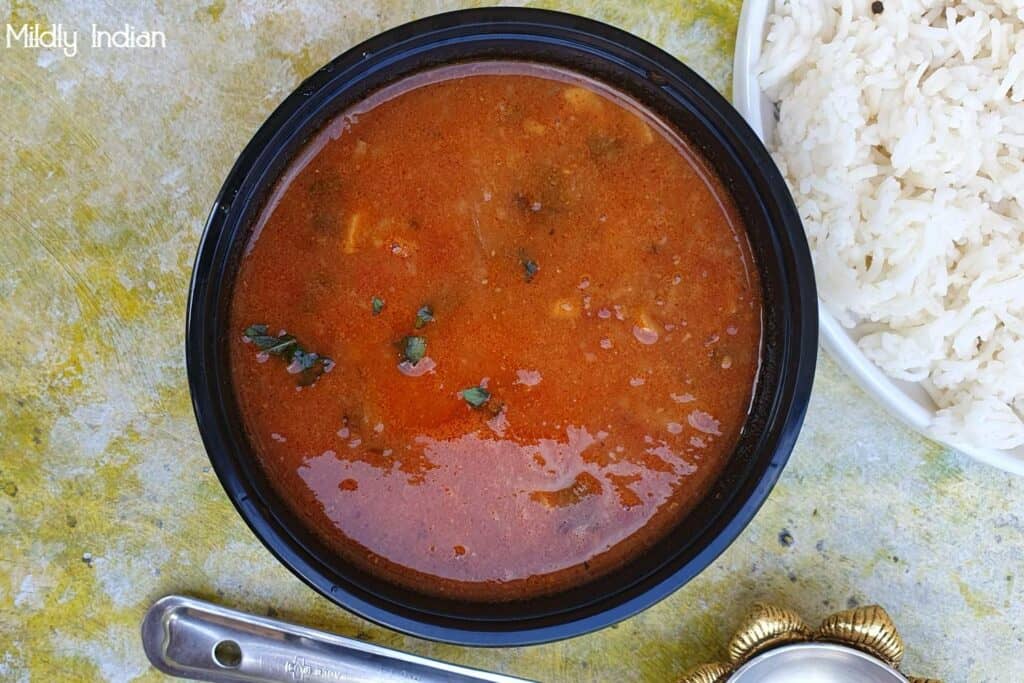 Railway aloo curry
Ingredients
For the masala base.
1

tsp

cooking oil

1

tsp

cumin seeds

1

small

Onion

peeled and chopped.

2

cloves

garlic

1

cup

tomato

crushed.

salt to taste

1/2

tsp

red chilli powder

1/2

tsp

roasted cumin powder

1/2

tsp

garam masala powder

1.5

cups

water
the potatoes
3-4

large

potatoes

Washed.
Garnishes
1

tbsp

coriander leaves

chopped.
Instructions
Wash and chop the tomatoes and crush them.

Scrub and wash the potatoes.

Cut them into chunks and set it aside.

Set the pressure cooker on medium heat.

Add the oil and cumin seeds.

As they crackle add the garlic, and onions to saute.

When the onions turn translucent, add the tomatoes.

Mix well and let them saute for a couple on minutes and cook off.

Add the salt, cumin powder, chilli powder, garam masala and saute well.

Once this masala mix starts leaving the sides and the water and the potatoes.

Pressure cook this for 3 whistles or on medium for 10 minutes.

Let the pressure release naturally.

Open the cooker and gently mash a few potatoes to add thickness to the curry.

Adjust the salt and mix well.

Stir in the chopped coriander leaves and mix well.
Collaboration
The Shh cooking secretly blogger group is one I regularly participate in for the challenge they provide. This time it was my turn to pick a theme. I miss travelling a lot. Especially the train ones and was advised against it during my recent visit. This thought prompted me to at least dig up those treasured travel treats as railway recipes. My partner Mayuri prepared the essential South Indian classic travel essential, lemon rice. This recipe for aloo curry will pair well with the lemon rice too.
Stay connected
My hunger existed only when we were on train travels with my parents. The bhindi pulao we shared earlier was one my mum made for travels. Hope you will try this railway aloo curry too. Please do share comments and rate the recipe as you try it. It will be a pleasure to invite you to check out our Instagram and Facebook too.
Stay in touch and see you at the next post