Enjoy the peppery sips of the kurumulaku rasam soup that will keep you warm in winter and work to open out your sinuses. Serve it with rice or in a bowl to have with meal or to sip while enjoying the rains. 
When it was lunch at the Calicut University canteen,  the rasam and sambharam were placed in steel jugs that we could pour out into glasses to drink or in the rice to eat. However, the kurumulagu rasam ran a bit too fast for the matta rice on the large divided plate or the banana leaf. So, we always made sure we poured our share into the glasses to sip. The warm, pepper and garlic-laced rasam were perfect on all days, especially the rainy days. A lovely memory of having lunch with Jean, Vijayan Sir and Vinod has rekindled this week thanks to this Malabar pepper rasam we made on Sunday.
What's special about Malabar rasam?
Rasam is a thin spicy soup-like preparation with simmered tomatoes, cooked dal and spices. This is a go-to option when someone is unwell or for an easier home meal. Most rasams rely on rasam powder. However, Malabar rasam has no cooked dals added to it or rasam powder in it. Rather it is a paste of spices with shallots garlic tomato and tamarind that flavours this rasam. It is a rather thin preparation that is a brilliant drink if you are suffering blocked nose or are not feeling so good. Ready to try it?
Dietary profile for pepper rasam
This kurumulagu rasam is a vegan, nut-free, low oil preparation.
It has no gluten too.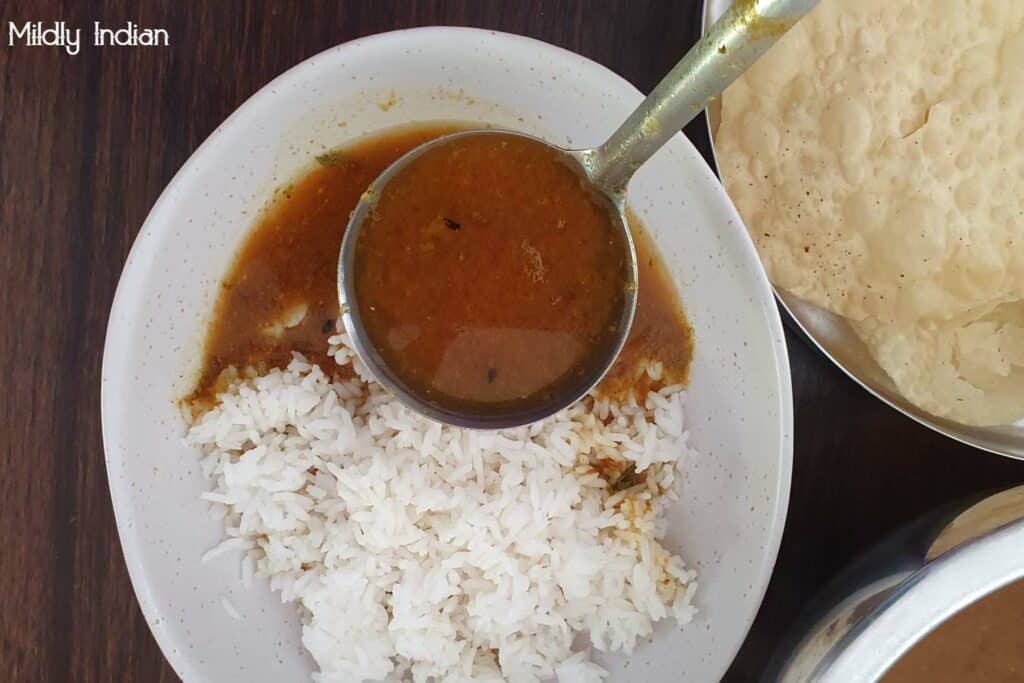 Ingredients for malabar rasam
The rasam is a fairly simple recipe. This thin watery soup is low calorie and zero oil recipe. the key flavour element is to get the spice mix right as there is no rasam powder used in this recipe.
For the spice mix : the entire flavour depends on the spice paste that is made fresh. This needs whole cumin, corinader and blackpepper corns. There are usually ground raw not toasted. To this shallots, garlic, tamarind , tomatoes and curry leaves are added to make a perfect paste. If you prefer to have a bit more spicy rasam you can add red chillies to the spice mix.
To make the rasam : this spice mix that we have made is mixed in 4 cups of water with salt and turmeric powder. Bring this to rolling boil and let it simmer. Now add the coriander leaves and stir well. Cover and leave this away from heat for about 10 minutes so all the flavours can infuse. Now the rasam is ready to serve. 
Let's make pepper rasam
Making kurumulaku rasam is a fairly simple recipe. Since there is no rasam powder to be prepared the entire process takes less than 15 minutes to complete.
The spice mix: The first step here is to blend together the spice mix that is the basis of this rasam. Into the blender ( or what we call chutney jar fondly) add the cumin seeds, coriander, pepper, tamarind, tomato curry leaves, shallots, and garlic cloves and make a smooth paste. Usually, this is done in a couple of steps. Powder the whole spices first, then add the tamarind, shallots, garlic and curry leaves and blend them together. This forms a coarse mix. to this add the tomato and blend to a smooth paste. 
To make the rasam: To this spice paste add the water and set to boil. Add the salt and turmeric powder to this and let this simmer till the rasam smell permeates the air. Now add the chopped coriander and remove from heat. Keep covered for 5 to 10 minutes before serving. 
Malabar kurumulagu rasam
Enjoy the peppery sips of the kurumulaku rasam soup that will keep you warm in winter and work to open out your sinuses. Serve it with rice or in a bowl to have with meal or to sip while enjoying the rains. 
Ingredients
for the spice mix
1

tablespoon

cumin seeds

2

tbsp

coriander seeds

1

tsp

Black pepper

2

shallots

6-8

curry leaves

4-5

cloves

garlic

1

gooseberry sized ball

tamarind

or 1 tsp tamarind extract

1

large

Tomato
for making rasam
1

tsp

coconut oil

1/2

tsp

cumin seeds

1

green chilli

slit in the middle

4

cups

drinking water

salt to taste

1/2

tsp

turmeric powder
to garnish
1

tbsp

coriander leaves

chopped
Instructions
Into the belnder add the cumin, coriander seeds, black pepper, shallots and garlic and blend to a coarse mix.

To this add curry leaves and tamarind and blend again

Add the tomato and make a smooth paste of the mix.

Add this paste to the water and mix well

In a cooking pan add the oil, cumin seeds and the green chilli.

When this sizzles add the mixed paste and the rest of the water.

Stir in the salt and turmric powder and bring to a rolling boil.

Now simmer for another few minutes.

Garnish with chopped coriander leaves.

Cover and leave the rasam for 6-10 minutes.

The rasam is now ready to serve.
Other rasam recipes
Since rasams are a way of bringing back the normal and providing a reset for the busy week, we often have it for Sunday lunch. There are many varieties we try, however, I find it too hard to get good pictures of rasam hence not so many on our blog. Here are a couple.
Pineapple rasam
Arugampullu rasam
Does rasam really work when you are not feeling well?
I am not a medical practitioner to advise on specific needs, yet in general, here is why rasam becomes popular in convalescence. It is like a thin clear soup providing tons of hydration. The spices that go into the rasam are fairly anti-inflammatory in nature and helpful home remedies for mucus removal. So I guess in practice they do work to help under a few minor conditions.
What to serve with kurumulagu rasam?
Rasam with rice and aviyal is our favourite Sunday combo. This rasam pairs well with watermelon kootucurry or keerai molagutal too. This week Amma had sent papadams so we had celery kootucurry and rasam with it.
Stay connected
Luckily we had the pepper rasam in pasta bowls with rice so there were no runaway rasam issues. Hope you like this rasam recipe let us know in the comments below. Follow us on Instagram, Facebook or thread.
Stay on and check more posts and see you at the next post.