Being rated well in the blogging world is indeed a great deal. It is an evolving field, complex, complex, complex and a deep spiral… whichever way you look at it. One small lovely note, therefore, creates such a positive sense that none of us wants to miss. This recent one placing us 53rd on the Indian food bloggers list, therefore, was very cool!!
This message surely called for a celebration. Initially, I thought oh maybe bake a cake! or get cheesecake or something. On second thought it is a ranking on the Indian board so I had to make something Indian inspired.
Oh, bother!! we have a dental appointment. You know how dental visits are for any foodie. Sitting waiting there, I was thinking, I have to have something sweet. ( I dare not let that dentist hear it, he might drill deeper) Having about an hour wait time helped me to conjure the dessert I wanted to have.


Carrot halwa shake
What stands between me ( after the tooth extraction) and the carrot halwa today is the bite and time. So I had to make it quick and drinkable.
Carrot halwa is that traditional winter dessert loved by all. Now carrot halwa also makes some of the best fusion options. We have an original recipe for the carrot halwa made with purple carrots here on this blog. It is a very special recipe for us. That cardamom and sweet cooked carrots are the key elements I want to carry forth. Of course, the creaminess of the milk will do the rest.
I have done this recipe with raw sugar for the kids and Stevia for us. Oh, I love this! now I can have this for breakfast and not look guilty at all.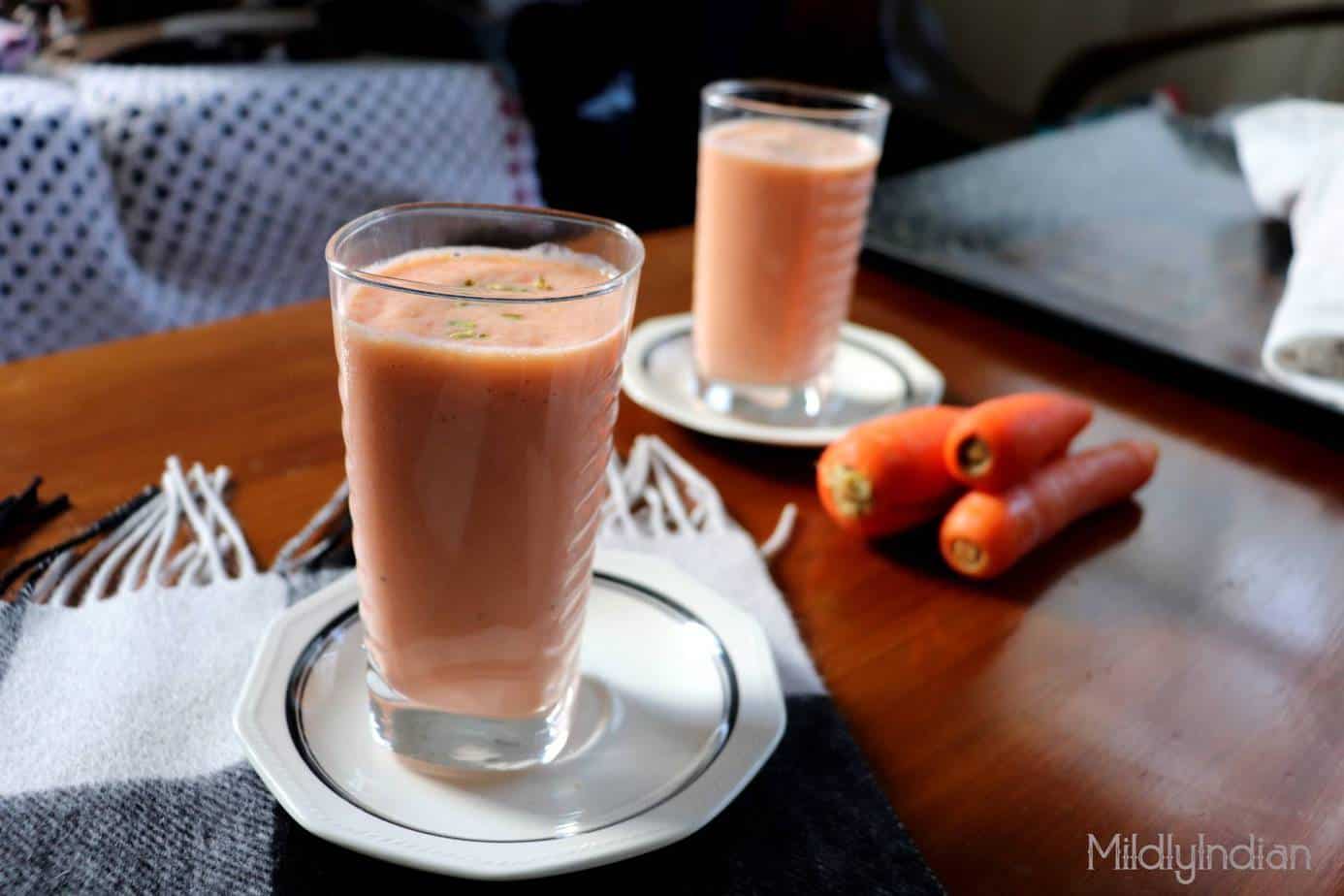 Gajerela shake
Carrot halwa milkshake with the fragrance of all the fragrance of cardamom and milk.
Ingredients
1

cup

carrots

grated

3.5

cups

full cream milk / plant based milks

( freeze it if you like a thicker milkshake texture0

2-3

tsp

unrefined sugar

( optional)

1/2

tsp

green cardamom powder

1

pinch

nutmeg
Instructions
Clean wash and grate the carrot.

Steam the carrots for 5-7 minutes and remove from the steamer.

Allow the carrots to cool down completely.

Into the blender add the steamed carrots, chilled milk, nutmeg, cardamom powder.

Blend that into a smooth milkshake.

Pour into tall glasses and share with family and friends.
Notes
If you like a more thicker shake, use evaporated milk.

Go sugar-free with Monk fruit or stevia.

 
Still, have carrots left?
If you are like me, you will never come home with 2 or 3 carrots. So here are a couple more you can use them up in. 
Carrot fries- Snack up healthy with these baked carrots and they pair really well with a burger.
Capsicum Carrot salad- Refreshing salad with Italian dressing is a refreshing and colourful recipe.
purple carrot Kosambari – Indian style salad with chickpea dal and purple carrots completed with temepring.
Carrot methi sabji- pair this homestyle sabji with rotis or dal for a weed day dinner. 
There is nothing more I want to say than to thank my readers for the emails, wishes and generous loving reviews each time we have a post up on this blog. It is you who makes it more successful. Thank you.
Stay safe
See you soon.