One of the most delicious effortless tropical treats is a cinnamon coated grilled pineapple. It instantly transforms any dull day into a fun one.  Equally tantalising is a juicy piece of pineapple with a spicy rub set on a semi char by the grill. The total goodness of the tropical fruit made it even juicier. Except for cleaning up the pokey outer skin, I just love every bit if this fruit.   I guess this is going to stay awhile with us as our go-to option for difficult days or one where the mood swings act up.  
I do find this extremely useful when the kids have a bit of a cough coming along. The cinnamon and the pineapple really soothe the throat for them works brilliantly. Enjoy these effortless treats with your kids.
So, what are you waiting for? Fire up the grill, skewer the pineapple and come along…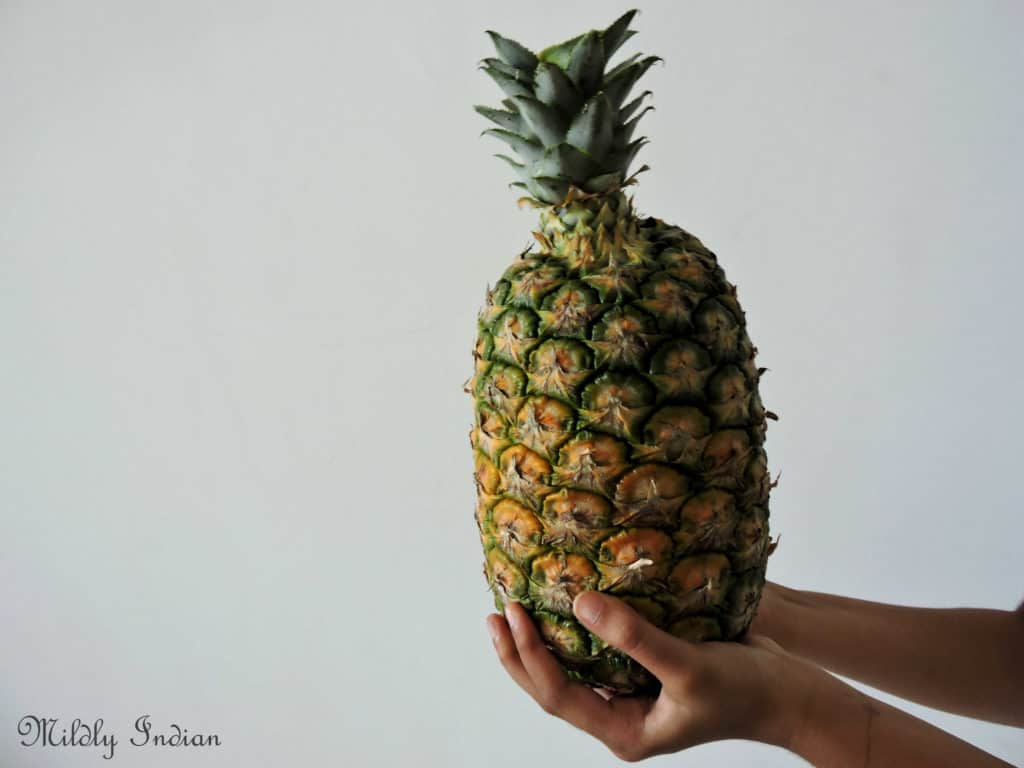 Setting this up for a bbq
Grilled pineapple
Try the sweet rub with pineapple or the spicy rub, Set them on the bbq and chill with your friends.
Ingredients
10

large

Pineapple

cut into longitudinal slices

1

tsp

oil

for brushing the grill.

10

long

Skewers
for spicy rub
1

tsp

Sea salt

1

tsp

chaat masala

1/2

tsp

cayanne pepper

powder
for sweet rub
1

tsp

cinnamon

powder

1/2

tsp

brown sugar
Instructions
Set the grill to heat up.  

Skin and clean the pineapple. Slice them, Cut them longitudinally or dice them.

Skewer the pineapple chunks and set aside.

Mix the cinnamon and sugar in a bowl for the sweet rub.

Mix chaat masala and chilli in a separate bowl 

Sprinkle the desired dry rub on the pineapple and rub it in gently.

Brush oil on the grill and set the prepared ones.

Allow it to grill till dark grill marks appear, turn it over and grill the other side.

Remove the grilled pineapples on to a plate and serve.