It is raining mangoes on all the social media portals. I have to admit I am quite green with envy of those sunshine mangoes, while I am thawing my blue frozen toes. The captivating multiple images of mango mastani had so overtaken my brain, I couldn't just eat, feel dream, anything else.
The first time- mastani goal satisfied
The first time we had mango mastani was as we were walking around the streets of Pune at Sujata mastani. It was so heavenly against that harsh summer heat. The topping the crunch all made up a great memory. It was a mum and children day out by ourselves exploring the city from Shanivar wada to Parvati hill with yummy Indian food and street eats all along. We did not feel a bit tired, in fact, we may have eaten far too many treats that day.
Making up for the mastani craving
It is not mango season here it is cold and getting colder. But there is one good thing I get when it is cold, custard apples. Huge humongous ones. I had two this week from the market.
Initially, I thought the kids may like to just eat them, but no one seemed keen to work on the numerous seeds. So an alternate idea had to be formed. Therefore, this morning was recipe development. The plan is to make sitaphal mastani. Take the decadence up a notch and the best part get rid of the seeds quickly.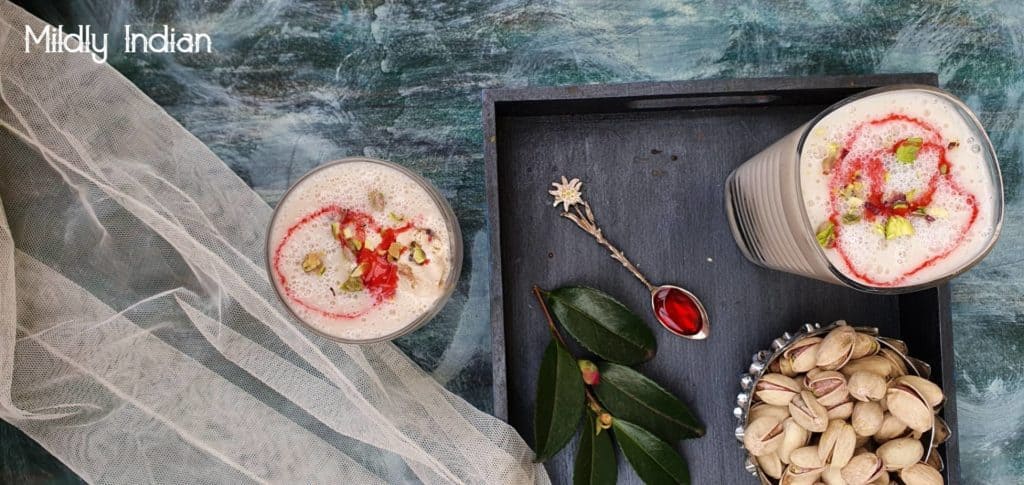 This sitaphal mastani
It is not a complicated recipe, but a treat sure it is. The thickness of the sitaphal mastani can be quite equated to mango mastani. By taste they are a world apart, well, so am I right now from Indian mangoes. This is something I love about recipe development. It is creative and a feeling of unparalleled achievement and works like an absolute boost when many questions are what do you get by blogging.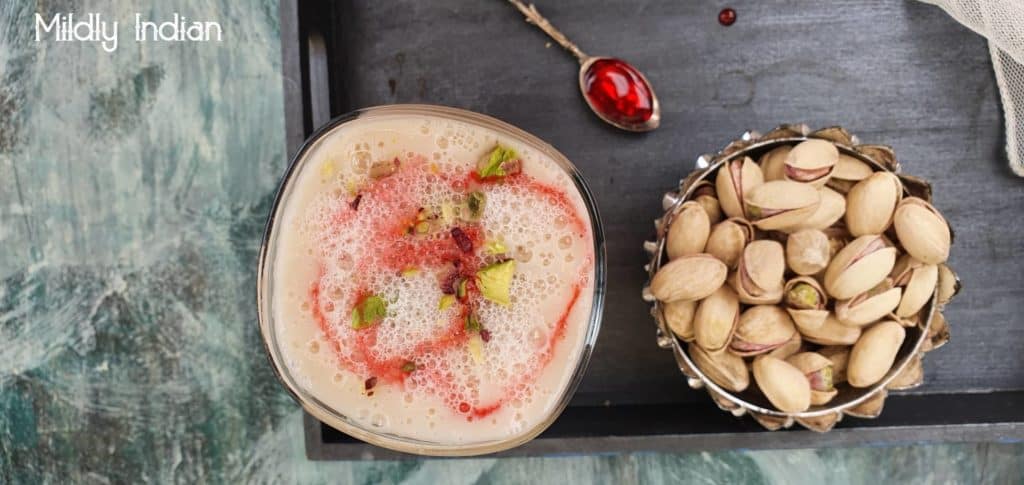 The light today to shoot this sitaphal mastani was benevolent. Though it was frosty and with a chilli wind the light was soft.
Hope you like the images and the recipe.
Sitaphal Mastani
Custard apple smoothie which comes as a spinoff from mango mastani.
Ingredients
to make the mastani
2

large

custard apple

sitaphal

1/4

cup

drinking water

1

cup

full cream milk / plant based milks

( go for half and half if you like)

1

cup

ice cubes
toppings
1

tsp

pistachioes

crushed

1

tbsp

rose syrup

( I have used store bought)

1

tsp

dry rose petals

( optional)

1

pinch

green cardamom powder
Instructions
Wash and cut the sitaphal ( custard apple) in halves and scoop out the pulp.

Add this to the blender with the 1/4 cup water and pulse for a couple of seconds

This removes the majority of seeds from the pulp. This is the easiest way to remove seeds.

Gently crush the remaining pods with a spoon and extract all the seeds.

To the pulp add icecubes and milk and blend till smooth

Pour into tall glasses and top with crushed nuts, a drizzle of rose syrup, rose petals and sprinkle of cardamom powder.

Serve cold, preferable immediately
Notes
If you have a sweet tooth and use sugar, you can add sugar when you blend the mix with milk and ice. I haven't as the sitaphal was quite sweet for us.
Here are a couple more decadent drink recipes you may want to try
Gajerela shake – Carrot halwa milkshake
Salted caramel chickpea blizzard milkshake
Pear Orange Smoothie – dairy free
Qamar al deen, dry apricot drink
Stay safe and if you are in the southern hemisphere, stay warm.