Pancakes were not on my breakfast agenda until a few years back.   Slowly as the kids started growing up pancake became fun and the perfect one to draw emojis on. Come winter warm breakfast are most welcome. So there are some cold days when pancake does get the morning going.  But the mere thought of getting each pancake flipped on a weekday morning does bother me just the way it would do to you. Imagine the stack that we need to get through breakfast will really take 1 hour, from start to finish.  This was an ordeal Till I found out that you could do that in one batch in your oven on a 
slice
 pan…now that's something I can absolutely get done. I am sure you like it too.
So now there are no more flipping pancakes on a busy morning but a beautiful one set to go, warm and ready and pretty much effortless. The addition of berries makes the house smell so yummy.
If you scroll down you can see this recipe is actually baking powder free. It was a trial to see if I could bake without this leavening agent.  Am glad my experiment worked out. Let me know how yours turned out.
More on the blog
The post with a lot of information about the baking powder is here. Take a look to see how you could make gluten-free baking powder.
I have a few more fun bakes on the blog. Hope you enjoy them too
You could add up your email to our subscription list (GDPR compliant) for weekly updates of new posts on the blog. Alternately, follow us on Instagram or Twitter.
Before you go on… share your thoughts in the comments below.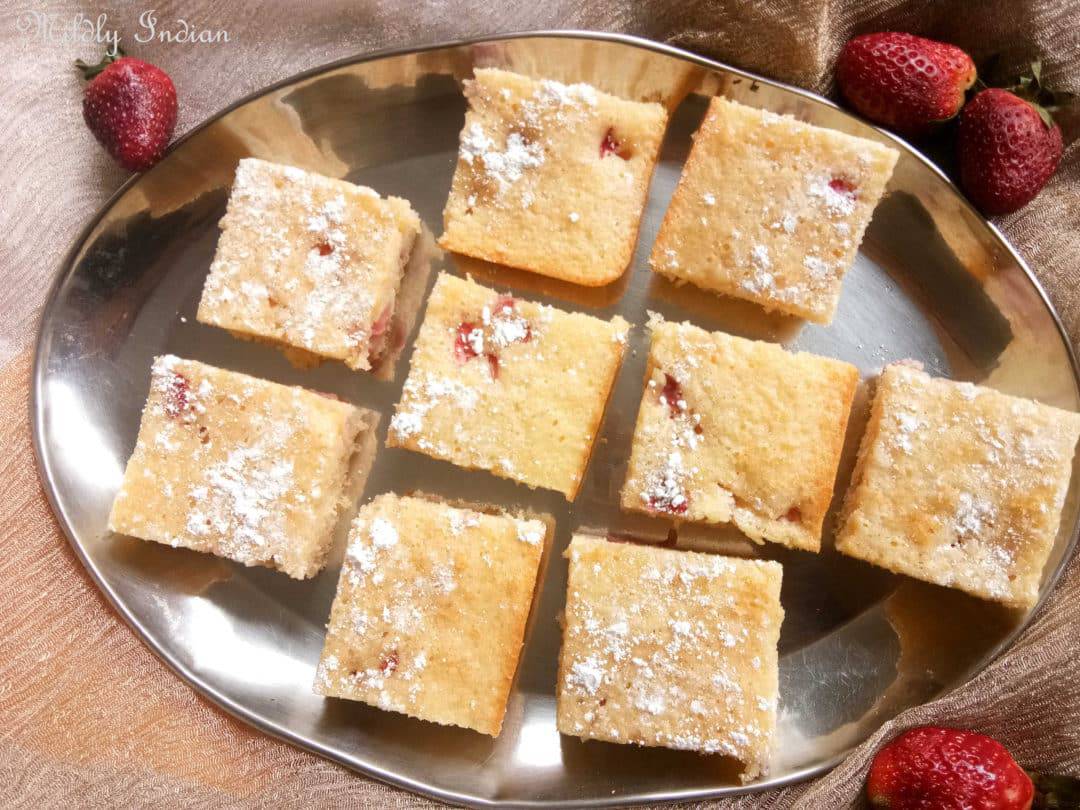 Strawberry pancake slice 
easy bake and no baking powder
Ingredients
for the battter
2

large

egg

use egg replacer if desired.

0.5

cup

low fat/ full cream milk

use plant milk if desired

2

tsp

butter

or coconut oil

1

tsp

brown sugar

1/4

tsp

salt

1

tsp

Lemon juice

1.5

cup

whole wheat flour

2-3

tbsp

strawberry
for greasing
1

tsp

butter

or coconut oil
Instructions
Preheat the oven to 180 degrees for 10 minutes

Grease a slice pan and set aside

Crack the eggs and separate the whites.

Whisk thw whites till fluffy, set aside

To the yolk add melted butter, sugar,lemonjuice, milk and salt and whisk till well combined.

Add the Whole wheat flour a little at a time and gently mix in.

Now fold in the whipped eggwhites without losing much of the air.

Toss in the strawberries and give a quick gentle mix

Pour the batter on to the greased slice tray and bake for about 20 minutes on 150 degrees.

Check the bake with a skewer, if it comes out clean.

Cool for 10 minutes and slice

Serve with a drizzle of maple syrup or a sprinkle of powdered sugar.

Enjoy pancakes on a weekday.