Every summer, my parents religiously engage in the ritual of vattal and vadam making. The sun favouring it takes a day or two to get the stocks up. Mum packs them carefully in her large "sambadams" and wait for us to come.
The moment we land, the kids head straight to ammama's vadam box as she would have kept it ready for them. During our stay there they chomp down unlimited amounts of various types of javarisi vadam.
All through these years, I never bothered to try my hand at making many javarisi vadam on my own. The simple reason was mum did the best. Last year was a year of revelation. Though she would have made the share for us, we were in no position to be travelling. The distance finally seemed real!! What the kids couldn't stop talking all through the lockdowns was about the vatrals and vadams.
Vattals, I could manage as it involved various vegetables. Arisikaruvadam I made with mum a long while ago but they seemed insignificant. We needed the real deal – the crunchy jawarisi vadams. So we certainly made use of our limited travel sessions to make a small batch. Call it javarisi vadagam, sabudhana papad, sago fryums or sabakki sandige,  they all translate to the crunchy tasty crisps.
To serve, these sago fryums perfectly pair it with any south indian meal elements, ven pongal, menthiyakeerai saadam, mavinkai chitranna etc. My kids seem to like packing it in the snack box too, to share.
Share the recipe, give it a try. It came out well for me on the first go, so certainly it will work for you too.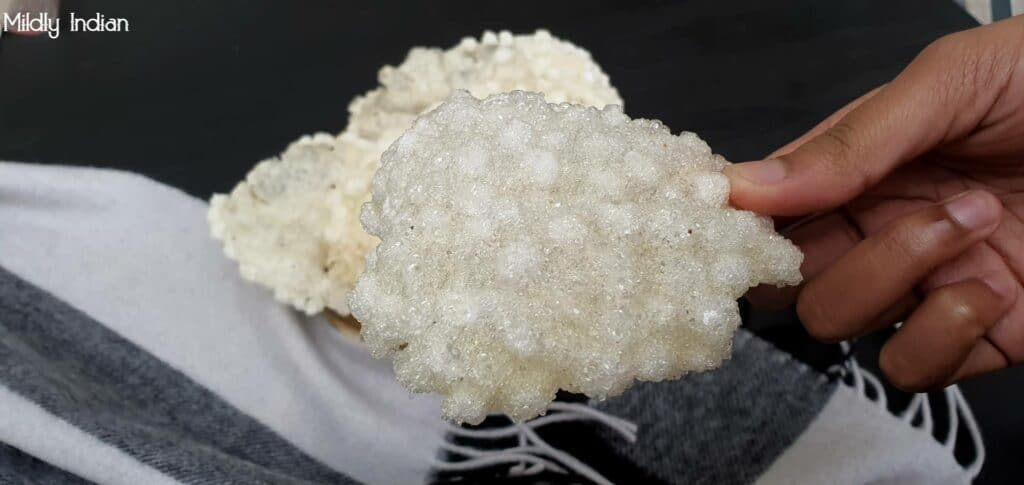 Sago fryums or Javaraisi vadam
Sago fryums or jawarisi vadam is a traditional sundried Indian recipe that can be paired with a meal or as a snack.
Equipment
mixing bowl.

Thick bottomed pan.

Drying sheet
Ingredients
To soak the sogo
1

cup

Tapioca pearls

( sago, medium sized pearls)

3

cups

Water
To be added while cooking.
2

cups

water

1-2

green chilli

( optional)

salt to taste
Instructions
Wash and soak the sago pearls for 2-3 hours.

Pound the green chillies and set aside.

After 2 hours, the sgao pearls would have become swollen.

Boil the 2 cups of water, add a bit of salt and bring it to a bubbling boil.

Add the soaked sago, along with the water, the pounded green chillies.

Mix well and cook with constant stirring and cook.

The sago with thicken the liquid.

The sago is cooked when it looks glassy.

Cook further till it comes to a dropping consitency.
To make the papads.
Spread out the drying sheet in hot sun.

Ladle a large tablespoon of the cooked mix on to the sheet.

Press gently and spread a bit.

Do not spread too think or too thick. about 1/2 cm thick looked good.

Dry in the hot sun for a day.

By evening it would have dried on the surface and can be peeled off from the sheet.

Peel and flip over and leave it in the shade.

Dry in hot sun again on day two.

Transfer the semi dry vadam on to a plate and dry fruther for another day.

Now the vdams will be ready to stire in an airtight container.
to fry the Vadams
In a wok or kadai, add oil to deep fry.

Heat up to medium heat and fry the dried vadams one at a time.

The vadams will puff up and spread while frying.

Drain on adsorbent paper and store in an airtight box.