Experience a basic Indian sidedish, vegan, gluten-free and nightshade-free with mildly spiced humble potatoes.
Jeera aloo is one of those minimal ingredient recipes that still gets the whole family around without complaining. With just basic white potatoes spiced with whole cumin seeds, the dish is usually one that most Indian mums do when they really can't be bothered. So here is that minimally spiced potato salad to pair with rotis or lemon rice.
Our videos
What potatoes do I use for jeera aloo?
The potatoes you choose here are the ones that need to hold shape when cooked as you don't want them mashed. So, I tend to go for a waxy potato for this recipe.
Other ingredients for this recipe
This recipe is one with minimal ingredients, yet you need some to jazz up that boring ( good old ) potatoes. In the spices, we use whole cumin seeds and the tangy dry mango powder, aamchur. With just salt and oil the recipe comes together perfectly. If you prefer you can use minced garlic, ginger or green chillies in this recipe. I don't as I love to keep them simple.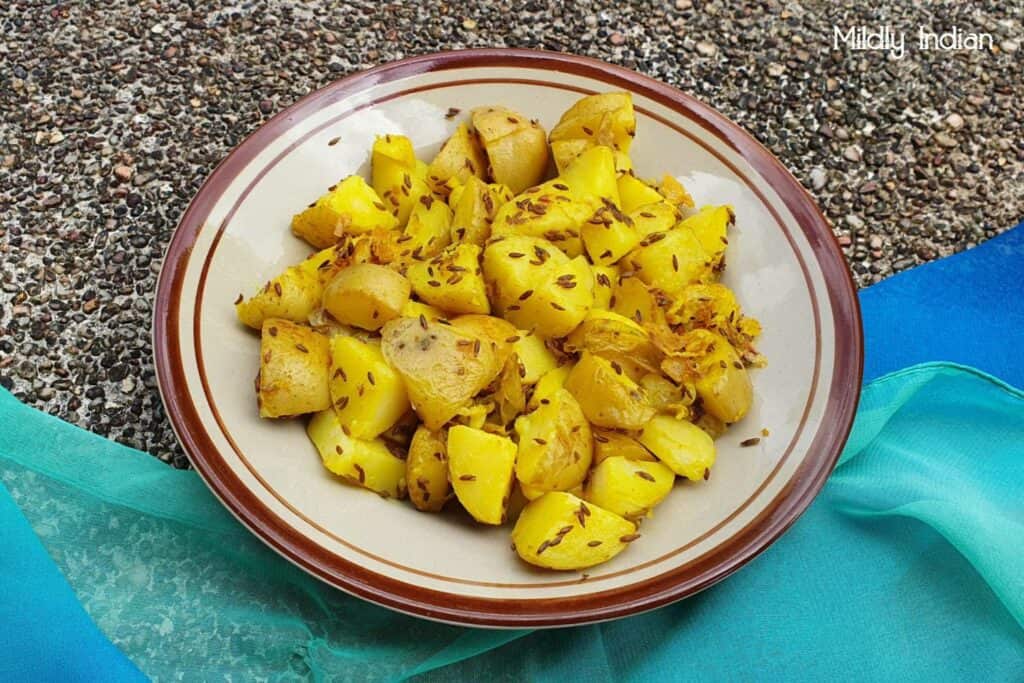 Jeera aloo for train journey
My best memory of the jeera aloo is during train travels. The slow-roasted cumin potatoes along with pooris from the best keeping recipe for train journeys especially in the hot Indian summers. The jeera aloo entered our life through a pack that my aunt had put together for one of our train travels from her place to visit another. The fussy kid that I was, actually liked this idea. From then, I remember this most of the time I take a train with the bhindi pulao amma makes.
Fast-forwarding it to picnics.
If it lasts for the long train journeys in India, these cumin potatoes are perfect to swap out the potato salad with for any picnic. Perfect when made ahead and chilled for summer or packed in a warm pack for winter, the jeera aloo never ceases to please.
Take it to camping grounds
There are two ways of making this jeera aloo. Both these methods are described in the recipe card. The one that is perfect for the camping ground is just the one-skillet method instead of the boiled potato way. It is the most satisfying warm salad that you can get together. Pair this jeera aloo with some bread, grilled radicchio and spiced beans. The meal is easy and sumptuous and leaves plenty of time for some toasted smores.
Without making you wait any more here is the detailed step by step recipe card.
Jeera aloo
Experience a basic Indian sidedish, vegan, gluten-free and nightshade-free with mildly spiced humble potatoes.
Equipment
Cutting board

frying pan

Knife

deep pot
Ingredients
For the spices and masala
1

tbsp

cooking oil

1

tsp

cumin seeds

1/4

tsp

turmeri powder

1/2

tsp

aamchur

or use 2-3 tsp lemon juice

salt to taste
To garnish
1

tsp

coriander leaves

chopped ( optional)
Instructions
Wash and boil the potatoes in excess water till they are fork tender.

Set it aside to cool completely.

Set the frying pan on medium heat and add the oil and cumin seeds.

Once the cumin seeds sizzle, add the diced potatoes, turmeric powder and sprinkle the salt.

Mix well and reduce the heat.

Let this slow roast for 5 minutes.

Sprinkle the aamchur powder ( or lemon juice) and roast further.

Once the potatoes are aromatic, roasted. Remove from heat, sprinkle the coriander leaves.

Serve these potatoes warm.
Collaboration 
Classic recipes are what I choose as much as possible for The A_Z challenge with ingredients in Hindi names. Jeera aloo is that classic Indian recipe you cannot be without trying if you are planning to make an Indian meal. Since it is cumin or jeera that spices these potatoes, this is my choice for the ingredients starting with J. Let us know how you like it in the comments. If you happen to make it, do rate our recipe.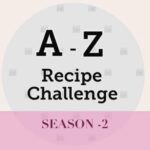 Stay connected
I hope you have subscribed to our blog to receive regular updates. We thank you for staying on with us and encouraging us at every step. We would love to have you visit the Youtube channel that we recently updated. Please subscribe, like and share these videos and let us know what you like and dislike about them. Stay with us on the blog as we attempt new recipes or try some traditional ones. Peek over to our travel section to see what we are up to at times.
See you in the next post!!