That creamy dark lentil curry that pairs perfectly well with grains or flatbreads is maa ki daal or Kali urad dal. Check out this easy recipe to use the Indian black lentil in this curry.
Indian cuisine hosts a huge population of vegetarians and vegans. Though we come in many types and specificities, this variety in cuisine is significant. Relying on beans and lentils for protein and curating a cuisine around it is an undeniably brilliant effort. Following suit on the same, today we explore Indian black lentil curry that is fondly called maa ki daal or Kali urad dal.
Why is it called maa ki dal?
The simpler dal styles like dal tadka or moong daal tadka, dal fry are made at home easily. This is the everyday food we look forward to when we come home and the style of cooking is what most of us learn from our mothers. Similarly, the black lentil curry is more often the home version than the creamier styles from the dhaba.
What are Indian black lentils?
Black gram or Indian black lentils are the seeds of Vigna mungo. These are not the beluga lentils but are often called mapte beans. With black skin and white cotyledons, the bean is used in a lot of Indian preparations. The whole bean with the skin is used to make a stirfry- sundal and used in a savoury crepe, adai. The skinned variety is used in the South Indian tempering and also to make idlies.
The easiest way to procure this Indian black gram is at an Indian grocery store and ask for sabut urad dal. Once soaked the skin turns slightly greenish and cooks quickly in a pressure cooker or instant pot.
How is kali dal different from dal makhani?
Dal makhani is a creamy rich preparation involving butter and cream along with lentils. Black lentils (urad dal) kidney beans ( rajma) and split chickpea dal (channa dal) form the base of dal makhani.
In the case of Kali dal, it is only black lentil( urad dal) that is used as the base.  The addition of excess butter, cream or yogurt is avoided in this rustic home-style recipe. The basic buna masala with the cooked grams is tempered to get the resultant curry. The curry though creamy is much lighter. This makes it a fabulous everyday option and the dal makhani a celebration one.
Ingredients to make Kali dal.
Urad dal as discussed above, the sabut urad dal (the whole dal) is best to make this recipe.
For the buna masala, the classic buna masala forms the base of this kali daal recipe too.
Masala powders: the two masala mixes that go in to create the soothing yet unforgettable flavour are the kitchen king masala blend and the garam masala.
To finish this dal recipe, I use fresh coriander to which the hot tempering is added bringing our aromatic oils to the best.
Tempering the final touch of flavour to the daal recipe is generous garlic and chilli oil (ghee) created as a tempering. Don't miss this step, as it is that memory-creating element.
Other than this you will need salt and a bit of lemon to complete this dish.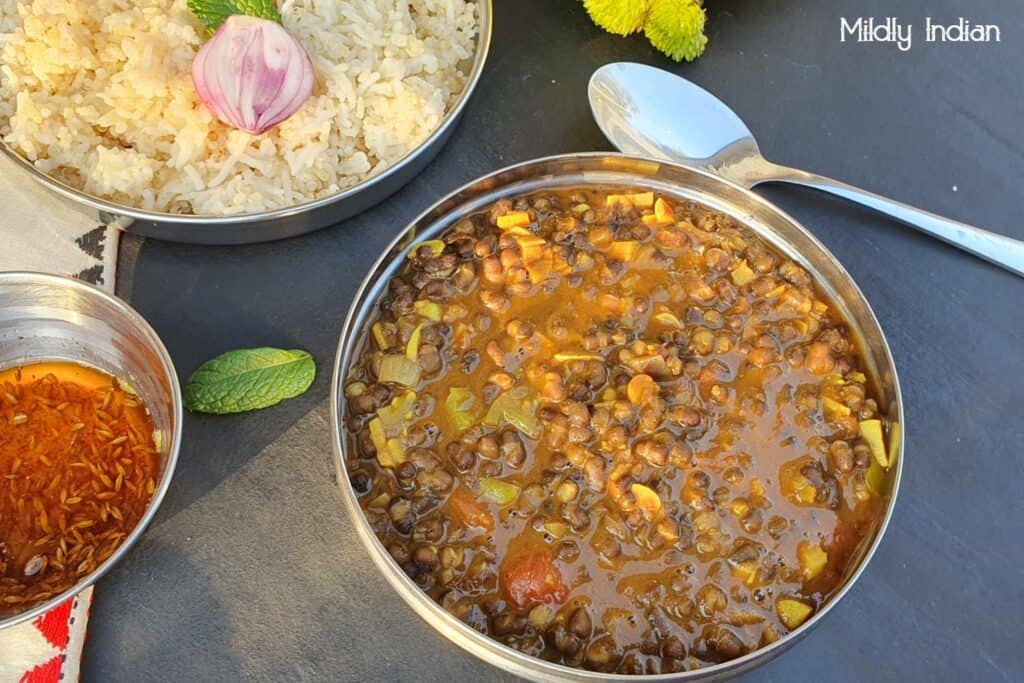 Cooking method for maa ki dal
You can make this Indian black lentil curry in a few different ways.
Prep the urad dal – the sabut urad needs to be soaked before cooking to allow it to be cooked evenly. A soak for about three hours in plenty of water is good enough. However, I do find that soaking overnight or above 6 hours reduces the gassiness of most whole beans. In addition drain off the water that the beans soak in and use fresh water to cook the beans.
Stovetop: the cooked and simmered dal has the creamiest texture when done on the stovetop. This is not a one-pot method. So into one pot add the soaked beans with twice the water and set it on medium heat to cook. Once it starts bubbling drop the heat to a simmer and half cover to cook. When cooked the bean will mash with the back of a spoon. You may need to add a bit water more if the water evaporates faster, so keep an eye and use warm water to add to the cooking beans. As the beans are cooking, prepare your buna masala. Add the cooked lentils to the buna masala and blend it well. Let this simmer and cook for 5-7 minutes. Finish with fresh coriander and tempering. 
One-pot Pressure cooker: this is kind of my weekday method of getting. In this method, we prepare the tempering first to which you add the buna masala. Once you stir-fry this, add the soaked and drained urad dal. Now add enough water and pressure cook it for 5 whistles. Let the pressure release naturally and then gently mash the daal to get that creamy consistency.
Tempering: Into a small pan, Add the ghee, as it heats up add cumin seeds crushed garlic. Let this sizzle. Now add the chilli powder and asafoetida to get the aromatic oil. Pour this hot oil mix on the kali urad dal that is just off the heat. Finish off with the coriander leaves and a squeeze of lemon.
Kali urad ki dal
That creamy dark lentil curry that pairs perfectly well with grains or flatbreads is maa ki daal or Kali urad dal. Check out this easy recipe to use the Indian black lentil in this curry.
Equipment
deep pot

ladle

frying pan

Pressure cooker
Ingredients
1

cup

Urad Dal

sabut or whole

3

cups

drinking water

for soaking

2

cups

drinking water

for cooking
For buna masala
1

medium

onion

2

medium

tomatoes

1

medium

chilli

3-4

cloves

garlic

1/2

inch

ginger

1

tbsp

cooking oil
Masala powders
salt to taste

1/4

tsp

turmeric powder

1/2

tsp

red chilli powder

1/2

tsp

garam masala powder

1/2

tsp

kitchen king masala powder
for tempering
1

tbsp

ghee

substitute with neutral oil if Vegan.

1/2

tsp

cumin seeds

1/4

tsp

hing

1/4

tsp

Kashmiri chilli powder

or paprika

2-3

cloves

garlic
Garnish
1

tbsp

coriander leaves.

chopped
Instructions
Wash and soak the Urd dal with three cups of water for 3-6 hours.

Remove this water and add fresh water after the soaking time.

Pressure cook or cook this mix on the stove top till soft and tender ( see cooking methods in the post)

Once the bean is ready, slightly mash and set its aside.

Peel and chop the garlic, ginger and onions and set them aside till needed.

In a separate pan, start with the buna masala.

Saute the onions ginger and garlic in oil as till it caramelizes.

Now add the pureed tomatoes and saute further till the oil leaves the sides.

Add the masala powders and continue the saute to make the buna masala.

Add the cooked urad dal and mix well.

Adjust water to have a slightly curry consistency and set to simmer.

In a seperate small pan add the ghee for tempering.

Add the cumin seeds and set it on medium heat.

When the cumin sizzles, add teh garlic

To this add chilli powder and asafortida and remove from heat.

Pour this tempering on the simmering dal.

Turn off the heat and cover and leave the dal for 5-7 minutes.

The dal is now ready to be served.
Collaborations
As we are slowly edging towards the end of the Alphabet line, the lovely blogger group A-Z recipe challenge is slowing down too. With Urad for U, here we are with an earthy, rustic-style daal recipe.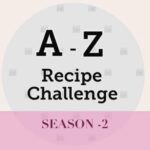 Stay connected
When you cook this silky, slightly gingery, earthy kali urad dal don't forget to let us know in comments how your eating experience was. Rate this maa ki dal recipe using the star rating and don't forget to subscribe for more. If you are on Instagram or Facebook,  connect with us.
Stay safe and see you in the next post.