In its steamed avatar, idly is by far the healthiest and moat assimilable breakfast from the Indian subcontinent. This fermented rice cake is the sought out south Indian platter.
Dunked in hot steamy sambhar or dipped gently in creamy chutney, the fluffy white idly never fails to allure more fans into its league. With the magic words fermented, probiotics and steamed the humble rice and lentil staple has now slowly and steadily gained popularity on the global food scene.
The elaborate preparation
As a child, I was not an idly fan.. I somehow did not like the idea. Just as any other stubborn one, I demanded my mom give me an alternative. This scene changed following my marriage. So the current idly recipe I am describing is from my mother in law.
The batter preparation begins with the soaking of the dehusked black gram and par-cooked short grain rice and then separate grinding of the two. In most Indian homes you will find a dear contraption…the wet grinder. Made with grinding stones and a rotor to set it going this machine does a wonderful magic to grind the pulses and the rice slowly yet smooth.
Further the combined batters are mixed and allowed to ferment for 6 to 8 hours. Well, if it is a cold weather, place it in a warmed oven, microwave or warm water to help the process. Check the tips listed below for more details.
It is the airborne bacteria which create the fermentation and cause the batter to lift. Quite a tricky and time-consuming process this is ..but it is well worth the effort of fluffy idlies. This fermentation process makes the end product more nutritious due to the enzymatic breakdown of the complex nutrients into a more available form for the body.
Once the batter is ready, its gently mixed and poured into greased semi-spherical moulds and these are steamed. This is served at breakfast.
Current scenario
Now idly batter prep is an alternate week meal prep idea in my household. The idlies seem to have percolated down to dinner when it is relished better than the hurried morning
Serve it with sambhar, almond chutney or gunpowder ellupodi, it makes a healthy option all long.
Here is a creamy Sambhar recipe
For chutney, try these
Idlies also are great for travel.. A few in a zip pouch tossed in some oil and podi (spicy lentil mix) are a welcome meal for our outdoor adventure.
Now to reveal the best secret. I do freeze a few premade idlies for a quick dinner on a crazy day or the middle of the night big hunger which seems to peak during winter. microwave them or steam them and they are perfect again
Idlies can still be made if you don't have moulds for it. make a steamer arrangement and ramekins or small heat resistant bowls will work too.
Contribution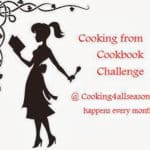 This recipe, from my mother in law, is my contribution to Cooking from a cookbook challenge for the second entry month.
I love the idea of collecting heirloom family recipes like these so people can perfect their skills too. I am so glad that my mother in law, a brilliant home cook taught me the intricate secrets to this recipe.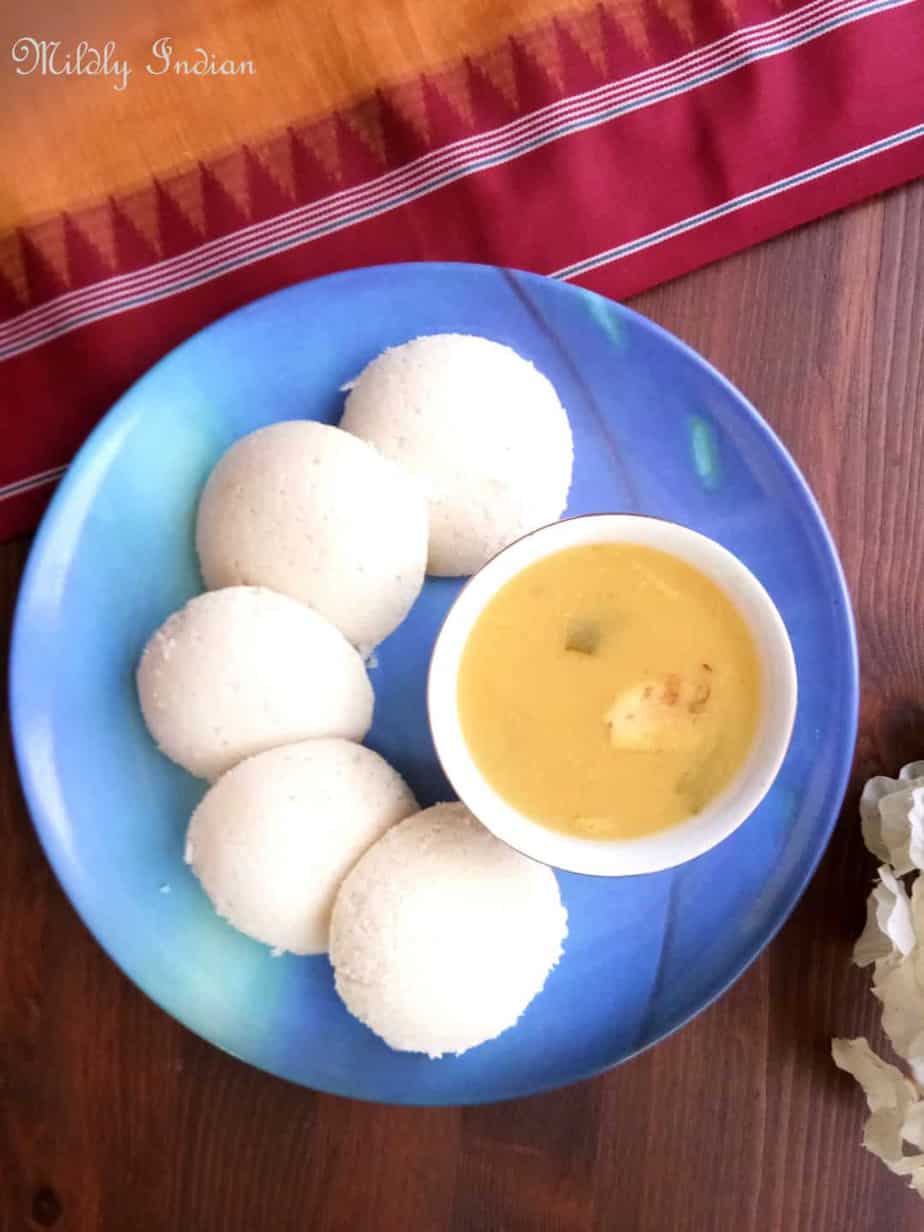 Idly
Steamed fermented rice cakes
Ingredients
for the batter
2

cups

parboiled rice

1/2

cup

Urad Dal

skinned black gram dal

drinking water

as required
for steaming
salt to taste

1-2

tsp

Sesame oil

for greasing the moulds ( you can use any other oil too)
Instructions
Soaking
Wash the rice well a couple of times and soak it with water about an inch above the level of rice.

Wash and repeat the same with urad dal also.

Let these soak for about 3-4 hours.
to make the batter
in a wet grinder add the urad dal which has now plumped by soaking. Add just enough water(water from soaking) to make a smooth paste.

Grind to a smooth fluffy paste.

Remove into a large vessel and set aside

Drain the rice, reserve the water and grind to a smooth paste just like the urad dal

Add the rice paste to the already ground urad dal and mox the two together very well.
Setting for fermentation
The mixed batter should just occupy half to three fourth of the vessel of choice so that it doesnt over flow.

Now set this batter covered in a warm corner of the kitchen, undisturbed overnight ( 6-8 hours ,depending on the weather)

The batter will rise and ferment.
for steaming
Add salt anout 3/4 tsp and mix the batter well.

The batter should now have a pourable consistency like honey and not like water. If thick adjust by adding a bit of water.

Grease the moulds with oil and set aside

Set the steamer vessel with water.

Pour a ladle ful of batter in each mould (approximately 3/4th of the mould)

Set the moulds in the steamer

Bring the water in the steamer to a boil and steam for 10 minutes(15 if using ramikens)

Let the mould stand in the steamer for another 10 minutes ( motherin laws 's expert advice) this helps to unmould without tears.

Unmould the idly one by one by using a butter knife or a small flat spoon to loosen the edges.

Serve hot with chutney, sambhar or podi or all of these.
Notes
There are recommendations for mixing the batter by hand before fermenting. But being a microbiologist by education, I feel this will be a tad bit over as skin bacteria is not what you are looking to ferment the batter, but the airborne harmless ones. Hence I don't follow that.
It can become very difficult to get the fermentation in winters, here is a recommendation from a friend- add in a couple of tbsp of previously fermented batter ( last weekly prep ) to the one you are freshly doing, something on the lines of a starter culture.
Adding salt before fermentation is purely a matter of personal choice, my mother in law doesn't recommend it and I go by her experience.
If the weather is cold, it is a brilliant idea to set the prepared batter in the warm oven with the oven lights on, just for warmth.
The batter stays well in the fridge for a week. Don't leave it out for long in warm weather as it tends to turn sour due to over fermentation.
The Indian grocery stores will carry just skinned urad dal and skinned and split urad dal. My mother in law insists on the skinne, bead-like one rather than the split one. in my experience, the split one doesn't rise well and leads to harder idlies. I don't have a logical explanation for this, but this is my experience.
Nutrition
Calories:
47
kcal
Carbohydrates:
10
g
Protein:
1
g
Fat:
0.1
g
Saturated Fat:
0.05
g
Cholesterol:
0.1
mg
Sodium:
11
mg
Fiber:
0.05
g