What makes you celebrate a festival?
Moving countries often has provided us with reasons to look beyond the religious constraints of festivals. It has allowed us to incorporate a bit of every culture we have been with. To celebrate the joys in each situation.
Why do we celebrate festivals?
Man has been a social animal all through evolution. Being in a society is what gives security and comfort. Upon being a part of society, gives us reason to be happy during gatherings and this togetherness is the basis of most celebrations. This is why we celebrate festivals. The celebration brings people together. It brings families closer and happier. It creates opportunities to mingle and form new bonds. All said and done it breaks the feeling of loneliness and brings forth a whole group of people to share and care for.
This is the same reason why religions across the world call in for gatherings during the festival.
To us, this means that we celebrate Christmas with the same happiness as Navrathri. We celebrate the Pongal festival the Tamil way and Onam the Kerala way. We celebrate Ramadan with our Malaysian friends as much as we do a Diwali gathering with Indian friends. All these puts together have given our children an openness to look beyond and see the human in the picture. We hope this will be us forever. This gives us an opportunity to look at festivals differently and create new traditions.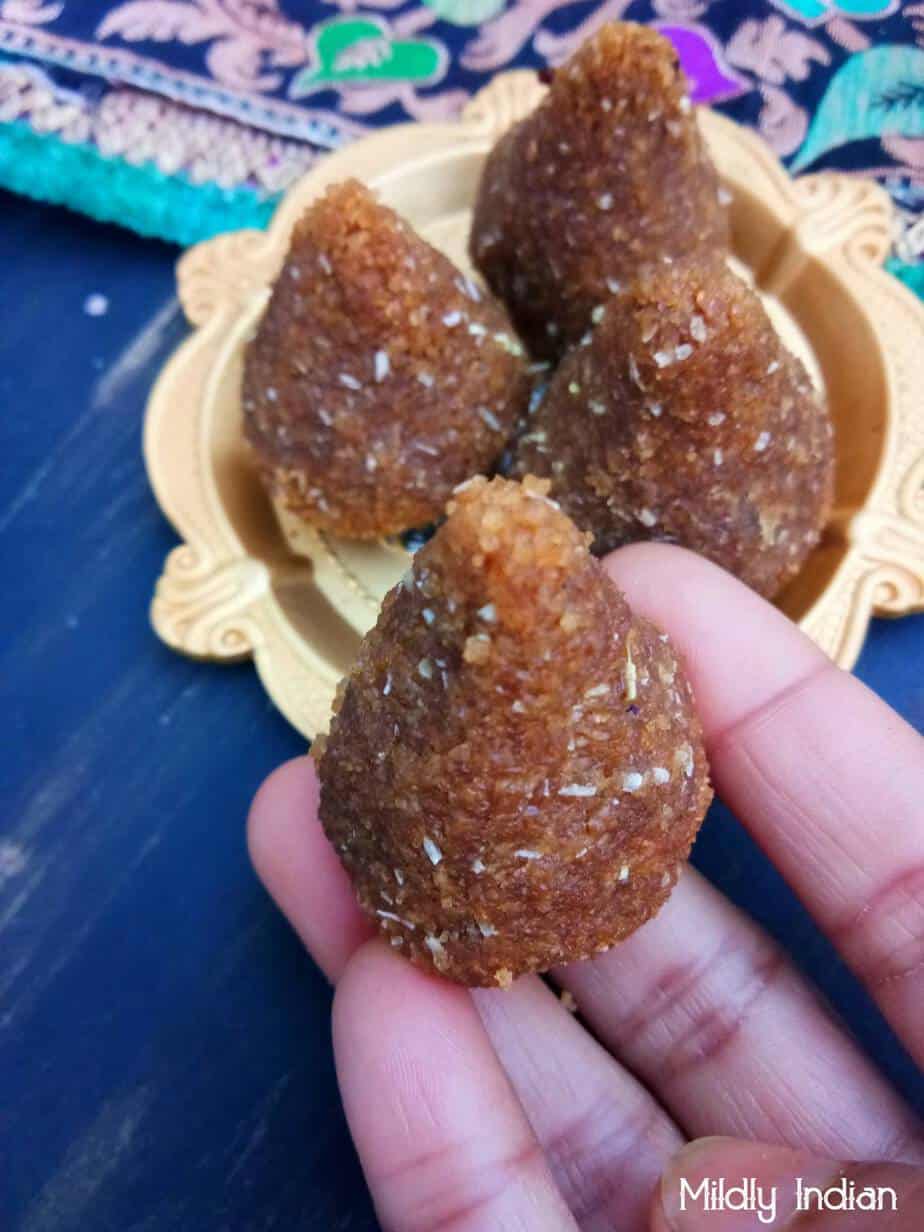 Inippu Aval Kozhakattai
Steamed sweet rice flakes dumpling made from gluten free rice flakes and jaggery is a delicious guilt free naivedyam or dessert.
Ingredients
1

cup

rice flakes

(I have used the red variety poha/ aval)

1/2

cup

jaggery

( I prefer to use coconut Jaggery for a fragrant aroma)

1.5

cups

drinking water

1/2

tsp

green cardamom powder

1/4

cup

grated coconut

(Freshly grated)
Instructions
Soak the jaggery in the water and leave it aside for half an hour

The jaggery will dissolve and the jaggery water will be ready to use. Strain this and set aside

Pulse the rice flakes till a coarse powder

Into a deep heavy bottom pan add the jaggery syrup and bring it to a boil.

When it is boiling well add the coconut and cardamom powder. Mix well.

Now, add the powdered rice flakes a little at a time and stir.

Keep mixing this mixture till it gets really thick, the water evaporates and the jaggery is blended well with the poha powder.

Set aside to cool slightly.

Lightly oil your hands and shape the mixture into conical shaped dumplings

Prepare the steamer with water and place the dumplings on the steamer plate.

Steam for 10 minutes, wait for another 10 minutes and the dessert is ready to have.
Inippu aval kozhkattatai
Sweet aval kozhakattai are perfect naivedyams for Ganesha Chaturthi and Srikrishna Jayanthi.  I like to make them shaped as modaks during Ganesha Chaturthi and as small balls during Jamashtami. They certainly occupy the aval based platter I make as an offering during the Krishna Jayanthi celebrations.  Made with basic rice flakes, jaggery and coconut that you find in most South Indian pantries, the recipe is easy. Compared to other Indian Mithais, the inippu ( sweet) aval kozhkattai tastes amazing.
If you are looking for more kozhkattai recipes we have a couple more.
Try the sweet no cook flavour of apricot almond modak or savory notes of  Quinoa pidi kozhkattai or the Upma kozhkattai.Both are perfect for naivedyam, meal prep and wholesome with some chutney for dinner. Do let us know how you like the posts on this blog. Leave us a note in the comments, subscribe to our posts or tag us #mildlyindian when you make this inippu aval kozhkattai recipe.
Wish you all a great festival season.